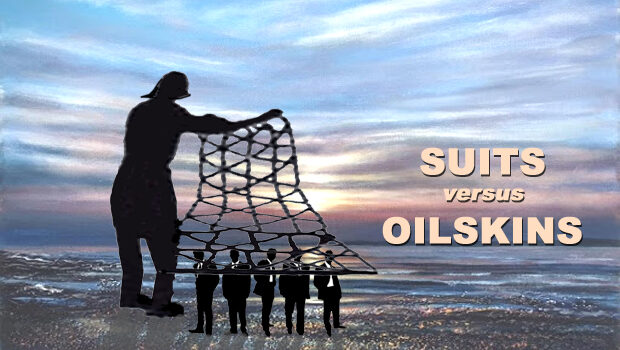 Suits versus Oilskins
Harbours correspondent ALLAN ROBERTS presents a brief history of Harbours management (and manipulation) over the past 5 years.
~~~~~
As the implementation of the Harbour 'Masterplan' for Scarborough Harbour rumbles along – with no sign of the Council wishing to officially share that 'Masterplan' with those it will affect the most – the Harbour users and, in particular, the fishing industry – perhaps it is time to look at the history of Harbour management in Scarborough over the last 5 years.
In June 2015, the quarterly meetings between SBC and the Scarborough Harbour Users Consultation Group ceased by the instigation of SBC Director in charge of Harbours, Nick Edwards.
On Nov 2nd 2015, Councillor Cockerill announced:
"Further to the Leader's decision to terminate the Pilot Whitby Harbour Board, a simpler advisory model is to be implemented.  A new Ports Development Group (PDG) will have a much clearer focus on assisting the Council and Portfolio Holder (as Chair), in determining a strategic vision and development road map for the 3 port operations of the Borough."
On 3rd Jan 2016, Cllr Cockerill stated that he had formed his PDG, which comprised himself – Portfolio Holder for Harbours, Councillor Mike Cockerill – and three other Borough Councillors – John Nock [Con.], Sandra Turner [Con.] and Steve Siddons [Lab.], plus:
Harbourmaster, Capt Vasey.
Director with responsibility for Harbours, Nick Edwards
Regeneration Project Development Manager, Alex Richards
In addition, there were to be three independent positions whose appointments were expected to be made shortly before of the inaugural meeting of the PDG later in January 2016.
In reply to a question, Councillor Cockerill also confirmed that the Ports Development Group would meet in private, producing 'action points' for its own use only.
On 12th August 2016, Councillor Cockerill started cracking the whip over the PDG, when he told Council that he was going to:
"Instruct my Port Development Group to look at increasing the size of the Harbour".
Shortly afterwards, a group was spotted working in the Harbour mouth…
Whether or not this was the PDG at work is unconfirmed. However, it is clear that they did not live up to the expectations of Cllr Cockerill who sacked the lot of them some months later.
On16th May 2017, Councillor Cockerill told Council:
"In respect of the Ports Development Group, this had not been as productive as the Portfolio Holder would have expected. He had looked to the PDG to come forward with suggestions as to how the new services and facilities in the port operations could be developed to generate additional income. Following discussion with the Leader and other colleagues, Councillor Cockerill now intended to propose the area of the Borough's port operations as a potential topic for an Overview and Scrutiny Task Group". 
On 3rd July 2017, Councillor Cockerill was pleased to report that:
"The Overview and Scrutiny Board had agreed to assist in the development of the harbours' strategic plans, following the disappointing performance of the Ports Development Group which had been affected by poor attendance and changes in membership." 
So what next, you may ask?
In fact, a 'new' group was formed and given the grand title of Pilot Harbour Executive.
Well, it was sort of 'new' in that there was one new member of the 4-man executive (namely, Borough Engineer John Woodhead) while the other 3 jumped aboard from the old Port Development Group, the sinking ship that Councillor Cockerill scuppered when he described it as being "unproductive and disappointing". Yes, really!
So this was the 'new' executive:
Nick Edwards, Director & Chair
Councillor M Cockerill*, Portfolio Holder
Alex Richards, Regeneration Officer
John Woodhead, Northern Area Engineer
NB: * – Councillor Cockerill has since been replaced by Councillor Janet Jefferson, the present Portfolio Holder.
On 7th June 2018, the Harbour Executive held its inaugural meeting where it set out its aims:
"To provide good Corporate Governance for the harbours, incorporating leadership, effectiveness and accountability. This will include, where necessary, engagement with stakeholders including strategic planning for the future growth and maintenance of the harbours. To provide good quality information; financial accounts, performance data, annual report and information transparency." 
It is, however, the last of its aims that is most worth reading:
"Notes of the Executive meetings will be shared on the authority's website and presented for discussion at appropriate Harbour User Consultative Group meetings."
Whoever wrote that is less than honest and, at best, markedly disingenuous.
It is a fact that, at the time of its formation in 2018, the Chairman of the Harbour Executive Nick Edwards, was well aware of the fact that there had been NO dialogue or consultation with the Scarborough Harbour Users' Group (SHUG) for over 4 years, since June 2015.
Indeed it was on the instigation of Nick Edwards himself that the regular meetings with Scarborough Harbour Users Group were discontinued.
As for the promise that notes of Executive meetings will be shared on the SBC website, here is a screen shot taken today (26/11/20) of the notes of those meetings that show quite clearly that there has been no sharing of what was discussed by the Harbour Executive since 9th Dec 2019:
The foregoing facts indicate to me that:
Other than title, there has been no change in content or attitude at SBC with regards its intention to plough ahead with a predetermined agenda for Scarborough Harbour.
The remit of Scarborough Harbour Executive is full of empty promises made by a less than honest bunch, who intend to do just as they please.
The decision by Nick Edwards in 2015, to end dialogue with the Scarborough Harbour Users' Group, was a strategy calculated to eliminate Harbour users' involvement in future plans for the Harbour as shown here. The full facts are here:
Little wonder, then, that there is so much mistrust of the Scarborough Harbour management strategy for West Pier, when we have Men in Suits making decisions that impact on Men in Oilskins – behind closed doors.
The North Yorks Enquirer looks forward to publishing them.