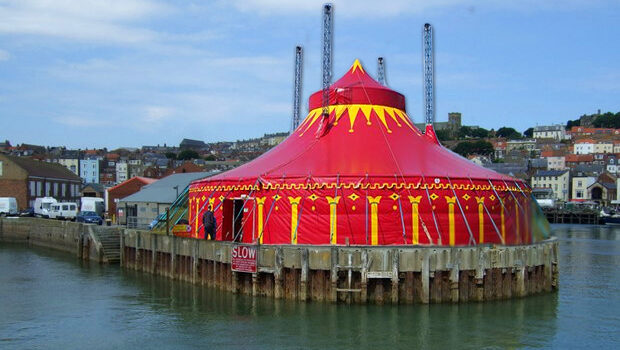 Latest Performance at the End of the West Pier
NYE Harbours correspondent ALLAN ROBERTS shines his spotlight on an extraordinary but not entirely successful juggling act.
~~~~~
There are many – especially those within the fishing industry at Scarborough – who are sceptical of the West Pier Regeneration Masterplan, currently being rolled out with indecent haste, in order to meet financial deadlines.
It is beyond doubt that the budgeted amount of £6.5m will not be enough to complete the 'vision' that SBC have for West Pier, and that it is likely the total sum could be nearer £11m.
This is a sum that has been neither confirmed nor denied when discussed with SBC, certainly during the recent 'live-streamed' discussions.
The fears of those within the fishing industry are that they will be be last in the queue for any 'regeneration' and merely be confined into an ever decreasing work place as their traditional workplace/warehousing is converted into restaurants, retail units, artists' studios and a more permanent 'public events' space.
One such person who voiced his opinions, particularly on the obvious shortfall of monies to complete this Masterplan, was retired fisherman Fred Normandale, which opinions he voiced in a Public Question to SBC leader Cllr Steve Siddons, during the Cabinet meeting dated 15th February 2022.
In response, Cllr Siddons gave what he described as "a long-winded answer for which I apologise, but I will do the best I can" and ended with the words "I hope I have given you some reassurance".
It is apparent that Fred Normandale was not reassured, because 10 days later, at a Council meeting of 25th Feb 2022, via another Public Question, Fred asked Cllr Siddons again where the shortfall in the budget was coming from to satisfy the promises made to the fishing industry.
Cllr Siddons took the precaution of avoiding the embarrassment of starting his response with an apology, as before, by simply not giving one.
Instead, he handed the task to his ever-faithful 'deputy',  Cllr Liz Colling, who, in her inimitable style, burst into her babble like an effervescent bird with a belly-full of hippy crack.
First of all, Cllr Colling re-assures Fred, "there is £4m in the town's blueprint project and that includes West Pier".
Cllr Colling is careful to avoid stating just how much, if any, of that collective £4m will actually be left for West Pier after the Town's Regeneration Officer has raided it for the other parts of "the town's blueprint project".
Cllr Colling next tells Fred, re-assuringly, there is "£1m to enhance harbour maintenance, which sits in property asset management fund". 
That is very likely because there is little sign of any money having been spent  on "harbour maintenance" in recent years. However, it would not, I suggest, be prudent to exhaust funds designated "to enhance Harbour Maintenance" solely on the regeneration of the West Pier, and to the exception of the rest of the harbour.
Cllr Colling then tells Fred,  there are "additional funds contributed to the harbour reserves amounting to £880k to support structural works to the harbour".
It would not, I suggest, be prudent to exhaust funds designated "to support structural works to the harbour" on the West Pier . . . Especially at a time when the Lighthouse is reported be in a very poor structural state and will require extensive and expensive remedial work.
Cllr Collings then went on to advise Fred that West Pier would have "access to the Councils investment  fund for invest to save opportunities".
I am sure Fred will recall the 'Invest to Save' opportunity of 2010, when the Council chose to borrow £252,000 to spend upon an 'invest to save' funding model which involved demolishing a block of warehousing to create an additional 44 temporary car parking spaces, the income from which was expected to generate £2,000 per space per year, that is to say £88,000 per year in total.
This what Alex Richards, the current SBC Officer for Regeneration, which of course will include the West Pier 'regeneration', told the BBC Newsdesk back in November 2010:
Demolition work is due to start this month as part of a £250,000 revamp of Scarborough's West Pier.
Two bait sheds are to be removed as part of a phased development which will bring new fish processing, leisure and shopping facilities to the pier.
The exact future use of the site is subject to consultation and planning approvals, Scarborough council said.
The space freed up by the demolition of the bait sheds will be used in the short term for 44 car parking spaces.
Cash raised from the car park will go towards the cost of the improvements, which include a new ice plant and a new and larger fish and shellfish processing area for existing tenants.
Alex Richards, project manager for Scarborough council, said:
"We have worked with the fishing industry to reorganise the fish market and provide new chiller facilities.
"The existing tenants have been very helpful in the relocation process and many have taken the opportunity to upgrade their business premises and facilities.
Alex Richards
Project Manager
7th Nov 2010
In short, operators within the fishing industry were promised that the car-park would pay for itself in less than 3 years, and the income thereafter would be spent on improving fishing industry facilities.
The fact is, that promise was unashamedly broken by SBC and the fishing industry received nothing in return. Instead, the revenue from the car-park was transferred to the General Fund, with any discussion on the subject continually stonewalled by the responsible Officers.
To her credit, Cllr Jefferson has raised that very point on several occasions at consultation meetings, with no apparent response,as far as I am aware:
Notably, (from the minutes of the harbour Users Consultation Group meetings) on,
JULY 2012
Cllr Jefferson asked why SBC take revenue generated from the West Pier Car Park, when it was agreed approximately 10 years ago this revenue would remain within the harbours
JANUARY 2014
Cllr Jefferson confirmed revenue generated from the additional car parking spaces from the demolition of the bait sheds should have remained within the harbours budget as previously agreed.
Unfortunately, since given the role of 'Harbours Supremo', Cllr Jefferson seems to have lost interest in this issue
So, there you go Fred, are you feeling reassured, then?