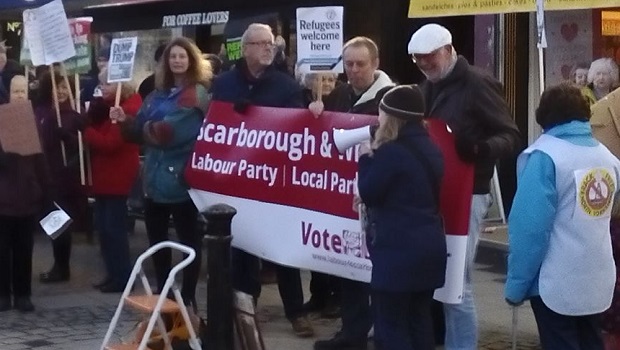 The leaders of the Scarborough & Whitby Labour Party turned up outside the Brunswick Centre in Scarborough town centre for an hour long protest against newly inaugurated United States President, Donald Trump.
Attending for Scarborough & Whitby Labour was Dear Leader, Councillor Steve Siddons (Ramshill Ward), a ex-senior Council Officer from Leicestershire County Council and Deputy Dear Leader and pro-EU fanatic, Councillor Tony Randerson (Eastfield Ward).
The Labour Councillors stood shoulder to shoulder with comrades from the anti-capitalist revolutionary Socialist Workers Party, fellow pro-EU fanatics from the local Liberal Democrats and members of Frack Free Scarborough.
Pictured below is Scarborough Green Party Borough Councillor Dilys Cluer, holding a Socialist Worker's Party banner. Looks like there's a defection in the offing!
Scarborough Labour were no doubt motivated by the proximity of the May 4th County Council elections as Scarborough Borough Councillors Siddons and Randerson unveiled their banner.
The protest was led by the usual megaphone and placard-wielding Kim Hunter from the Socialist Worker's Party, who appears not too keen on the Police and her beau, local Liberal Democrat organiser, John Atkinson.