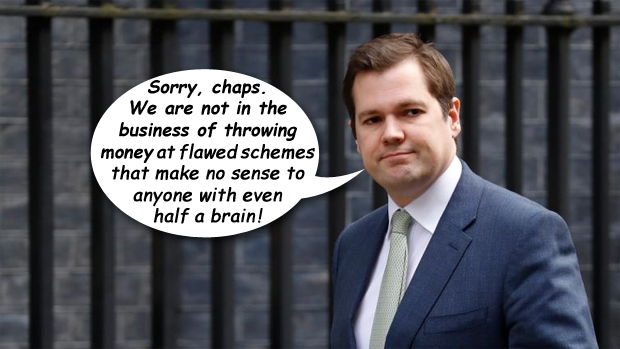 Steve Siddons, Scarborough Borough Council's (SBC) socialist supremo's dreams of creating a building to house the party faithful and brainwash vulnerable students appear to have been dealt a fatal blow.
The madcap scheme to spend £22 million of taxpayer's money on a building to be worth £7.5 million on the day of opening no longer looks possible without funding from the Future High Streets Fund.
The rejection letter was received from conservative in name only Robert Jenrick, Secretary of State for Housing, Communities and Local Government which stated:
Whilst your business case met the gateway criteria, our assessment concluded that it unfortunately it did not meeting the stringent test for value for money required by the Treasury as a condition for the fund.

Our review of your business case and revisions (done in accordance with our value for money criteria and government guidance) highlighted issues with your BCR calculation, which demonstrated a lack of evidence to support a category of benefits included.
The funding rejection was caused by SBC's amateur business plan coupled with the effective removal of the market square that provided social value sent to central government. Countless hours of Officer and Councillor time appear to have been completely wasted. You just can't get the staff!
Personally, I wouldn't have bothered with the rejection letter. I would have edited the soundtrack of the Laughing Policeman to include only the laughing and sent that in return.
The bonkers plan to waste £14.5 million of taxpayer's money was dreamt up by SBC's Commercial Director and former Brighton binman Richard Bradley, later approved by Labour leader Siddons and a bunch of idiots councillors who couldn't recognise a bad business plan.
A piece of advice to councillors. The next time you are asked to approve an investment involving tens of millions of pounds of public money, engage some external consultants. But not the ones that told you buying the St Nicholas Street hotel was good value for money!
Councillors may get an opportunity for quality input at the Audit Committee Meeting on the 28th January 2021 when an update to the Argos project will be discussed.