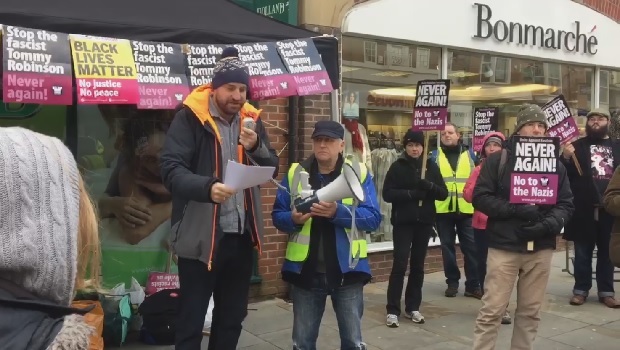 On Saturday 27th October a demonstration by the Yorkshire Patriots took place in Scarborough Town centre.
The group were protesting against majority muslim rape gangs that roam town and cities across the UK without much in the way of hindrance from the UK Government, the Police or Local Authorities.
The usual "anti-racist" counter-protest was organised by Scarborough & Whitby Labour Party activists under the guise of Stand Up To Racism which boasts prominent Labour MP Diane Abbott as President. This counter-protest was organised by John Atkinson, beau of local Labour Open Borders activist Kim Hunter.
In the run up to the counter-protest Labour activists were busy illegally flyposting threats of violence across town.
Speaking at the counter protest was Scarborough & Whitby Labour Party Prospective Parliamentary candidate, Hugo Fearnley. Fearnley joined in shouting "Whose Streets? Our Streets!" along with black-clad, bovver-booted comrades in an attempt to intimidate those protesting against child rape and trafficking gangs.
Majority muslim rape gangs are prevalent in Labour-controlled councils. Their councillors have looked the other way for decades as girls have been raped and trafficked across the UK.
Perhaps Hugo should turn his energies toward rectifying a problem created by his comrades in the Labour Party rather than protesting against those who are highlighting their shortcomings.