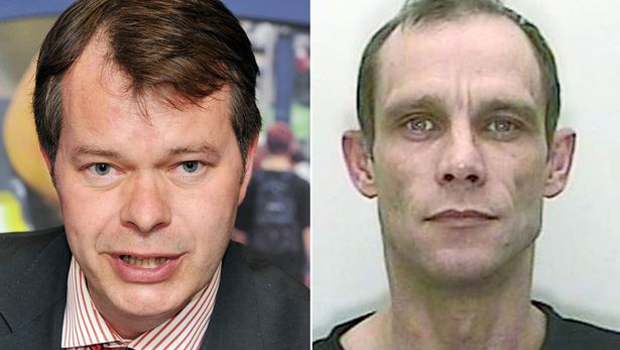 Detective Superintendent Fulcher: The TV Series
by TIM HICKS
~~~~~
Introduction
Serial-killer Christopher Halliwell is currently in prison serving a full life term, having been convicted of murdering Becky Godden-Edwards and Sian O'Callagahan in the Swindon area in 2003 and 2011.
The original investigation into Christopher Halliwell led by Detective Superintendent Stephen Fulcher (pictured above on the left) was highly successful. However, it was also controversial.
Although Fulcher was successful in arresting and convicting Halliwell, he breached the provisions of the Police and Criminal Evidence Act 1984 (PACE), believing his actions were appropriate under the circumstances of a "Crime in Action". He was forced to resign from the police service. Thereby losing his pension and his career, and leaving with his reputation in tatters. Full story in this NYE report: The breaking of Detective Superintendent Stephen Fulcher.
At the beginning of his book "Catching a Serial Killer" (reviewed here)' Fulcher puts his point of view: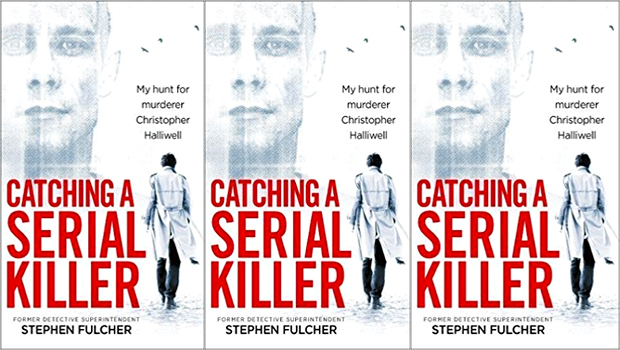 Fulcher is unrepentant and remains convinced that: 
"the action that I took in allowing Halliwell to take me to the bodies of both Sian and Becky, was the right and moral thing to do. It is perfectly clear that, had I not acted as I did, neither Sian nor Becky would ever have been found and Halliwell would be free to abduct and kill other girls. 

Despite everything that has happened to me, I cannot regret the decisions that I took that day. Ultimately, that decision ensured the return of two beautiful young women, which bought comfort to their families and ensured that Halliwell has been duly convicted of both murders."
The Documentary on Detective Superintendent Stephen Fulcher 
Fulcher's story has been covered in a documentary by Sir Trevor McDonald which follows the course of the investigation blow by blow:
The ITV Mini-series on Detective Superintendent Stephen Fulcher
Fulcher's story is now to be told in a six part miniseries starring Martin Freeman and Imelda Staunton. ITV issued this press release:
The series tells the story of how Detective Superintendent Steve Fulcher, played by Martin Freeman (StartUp, The Hobbit, Sherlock, Fargo), deliberately breached police procedure and protocol to catch a killer, a decision that ultimately cost him his career and reputation.

Set in Swindon, Wiltshire, 'A Confession', details the disappearance of 22-year-old Sian O'Callaghan in March 2011.  On a night out with girlfriends, Sian left a nightclub in Swindon Old Town to walk the 15 minutes home to boyfriend Kevin Reape, played by Charlie Cooper (This Country). Worried for her safety, Kevin reports Sian missing when she fails to come home in the early hours or respond to his increasingly frantic texts.

With the police investigation underway, officers arrive on the doorstep of Sian's mother, Elaine O'Callaghan, played by Siobhan Finneran (Cold Feet, The Moorside, Happy Valley), who at first thinks her daughter must have stayed overnight with a girlfriend. Described as a 'family girl', it was uncharacteristic of Sian to be out of touch with her loved ones.
Martin Freeman and Imelda Staunton
Senior Investigating Officer Steve Fulcher leads a team which begins to piece together Sian's last movements, scouring CCTV footage from the club and re-tracing her steps home. Cell-site analysis reveals her mobile phone signal bouncing off a mast 14 miles away in Savernake Forest. With the missing person's enquiry in full  swing Fulcher, orders a full-scale search operation.
Believing Sian may still be alive, Fulcher operates on the premise that Sian is being held somewhere against her will. If she is, he knows it will be a race against time. Through diligent and painstaking police work Fulcher and his team discovers CCTV footage of her in the High Street, which leads to vital clues in the investigation.
Meanwhile, Karen Edwards, played by Imelda Staunton (Maleficent, Paddington, Harry Potter, Vera Drake, The Girl), the mother of Becky Godden, a 20-year-old who disappeared a decade previously in 2003, is watching the investigation unfold on the local news and in the town centre.  Reminded of Becky's disappearance, she becomes gripped by fear that her daughter will somehow be involved in what is unfolding before her eyes as the search for Sian goes on.
A known drug addict and prostitute, Becky had disappeared many times before and although Karen had tried to help her daughter, staging interventions and paying for rehabilitation, sadly Becky continued to lapse back into addiction.
Coincidentally, the property where Karen lives with her second husband, Charlie, backs on to the home of Elaine O'Callaghan and her then partner. Although they don't know one another, their lives become tragically intertwined when Fulcher and his team edge closer to their chief suspect, local taxi driver Christopher Halliwell, played by Joe Absolom (Doc Martin, The Level, Suspects).
The investigation culminates in a standoff between Fulcher and Halliwell at a remote location, before Halliwell is taken back to the police station and given a solicitor. Just as Fulcher is about to give up, Halliwell suddenly makes a startling confession. But this moment of apparent triumph takes on sinister consequences and steers the investigation in a completely unforeseen direction.
A Confession will be filmed in Wiltshire and the Home Counties with Paul Andrew Williams (Strangers, Broadchurch) directing each of the six episodes. The drama will be executive produced by Jeff Pope:
"I found this is a fascinating story to tell on a number of levels. On one hand it is a brilliant piece of detective work, but in order to find both girls Fulcher felt he had to deny Halliwell his rights as a suspect. It brings into question how we want our police to behave when someone goes missing. Should Fulcher have been praised as a courageous officer fighting for the life of a girl, or lose his career for riding rough shod over the law?"
Commented ITVs Head of Drama Polly Hill: 
"It is wonderful to be working with Jeff Pope again on this compelling and important true story. I'm delighted that the brilliant Martin Freeman and Imelda Staunton are leading the cast, making this an unmissable drama for next year."
The NYE series on Detective Superintendent Stephen Fulcher
Fulcher remains highly critical of the lack of interest in investigating other unsolved offences that Halliwell may have committed.
At the beginning of the book "Catching a Serial Killer" is a dedication from Fulcher:
"To Sian and Becky and the girls who haven't been found"
The NYE has been running a series of articles by Tim Hicks and retired police intelligence officer Chris Clark on this aspect of the story, covering other murders Christopher Halliwell may have committed.
The series with links to the articles is shown below.
The series is now the most accurate, comprehensive and up to date assessment of the full potential number of Halliwell's crimes available from open sources. This illustrates the advantage of having a not for profit internet news magazine covering this story.
A mainstream commercially based media outlet would never allow a journalist to work on this story over such an extensive period of time, or give it the space it deserved, because it would not be commercially viable.
In this respect, only an internet based media outlet can give a story of this size and complexity the time and resources it needs to scrutinise the police and hold them to account.
As Polly Hill stated, the story of Detective Superintendent Fulcher's arrest of Halliwell and its unjust aftermath is a "compelling and important true story". However, the issues surrounding Fulcher's actions have not been addressed. The ITV mini-series will ensure that interest in the case and in the NYE's investigation of the other victims will continue for the foreseeable future. Hopefully this will result in the injustice that Fulcher suffered being addressed and rectified.
More importantly, the police approach to this type of investigation will be reformed and improved. Thereby preventing future miscarriages of justice and giving victims, friends and family closure.
NYE Appeal for Information on Christopher Halliwell
Christopher Halliwell's picture is above on the right. He had a slim athletic build and spoke with a slight Swindon accent. You can see and hear him in the video (below) taken while he was in custody trying to negotiate an amnesty for any of his crimes that may be detected in the future.
Have you seen Christopher Halliwell at any time in the period 1987 – 2011?
This could be:
Fishing at Scarborough, Whitby, Scaling Dam, Middleton St George Water Park, the River Skerne or the River Tees.
At work as a driver, chauffer, bin man, builder, groundsman or window cleaner.
Staying in a bed and breakfast or hotel along the A19, in Darlington, Middlesbrough, Scarborough, Whitby, York or the North York Moors area.
Narrow boating on the River Ouse or River Tees.
Any information would considerably assist our knowledge of Halliwell's movements. So please can you contact the NYE using our email address: news@nyenquirer.uk