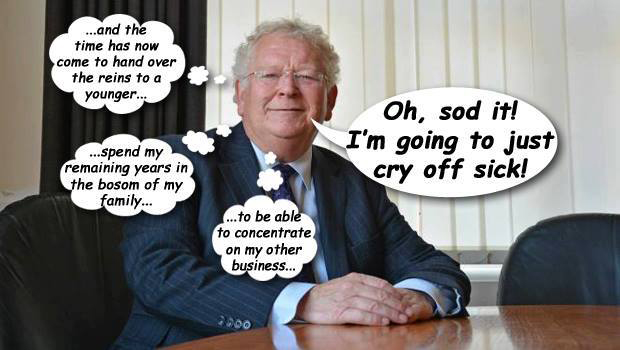 ERYC: FRASER In – PARNABY Out?
an "In My View" article by NIGEL WARD, reporting on the latest developments in the move to oust ERYC Leader Stephen PARNABY [Con.].
~~~~~
The Enquirer has learned that Tory HQ has been exerting pressure on present ERYC Leader Councillor Stephen PARNABY [Con.] to stand down as Leader "in the best interests of the party". Fire or no fire, the smoke would appear to have drifted as far as Westminster . . .
Indications are, incidentally, that this may be part of a wider crack-down following the unanticipated (by the Tories) resurgence in the Labour Party in the May general election. If such is the case, Scarborough Borough Council Leader Councillor Derek BASTIMAN [Con.] may also find himself under the microscope.
PARNABY's credibility has been irreparably undermined by the drip-drip-drip revelations of Cottingham developer Mr Peter ROBINSON, as covered extensively here on the Enquirer.
One Councillor told us:
"Whether Parnaby accepts it or not, the party's over. He has no choice. Already, the horse-trading has begun and favourite now to take over the Leadership role is Symon Fraser".
Councillor Symon FRASER [Con.] is presently the Portfolio Holder for Asset Management, Housing & the Environment, whose Planning expertise makes him best qualified (amongst the Tories) to clean up the PARNABY mess.
Councillor Symon FRASER [Con.] (left) and Councillor Stephen PARNABY [Con.]
Councillor Julie ABRAHAM [Con.] (Portfolio Holder for Children, Young People & Education) and Conservative Group Secretary Councillor Felicity TEMPLE [Con.] (widely known as "Duplicity") – pictured below – are reportedly already actively lobbying in Councillor FRASER's favour.
Councillor Julie ABRAHAM [Con.] & Councillor Felicity TEMPLE [Con.]
Consequently, Councillor PARNABY [Con.] is widely expected to announce his "retirement" at the Full Council Meeting on Thursday 28th July – the last Meeting before the summer recess.
PARNABY's fall from grace is the latest in a series of deeply damaging scandals for the East Riding Tories, following as it does on the heels of the Dominic PEACOCK saga and the jailing of paedophile Arthur HODGSON.
Disgraced former Tory Councillors Dominic PEACOCK (left) and Arthur HODGSON