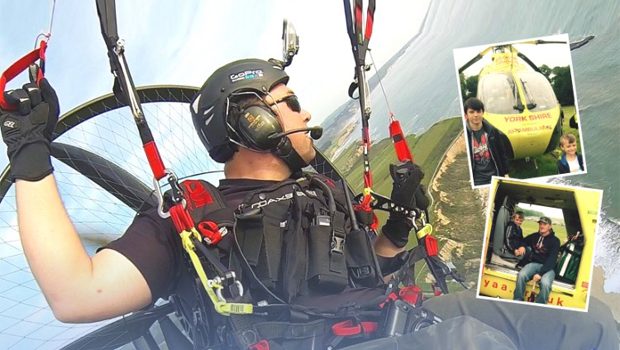 The North Yorks Enquirer is happy to support:
Stuart Grace's Appeal on behalf of the Yorkshire Air Ambulance
Dear sir/madam,
My name's Stuart Grace and this year I will be 50. So I thought to myself what could I possibly do to celebrate this.
I knew I wanted to do something for charity and for the Yorkshire Air Ambulance. As you know, they provide a vital service which I hope neither you nor I ever need.
So I've set myself a task to paramotor from John o'Groats to Land's End.
A tall task where most people think I'm totally mad,  I believe it will be a hard trip – but a worth while one.
I know you will receive a lot of these requests, but please consider this if you needed it and it wasn't there?
What would happen?
The YAA needs £12,000 a day to keep working. So, basically, what I need is funding or a charity donation:
If you or your company can help in anyway shape or form, it would be gratefully received.
I'm planning on having a flight suit made with places for sponsors  to advertise. This is being planned for 2018 .
All media will be involved, building up to and during the planned flight.
In advance I thank you on behalf of the Yorkshire air ambulance service
Thank you.
Stuart Grace