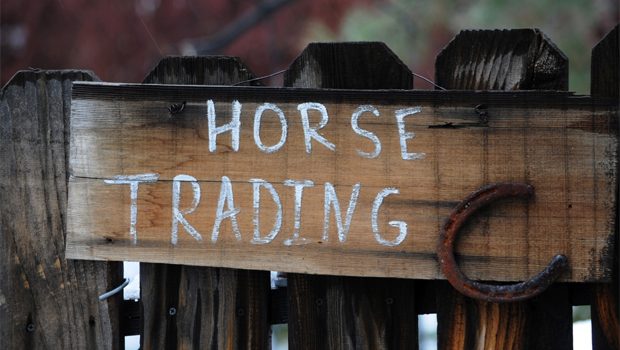 "Horse-Trading" (Whistleblower #1)

Following publication of our recent "APPEAL TO POTENTIAL WHISTLEBLOWERS" , the Enquirer has already attracted a big player. With her/his identity secured under our guarantee of confidentiality, an East Yorkshire Tory member has 'blown the whistle' on some Machiavellian machinations taking place, at this very moment, in service of an attempt to fill the power vacuum caused by the decision by ERYC Leader Councillor Stephen PARNABY [Con.] to stand down. This 'horse-trading' make a mockery of democratic representation.
In short, this Letter to the Editor takes the lid off cronyism, inducements and raw, unadulterated hypocrisy at East Riding of Yorkshire Council.
It also testifies to the sort of bitter in-fighting that is the hallmark of a Party Group in disarray – verging on paranoia.
~~~~~
Dear North Yorks Enquirer,
It seems some people just don't like fighting elections. Well, not ones where they can't fix the outcome of, anyway.
For some time now, even before the Leader announced he was stepping down, our Councillors have been lobbying members, touting their candidates to replace him as East Riding Council Leader. We ordinary members don't have a vote so I think we are expected to influence the Councillors who do.
Cllr Felicity Temple is promoting her charge and close friend Councillor Simon Fraser.
I understand Cllr Abrahams has been doing the same for him in Haltemprice. Up against them is the current well respected Deputy Leader, Cllr Jonathan Owen – who most people see as the obvious choice.
The manoeuvering has now degenerated into something just short of open warfare.
Ok, we get acrimonious hustings, but this latest twist has prompted me to 'blow the whistle'.
We are hearing of a bust-up between Cllr Temple and Constituency Chairman Cllr Mike Stathers. It seems he has refused to intervene to make sure Cllr Owen withdraws in order to prevent a divisive contested election for the position of Leader. This is wrapped up in mealy-mouthed words about "Party unity" and "ensuring a smooth transition in which we can all focus on the local elections, rather than splitting the Group".
Apparently, Cllr Stathers will no longer be allowed to continue as Chairman if he fails to comply.
Cllr Temple, who's jolly hockey-sticks persona is at odds with her manipulations, seems to run everything, whether it's her job to do so or not – and woe betide anyone going against her wishes. I don't like people trying to stitch up elections. I didn't like it when our MPs did it to annoint Michael Howard and again Teresa May and I don't like it now.
Leaders need to be tested, questioned, put on the spot and, through merit, win the support of the majority who vote for them. A stitch-up is not good for anyone.
It's bad enough that our long serving Councillors openly manipulate who can stand for Council, blocking those they don't like and promoting their cronies. No wonder we are struggling for candidates, it's become a closed shop.
This horse-trading is serious; it is about who is going to be our next Council Leader. Since it affects us all, we need the right person, not a put-up who will keep all their mates in their lucrative jobs.
Frankly, if they can't win in a fair fight they shouldn't be putting themselves forward at all.
In all honesty, Cllr Fraser is no Leader and it's obvious who pulls this puppet's strings.
I have thought long and hard before sending this letter but as member and ratepayer I think it's important our next Council Leader is fairly elected on his or her merits.
Let's see all those who want to throw their hat in the ring and may the best candidate win.
Yours, etc
WHISTLEBLOWER #1
1st July, 2018.