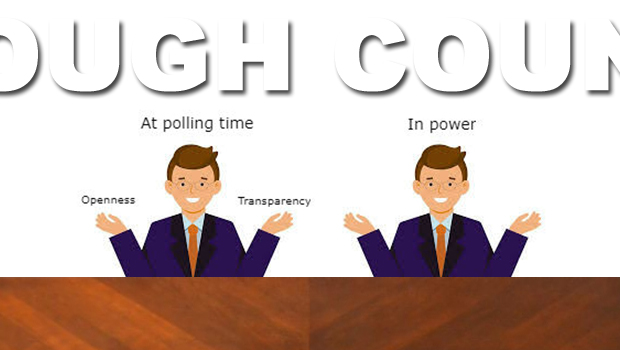 A Letter to the Editor from ROGER PICKSTOCK, of Scarborough, responding to Councillor Michelle Donohue-Moncrieff's tongue-in-cheek APPEAL for the public's assistance in locating the MISSING Town Hall 'Inseparables' – "Openness and Transparency" – and bemoaning a clear and present hypocrisy – even the public's right to film meetings is being unlawfully suppressed.
~~~~~
Dear Sir,
I am a keen reader of mystery novels and in particular Agatha Christie. I read with interest that Openness and Transparency have been missing from SBC for a number of years.
Although I do not profess to have discovered the whereabouts of these two subjects, I believe I may have the solution as to why they cannot be found.
When a door is closed, you can see the whole thing; when a door is open, depending on your point of view, the door cannot be seen. Openness here alludes to the fact that you cannot see what your looking at or for.
Where transparency is concerned, we can use the example of a window made of totally unblemished glass. Looking through the window, you don't actually notice the window itself, but concentration is around what is on the other side.
The conclusion is that both Openness and Transparency cannot be seen and although they do actually exist in plain sight, would be near impossible to discern.
One has to be pragmatic and make allowances for SBC not being able to see what is clearly in front of them (see what I did there?). It is fairly obvious that taking this to its ultimate conclusion, we would not be able to see those subjects either.
Even Agatha Christie herself, with the help of Hercule Poirot, would be unable to locate them in this particular case.
Will there come a time when Openness and Transparency make a comeback? If so, there is no point in looking for them as it will be a spontaneous event – although I don't think I will be holding my breath while waiting for this to happen.
Yours quizzically,
Roger Pickstock
Scarborough