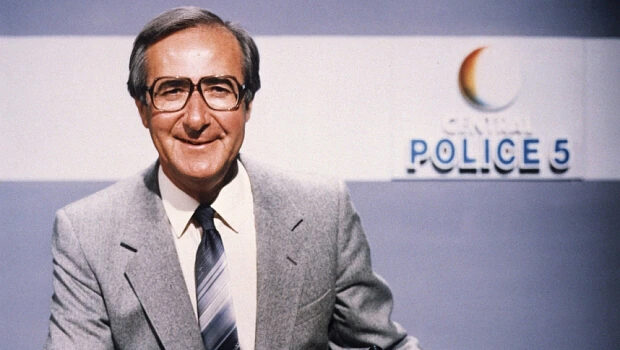 Police 7: Community Policing News Jan. '22
The NYE's Police 7 articles are intended to be a one stop shop for our readers covering crime prevention advice, court reports, Police appeals for assistance, local community policing news, information on victim support, updates from the North Yorkshire Police (NYP), the Police, Fire & Crime Commissioner (PFCC) for North Yorkshire and the Coroner.
Police 7 has been one of our most popular features with our readers, who appreciate getting regular updates from the police via the NYE.
We lead these articles with a photograph of the late Shaw Taylor, as a tribute to him. Shaw was a groundbreaking forensic journalist, who pioneered police media appeals for information in the programme Police 5. His work led to the successful conclusion of many casses in the UK, Europe and the United States through local programmes that followed the pioneering format of his original programme called Police 5 in 1962.
The NYE will continue to immediately publish urgent appeals for information from North Yorkshire Police (NYP), in missing person's cases etc.
~~~~~
Police 7: Community Policing News Jan. '22
POLICING NEWS

North Yorkshire's Most Wanted
This man may have information about an assault in Whitby:
https://www.northyorkshire.police.uk/news/north-yorkshire/news/appeals3/2022/01-january/cctv-appeal-to-identify-man-who-may-hold-information-about-an-assault-in-whitby/
---
Have you seen Scarborough man Marc Todd?
https://www.northyorkshire.police.uk/news/north-yorkshire/news/wanted/2022/01-january/appeal-to-locate-wanted-man-marc-todd/
If you have any information which would assist Officers, please contact 101, select Option 1 and pass the information to the Force Control Room.
You can also contact Crimestoppers anonymously on 0800 555 111.
---
Missing Person's Appeal: Have you seen Sarah West?
https://www.northyorkshire.police.uk/news/north-yorkshire/news/missing/2022/01-january/renewed-appeal-to-find-scarborough-woman-sarah-west/?__cf_chl_captcha_tk__=.oTyGeAcd9.ExHTsuUIP9QrlY2GVTacy5YVV5kzyncs-1643113851-0-gaNycGzNCVE
Over eight months ago, 47-year-old Sarah West left her home address on Stepney Road in Scarborough in the early morning of 25 April 2021. The last sighting of her was around 7.30am that same day on the A165 near Cayton Bay.
Sarah is believed to have been walking along the Cleveland Way path between Scarborough and Filey.
Police searches covered the area extensively, including Reighton and Filey but to no avail and despite a number of public appeals, Sarah still remains missing.
Sarah is 5'5″ tall, of a very slim build with dark blonde/brown hair and maybe wearing glasses. When she went missing, Sarah is believed to have been wearing jeans, a light-coloured blouse top and brown flat boots. She may be carrying a red bag.
Sarah's mum Valerie and her sister Rebecca shared this message for Sarah back in April and have renewed their plea for the public to keep looking out for her:
"Sarah, please come home. We love you and we are here for you no matter what.

"We know you are worried about your health and our health and we just want you to come home so we can support you. Together we'll find the right treatment and the right people to help you and we will be by your side throughout it all.
"There are so many people who love you and care about you.
"We are all praying for you to come home, that's all we want and we will be here waiting."
Valerie added:
"We asked this before and we ask this again, please keep vigilant for any sightings of Sarah and help us to bring her home safe. We are so grateful for the support of everyone who is helping to find her."
 North Yorkshire Police Sergeant, Jon Dillon, said:
"It's been eight months since Sarah was first reported missing and we're asking everyone to refamiliarize themselves with her photo and description so they can stay vigilant for any sightings.

If you see Sarah please call 999 for an immediate sighting or 101 with any other information. Every piece of information can help so please don't hesitate to get in touch."
---
Witness Appeals and Court Reports
The following witness appeals and court reports may be of particular relevance to our readers and can be accessed from the NYP website. Link below.
https://www.northyorkshire.police.uk/news/news-search
Serious assault at Scarborough pub.
Man hospitalised after Scarborough assault in St Nicholas Street.
Filey drugs raid.
Public order incident in East Ayton, Scarborough.
Whitby man jailed for two years and eight months for grievous bodily harm of a woman and causing criminal damage.
Serial rapist jailed for eleven years.
Driver who was three times over the limit banned for three years.
Christmas drink drive campaign leads to significant increase in arrests.
---
Crime Prevention: Impersonating a Police Officer scam
North Yorkshire Police is issuing an urgent warning after three reports in 24 hours of this well known fake Police Officer telephone scam.
A caller rings the victim claiming to be from the Police, and in these most recent cases, Sergeant White from the Serious Crime Unit at York. They tell the individual that a relative, grandson for example, has been arrested for trying to use the individual's bank card in a retailer and that their account is under threat of fraud.
They then add another layer to the deceit by transferring the individual to 'Officer Timothy Mason' from Brixton Police who claims to be with the arrested individual.
The caller advises the individual that they need to immediately attend the bank and withdraw all money from their account in cash. A 'Police Officer' or courier will then come to their home to collect the cash and take it for safekeeping.
North Yorkshire Police Financial Abuse Safeguarding Officer, Andy Fox, said:
"This is a fraud which will simply not go away and unfortunately one which continues to be highly effective.

The fraudsters add a layer of credibility by having another scammer pose as a second police officer which is all part of their manipulation to convince the victim they are real.
You might read this and think you'd never fall victim to something so obviously a scam but you would be surprised by just how many people lose tens or hundreds of thousands of pounds to these calculated individuals.
They work hard to be as convincing as possible and no one is immune from their approach. These fraudsters also use a technique called number spoofing, where anyone can make their phone number look like a legitimate one.
Remember, the police or your bank will never contact you and ask you to move or transfer money. If you receive a call of this nature, hang up immediately. If you want to double check whether it is a legitimate call, use a different phone to ring your bank's customer service phone number."
---
Community Policing: Drugs
Anyone with any information about suspected drug-related crime are urged to contact North Yorkshire Police on 101, select Option 1, and speak to the Force Control Room.
Always dial 999 if an emergency response is required.
If you would prefer to remain anonymous, please call Crimestoppers on 0800 555 111 or make a report online at www.crimestoppers-uk.org.
The signs of drug dealing can include:
Increased callers at a property at all times of the day or night
Increase in cars pulling up for short periods of time
Antisocial behaviour at a property
Not seeing the resident for long periods of time
Drug-related rubbish – small plastic bags, syringes
Windows covered or curtains closed for long periods
Get help for drug addiction: