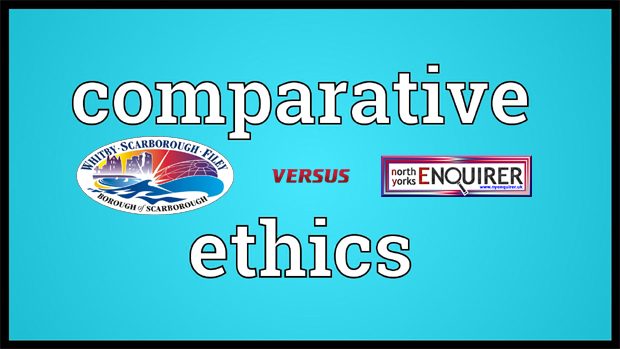 Ethical Standards Comparison between SBC and the NY Enquirer

A Letter to the Editor from NUJ investigative journalist TIM HICKS.
~~~~~
Sir,
To give readers further confidence in the quality of NYE journalism, I would like to return to the issue of journalistic standards and also standards of citizen journalism generally.
As I made clear in a recent letter to the NYE editor, I think that Scarborough is lucky to have a free and diverse local media, that holds local Councils, public bodies, Councillors and Council officers to account. This is part of the democratic process. I know that many Councillors recognise the importance of having diverse and challenging local media. However it is also important that the media conducts itself ethically, itself submits to scrutiny and responds to criticism.
Below is the National Union of Journalists (NUJ) Code of Conduct.
This code sets out the requirements of the NUJ for ethical and principled journalism. I am a member of the NUJ and as a citizen journalist I adhere to the NUJ Code of Conduct. The NYE always gives a right of reply to anyone that disagrees with anything it has published and has recently publicised criticism of the NYE by an SBC Councillor, even though it disagreed with his views.
This is a higher standard than that maintained by the SBC, which routinely ignores misconduct by Councillors. It failed to take any effective action over double-dipping of the same allowance from SBC and NYCC by some SBC councillors, or over Councillor Nock's disgraceful remarks about Councillor Peter Jaconelli. It has also pursued an aggressive policy of suppressing criticism both external from journalists (UIWO3 SBC Information Warfare article here ) and internal criticism from whistleblowers (Ben Marriott "whitewash" article here).
I leave the reader to draw his own conclusions on the standards of both organisations.
Yours, etc
Tim Hicks
Tim HICKS, Luxembourg. 7th September, 2017.