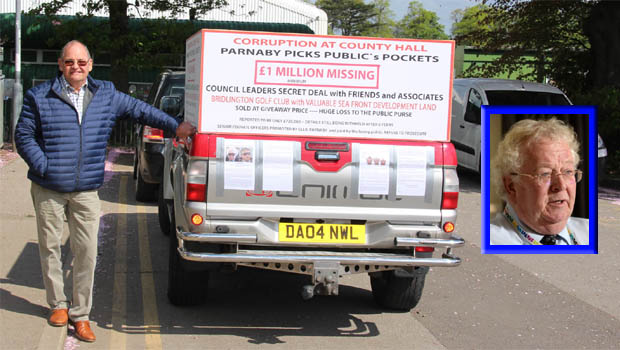 ERYC: ROBINSON Hits The Road to Brace PARNABY
With commendable determination, retired Cottingham developer Mr Peter ROBINSON has published a series of photographs highlighting his very own 'Tour de Yorkshire' (Day 1) – his latest action against suspect East Riding of Yorkshire Leader (outgoing), Councillor Stephen PARNABY [Con.] and certain of his Senior Officers. His announcement hints at a future escalation of his campaign and reads as follows:
——– Original Message ——–
Dear Everyone
Early start Thursday, first a tour of the Polling Stations, then visit Parnaby Street and Parnaby Village (back later), Lunch at Morrisons Beverley, time to welcome the staff back from lunch at County Hall, causing a bit of a stir in Beverley Saturday Market and Police Constable reading my last weeks letter to the Chief Constable.
What will tomorrow bring?
Regards Peter
---
Should look great on the telly . . .