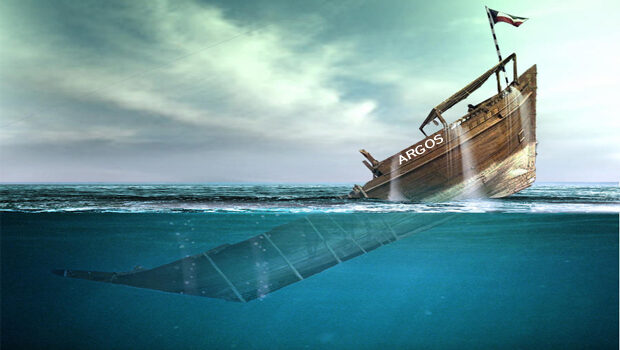 ARGOS Sinks?

an "In My View" article by NIGEL WARD, reporting on the likely demise of the ARGOS project.

~~~~~
If a report in yesterday's Guardian can be relied upon (which is not necessarily a given), it would appear that SBC Leader Councillor Steve SIDDONS will be lamenting the sinking of his 'flagship' project, the demolition of the former ARGOS building to make way for 210 accommodation 'boxes' for Coventry University students and NHS student nurses.
The Rt.Hon. Robert JENRICK, Secretary of State for Housing, Communities & Local Government, has announced a list totalling 72 towns to receive grant funding of up to £25 Million from the Future High Streets Fund (FHSF).
Scarborough is not one of them.
The announcement thus nullifies the raison d'être of the ARGOS project even before the Planning Committee has an opportunity to consign it to its rightful destination – the trash can.
Tamworth £21,652,555
Sunderland £25,000,000
Sutton £11,346,704
Bishop Auckland £19,856,853
Blyth £11,121,059
Kidderminster £20,510,598
Old Kent Road, Southwark £9,605,854
Swindon £25,000,000
Stockport £14,500,000
Winsford £9,980,000
Sheffield £15,817,001
Blackfriars, Worcester £17,939,000
Birkenhead £24,581,011
Brierley Hill £9,985,689
Stretford £17,605,674
A further 57 places will receive provisional funding offers:
Leamington Spa £10,015,121
Nuneaton £13,362,736
Wolverhampton £15,760,196
Walsall £11,439,967
Newcastle-under-Lyme £11,048,260
Stafford £14,377,723
Tottenham £10,019,648
Woolwich £17,150,964
Wealdstone £7,448,583
Putney £1,058,706
Elland £6,310,812
Northallerton £6,085,013
Rotherham £12,660,708
Halifax £11,762,823
Barnsley £15,624,456
Scunthorpe £10,675,323
New Ferry, Wirral – £3,213,523
Wigan £16,633,691
Crewe £14,148,128
Rochdale £17,080,458
Farnworth, Bolton £13,306,817
Oldham £10,750,237
Kirkham, Fylde – £6,290,831
Maryport, Allerdale – £11,527,839
Carlisle £9,129,874
Plymouth £12,046,873
Barnstable £6,548,876
Newton Abbot £9,199,364
Paignton £13,363,248
Kingswood £12,555,464
Salisbury £9,355,731
Penzance £10,403, 112
Trowbridge £16,347,056
Yeovil £9,756,897
Taunton £13,962,981
Loftus £5,833,628
Middlesbrough £14,170,352
Stockton £16,543,812
South Shields £5,959,187
Derby, St Peters Cross £15,034,398
Sutton-in-Ashfield £6,279,872
Grantham £5,558,818
Grimsby £17,280,917
Nottingham, West End Point £12,523,981
Heanor £8,592,837
Northampton £8,442,730
Buxton £6,608,223
Dover £3,202,226
Newhaven £5,004,939
Chatham £9,497,720
Ramsgate £2,704,213
Commercial Road, Portsmouth £3,122,375
Fratton, Portsmouth £3,858,489
High Wycombe £11,886,876
St Neots £3,748,815
March, Fenland £6,447,129
Great Yarmouth £13,774,430