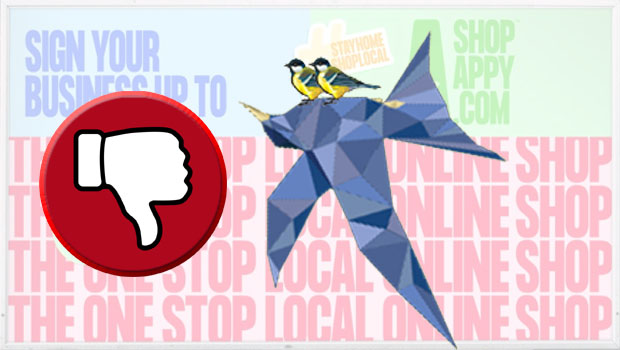 A Letter to the Editor from Scarborough commentator BRIAN MATHEWS, whose opinion of the projects floated by the Yorkshire Coast BID – thus far, at least – is no higher than deserved.
~~~~~
Dear Editor,
More Waste of Levypayer's Money by Yorkshire Coast BID
Levy Payers have been circulated by the BID Company about their wonderful new product 'ShopAppy' on which Levy Payers' money has been potentially squandered.
Business Support to Help You Continue to Trade
As we continue to work on a strategy that will relaunch the Yorkshire Coast once it is safe to do so, we knew that we must immediately invest in support to help our businesses to continue to trade in the current climate. 
Our new partnership with ShopAppy.com is launching across the Yorkshire Coast this week and will provide businesses with an easy opportunity to sell their goods online without the need for costly e-commerce websites and the hassle of arranging your deliveries.
It's quick and straightforward to set up – plus, as levy payers, we are funding the cost of subscription which is £240 per year which started from April 2020. 
As a newcomer to all this, I have made a point of researching the businesses in Scarborough.
15 businesses have signed up for 'ShopAppy' (plus Yorkshire Coast BID and Business in Yorkshire, equals 17). This is very far from impressive, but it gets worse.
12 have not put anything on and, of the 4 who have (I exclude the BID company), 3 are promoting a grand total of 7 items each and 1 has only a single item for sale. Hardly a massive sales boosting exercise. Pitiful, in fact.
What is more, 2 businesses who are effectively mobile (and therefore do not pay the Levy) are also included – one a nail technician and the other an Avon representative.
I then went on to search retail businesses like "Gift Shops and Pet Shops" via Google, and on the first three pages I could not see a single link to 'ShopAppy'.
However, I could find many direct links to businesses on the free listing on Google.
I then looked at some Whitby businesses.
Under "Greengrocers", Masons on Flowergate is included on the 'ShopAppy' site. However, a Google search for the same shows that their main competitor Wilsons holds almost total exclusivity on the first page, with 10 entries. Free.
Two points to note:
17 x £240 = £4,080 – plus whatever is spent on the other towns – for no benefit whatever. And this raises another question:  is Yorkshire Coast BID also paying for non-levypayer businesses? If so, why? What are the levypayers actually paying for?
As with the 'Find Cheaper Utility Prices' initiative some months ago, this is another waste of Levy Payers' money, as any business person worthy of the name will already have identified the cheapest utility sources and taken advantage of the free promotion available via Google Retail or Facebook.
Finally, apart from a bus journey, paying for the Christmas Tree in Scarborough, and a questionable 'charitable' dressing-up walk through Whitby that succeeded in alienating the businesses along the route who directly or indirectly sponsored it, what has Yorkshire Coast BID actually achieved?
Answers on a pinhead…
Yours faithfully
Brian Matthews
Scarborough, 31st May 2020