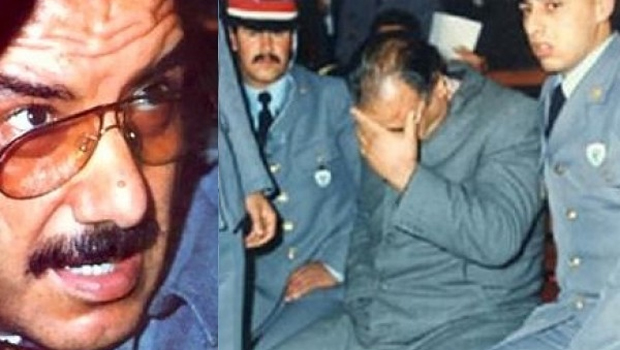 Guest Author Satish SEKAR, author of the "The Cardiff Five: Innocent Beyond Any Doubt" (Waterside Press, 2012), is Founder and Chairman of The Fitted-In Project, a group of concerned people who decided to organise themselves to achieve their potential to facilitate policy changes in the criminal justice system. It dedicates immeasurable time and effort to helping individuals who have become involved in cases of injustice caused by the failures of the criminal justice system, including the Crown Prosecution Service. Satish previously contributed his article "Reprehensible" to the Enquirer.
~~~~~
A Beast in Uniform
The death penalty is the ultimate deterrent, or so we keep hearing. Really? Then how do its supporters explain the actions and fate of former Casablanca police commissioner Mohamed Mustafa Tabet? On August 8th 1993 the 54-year-old serial rapist faced a firing squad. He was believed to have claimed almost 520 victims – some of whom were schoolgirls. Tabet had been convicted at an extraordinary trial five months earlier – one that laid bare a web of corrupt abuse of police and medical powers.
His crimes were despicable and only emerged because of the courage of some victims who demanded justice. Tabet's downfall was self-inflicted – the price of incredible arrogance and belief in his privilege. Not only had the vile police commissioner committed a plethora of unspeakable crimes, but he had also video-taped the ordeals of his numerous victims secretly and kept the tapes.
Tabet's video-tapes were discovered by investigators – 118 of them – documenting his bestial crimes in an apartment he kept for committing his sex crimes. They were recorded by concealed cameras, which Tabet had installed.
The sensational month-long trial disgraced Moroccan policing. Eighteen victims gave evidence behind closed doors. Their accounts were similar. They had been taken to the apartment by force or ruse and then subjected to vile sexually cruel ordeals. They received damages between $3500-16,000.
Scandal
The scandal came to light because two of Tabet's victims took legal action against him. Morocco, to its credit, did not cover up for Tabet, or his colleagues. Tabet – married to two women and father of five children – was a vicious beast. However, his defence stretched credibility to absurd lengths. He claimed that the sex was consensual – all 518. Not surprisingly he was not believed. But even worse emerged.
Tabet's numerous crimes, committed over several years, were appalling. That cannot be disputed, but how had he evaded justice for so long? The answer lies in colleagues who disgraced their profession and a gynaecologist who performed unwanted abortions and reconstructed hymens. Dr Driss Lahlou received 17 years. His crimes also included complicity in rape.
The Cover-Up
The cover-up was extensive and shameful. It involved civilians – five of whom were jailed for ten years. Eight police officers were sent to prison for three years. They were not alone. Police Commissioners Abdesalam Bekkali and Mustafa Benmaghnia obstructed justice and failed to denounce a crime. They were jailed for twenty and ten years respectively for these offences and for falsification.
However, the worst of the conspirators of silence was Tabet's superior, Ahmed Ouachi. He was sentenced to life imprisonment – and rightly so – for trying to cover up Tabet's crimes both before and during the investigation that finally exposed Tabet for the depraved beast that he was. The list of Tabet's offences were legion.
Deterrence?
If capital punishment was the deterrent it is claimed to be, how did it fail to curb the criminal instincts of Mohamed Mustafa Tabet, a commissioner of police? Surely Tabet knew the consequences of his crimes and the risk of committing them, but that could not deter a senior police officer from committing heinous offences.
Tabet's execution was the last to take place in Morocco, despite two terrorist atrocities – suicide bombings in 2003 and 2007. Despite Morocco retaining the death penalty – over a hundred prisoners remain under sentence of death – it has not carried out an execution for almost a quarter of a century and is considered a de facto abolition nation.