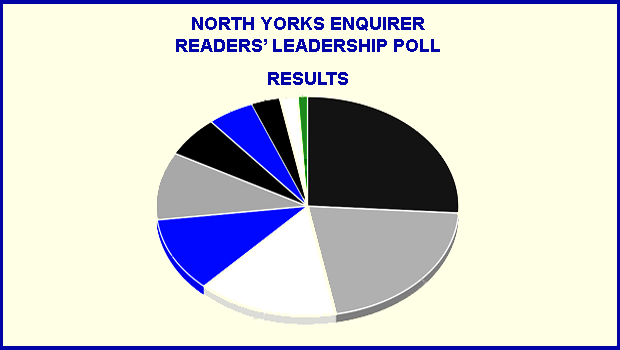 NYE Readers' Leadership Poll – RESULTS
The NYE Poll to identify who it is that readers would most like to see as the next (and last) Leader of Scarborough Borough Council has closed now, after a three-week voting window, and it is time now to publish the results.
It was never anticipated that voters would exceed one thousand in number but perhaps the greatest surprise was the name of the front-runner after the first two weeks of polling. The past week has witnessed a flurry of voting and the running order has now changed with the early leader slipping to second place.
Here is the final result:
In THIRD place, with 15% of the vote:
Councillor Bill CHATT [C.I.M.]
SECOND, with 21% of the vote, early front-runner:
Councillor Neil HERITAGE [Y.C.I.A.]
FIRST choice, the clear winner, with 26% of the vote:
Councillor Andy BACKHOUSE [Ind.]
The also-rans:
4th – Councillor Derek BASTIMAN [Con.] with 11%
5th – Councillor Sam CROSS [Y.C.I.A.] with 10%
6th – Councillor Janet JEFFERSN [Ind.] with 6% 
7th – Councillor Heather PHILLIPS [Con.] with 5% 
8th – Councillor Michelle DONOHUE-MONCRIEFF [Ind.] with 3%
9th – Councillor Mike COCKERILL [C.I.M.] with 2%
10th – Councillor Will FORBES [Green] with 1%