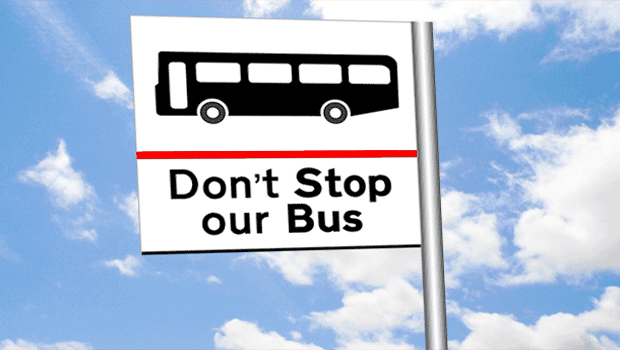 NYCC: Stop Local Bus Cuts
Residents of Whitby, the Esk Valley and surrounding villages of the North Yorkshire Moors may be interested to learn that a concerted opposition to draconian service cuts on bus routes in the area has now emerged.
The campaign goes public with a public meeting to be held at Goathland Village Hall on Thursday 8th October, almost a week before the NYCC Scrutiny Committee sits at Northallerton, to address concerns overlooked during the recent 'consultation' period.
Invitations are to be extended to Officers from NYCC and to County Councillors, particularly County Councillor Helen Swiers, and to representatives from across the wider political spectrum. It is hoped that Scarborough & Whitby MP Robert Goodwill [Con.] will attend, along with the Harrogate MP who is in charge of public transport. Invitations are also to be extended to the head of Welcome to Yorkshire, and Sir Richard Lee from Northern Transport, Parish Councillors (Goathland and Grosmont), Whitby hoteliers, the Whitby Gazette and the Yorkshire Post etc.
One important function of this meeting will be to identify ways of spreading the word about the campaign.
Members of the public are invited to assemble outside of the Village Hall at 6:00pm, for all those who can come with placards and banners, followed by the meeting inside the Village Hall starting at 6.30pm.
The meeting offers an opportunity to focus the campaign on the Scrutiny Committee meeting the following week, where the results of the 'consultation' will be presented and where it is hoped that several people can raise salient questions.
One important question is to ask how NYCC can justify their removal of the bus subsidy on the basis that a voluntary community transport project will miraculously spring into existence.
Labour Councillors are happy to organise transport and have other people from Whitby who are also keen to attend this Scrutiny Committee.
The NYCC Executive Committee will meet in December and that presents another opportunity to attend.
Scarborough Borough Councillor Rob Barnett [Lab.] will research protocol for submitting questions to the Scrutiny Committee as they need to be lodged with the clerk in advance. Councillor Rob Barnett will be co-ordinating questions to be put to NYCC Officers at the meeting.
A Twitter account has been established and has already attracted some promising contacts likely to support the campaign. The account is called Moors Area Bus Group and can be located here: https://twitter.com/NoMoorsbus.