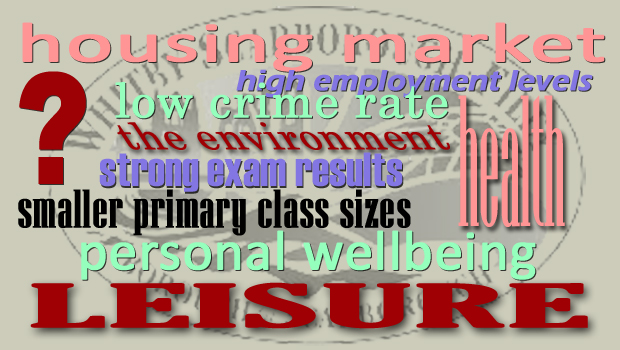 N. Yorkshire's Poor Relations
an "In My View" article by NIGEL WARD, lamenting further evidence that the Borough of Scarborough is nowhere near to fulfilling its service potential. Is an increase in Council Tax the answer? Or a decrease in the reckless playing of Monopoly with the public purse?

~~~~~
A survey carried out by Halifax, based on data including:
housing market,
high employment levels,
low crime rate,
the environment,
strong exam results,
smaller primary class sizes
health,
personal wellbeing
leisure
has concluded that the following are the top 50 places in the UK to live:
Orkney, Scotland
Richmondshire, Yorkshire and the Humber
Rutland, East Midlands
Hambleton, Yorkshire and the Humber
Eden, North West
South Oxfordshire, South East
Cotswolds, South West
Ryedale, Yorkshire and the Humber
St Albans, East of England
Derbyshire Dales, East Midlands
Vale of White Horse, South East
Waverley, South East
Hart, South East
East Hertfordshire, East of England
Westminster, London
Winchester, South East
Rushmoor, South East
Uttlesford, East of England
Wychavon, West Midlands
Harborough, East Midlands
South Cambridgeshire, East of England
Rushcliffe, East Midlands
Ribble Valley, North West
Surrey Heath, South East
Wokingham, South East
Harrogate, Yorkshire and the Humber
Babergh, East of England
West Oxfordshire, South East
South Buckinghamshire, South East
Windsor and Maidenhead, South East
Warwick, West Midlands
Elmbridge, South East
Chichester, South East
Stratford-upon-Avon, West Midlands
Lichfield, West Midlands
Malvern Hills, West Midlands
Rochford, East of England
Chiltern, South East
Shetland, Scotland
Richmond upon Thames, London
West Berkshire, South East
Basingstoke and Deane, South East
South Hams, South West
Fareham, South East
St Edmundsbury, East of England
Wycombe, South East
Mid Suffolk, East of England
Monmouthshire, Wales
Daventry, East Midlands
Selby, Yorkshire and the Humber
North Yorkshire County Council is the first-tier authority for North Yorkshire and its boundaries include the following second-tier authorities (in alphabetical order):
Craven District Council
Hambleton District Council
Harrogate Borough Council
Richmondshire District Council
Ryedale District Council
Scarborough Borough Council
Selby District Council
The five localities highlighted in bold type in that top-fifty list are also highlighted in bold type in the above list of the seven North Yorkshire Districts/Boroughs.
Conspicuous by their absence are Craven and Scarborough, where residents are less well served than their neighbours elsewhere in North Yorkshire, at least in terms of the Halifax criteria of housing market, high employment levels, low crime rate, the environment, strong exam results, smaller primary class sizes, health, personal wellbeing and leisure.
In fairness, policing, education and health do not fall within the statutory remit of second-tier Councils.
But housing, employment, environment, personal wellbeing and leisure do.
The residents of Craven and Scarborough will not be best pleased to find themselves once again the poor relations in the North Yorkshire family – especially Scarborough, the "low-pay capital" of the United Kingdom and "personal bankruptcy hotspot".
Notwithstanding SBC Leader Councillor Derek BASTIMAN's claim ("I live in the best place in the world"), residents of the Borough of Scarborough will be looking for credible assurances of an improvement in Quality of Life when they go to the polls in May. On the evidence of the past four-year Council term – strewn with disasters, cover-ups and embarrassments – confidence in the present Leadership is at an all time low.
I leave you with the Leader's remarks, as reported by the Scarborough News (10/08/17):
"A major public-private sector partnership has led to a phased redevelopment of the town's north bay, including luxury holiday apartments and a new £14 million state of the art waterpark, Alpamare Scarborough, which opened its doors in 2016. The next development to be delivered as part of this partnership is a seven screen multiplex cinema, incorporating high-end food and retail businesses, 24 luxury flats and a multi-storey car park. A future phase will see the creation of a forest holiday village."
Fantasy Island, or what? The reality, as we now know, is that the "phased development of the town's north side" comprises a waterpark on the bones of its fundament and a great deal of hot air. And, meanwhile, the North Bay, like the South, has lost its Blue Flag. Can it get any worse?
A younger, more imaginative, more compassionate and more dynamic Leadership is now the first priority.
Vote wisely – by NOT rewarding failure.