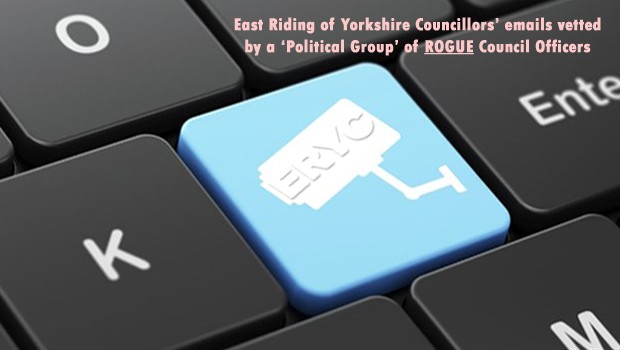 Until recently, if you wanted to contact your local councillor at East Riding of Yorkshire Council (ERYC), you would browse the ERYC website, find the list of councillors, work out which was your local councillor and then access their contact details, which would include their home phone number and private email address.
Without any warning or reasonable explanation, ERYC implemented a process whereby any member of the public who wished to contact their councillor directly are now pushed towards contacting 'Political Group Offices'. Political Group Offices are staffed by ERYC officers.
The councillors contact details are now contained in a PDF file, written in a small font so that people with poor eyesight can't read the contact details. ERYC have removed councillor's private email addresses from the site and replaced them with one from the ERYC domain, @eastriding.gov.uk.
On the surface it appears to standardise the email contact process, but ERYC councillors are reporting they cannot collect email from those addresses. It now appears all email sent to your councillor is read by the relevant 'Political Group Office' and forwarded. Councillor's confidential email is *again* routinely read by ERYC officers.
Again? The reason that most councillors had private email addresses in the first place was because they had previously become aware that ERYC officers had been reading confidential email sent to their @eastriding.gov.uk email addresses. It appears the council wants to take control again.
In one example, an email sent to one councillor at their @eastriding.gov.uk email address, which contained criticism of other councillors in minutes of a private non-ERYC meeting, was read in the Political Group Office. That confidential email was distributed to other councillors.
Hopefully Mathew Buckley, the ERYC Monitoring Officer and also Head of Legal and Democratic Services, whose salary doesn't appear on the ERYC website, should be aware of the contents of the Regulation of Investigatory Powers Act 2000, specifically:
(2) It shall be an offence for a person —

(a) intentionally and without lawful authority, and

(b) otherwise than in circumstances in which his conduct is excluded by subsection (6) from criminal liability under this subsection,

to intercept, at any place in the United Kingdom, any communication in the course of its transmission by means of a private telecommunication system.
Given the problems currently facing Rotherham Metropolitan Borough Council, one has to hope that ERYC aren't trying to cover up problems of their own.