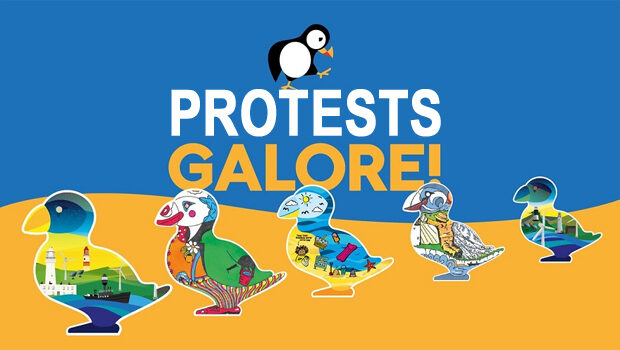 Protests Galore!
Puffins hijacked! A Letter to the Editor from a Bridlington business proprietor who kindly send the following report on a civilised act of protest conducted on the evening of Wednesday 6th July – i.e. on the eve of Court Hearings in York and Beverley Magistrates' Courts seeking to FORCE BID Levy refuseniks to pay what they regard as an unwanted, spuriously mandated, and thoroughly useless 'stealth tax' on their already hard-pressed businesses.
~~~~~
Dear Mister Editor,
I thought your readers would be interested to see the Bridlington response to the bizarre "Puffins Galore!" project unveiled last Saturday. I read on the internet that some of these inexplicable monuments in Hull have already been vandalised.
How nice to see Bridlington protesters adopting a more reasonable approach to making their feelings known.
Though not a Levy payer myself, I can well understand why businesses see no material benefit from any of the whacky ideas produced by Yorkshire Coast Business Improvement District. I mean, why would Wessies flock to the coast to see stylised, oversized papier maché seabirds?
And I think it is an unacceptable quirk of the whole process that councillors in Scarborough have foisted this BID caper on businesses along the Holderness Coast who have no representation at Scarborough Council and East Riding councillors have swallowed it whole. Wasn't there something in law about no taxation without representation?
For my part, I intend to avoid businesses who have gone along with this shameless attempt to pick taxpayers' pockets.
I wish the protesters a fair hearing. Good luck to them, I say. Perhaps your readers would like to show their support by sharing some of these photos on social media?
Yours sincerely,
AF
Bridlington