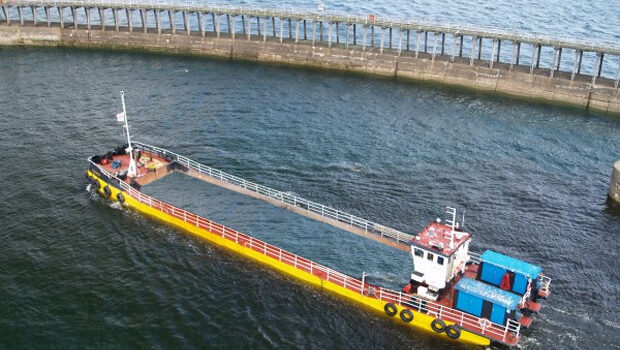 The Borough Dredger: VFM?
Enquirer harbours correspondent ALLAN ROBERTS turns his attention to the 'Value For Money' element of the Borough's dredging activities.
~~~~~
It was interesting to note that, during the Council meeting of November 2nd, 2020, Cllr Bastiman commented upon this very brief statement made by Cllr Jefferson regarding the management arrangements for the Borough dredger, 'Sandsend'.
"Following an effective tender process a five year ship management agreement has been finalised and a contract entered into with Dalby Offshore Services. The vessel 'Sandsend' has recently completed a successful external contract in Aberdeen harbour. 
This charter has provided valuable income which assists to offset the costs of dredging our own harbours. 
Currently routine maintenance dredging is being undertaken at Scarborough harbour, and following completion the autumn/winter dredging campaign will commence at Whitby harbour."
Cllr Bastiman, quite correctly, in the opinion of many harbour users, questioned the brevity of that statement, in view of the fact that it was 'a lengthy agreement' and asked for more details.
Cllr Jefferson replied that she would provide cllr Bastiman with a written reply.
Hopefully, and in line with the Councils commitment to Openness and Transparency, Cllr Jefferson will share her reply with the Scarboro harbour users who have had a bad deal out of the boro dredger for many years having been subject to a standing charge of £38,000 per year for an undefined ammount of dredging.
Because of the unfair and insidious charge of this Council-owned asset, it is a fact that between 2017-19, Scarborough Harbour paid £76,000 for just 9 days of dredging – which equates to £8,450 per day.
Now that the dredger is in the hands of 'professional management', at a cost to the SBC taxpayer of £500,000 (see above) over the next 5 years, and in view of the fact that Bridlington Harbour Commissioners own a modern Dredger – and that Bridlington is as conveniently located to Scarborough as Whitby is – one question that needs addressing is:
Would it be more cost-effective to apply a tendering process for the Dredging work at Scarborough Harbour, Janet?