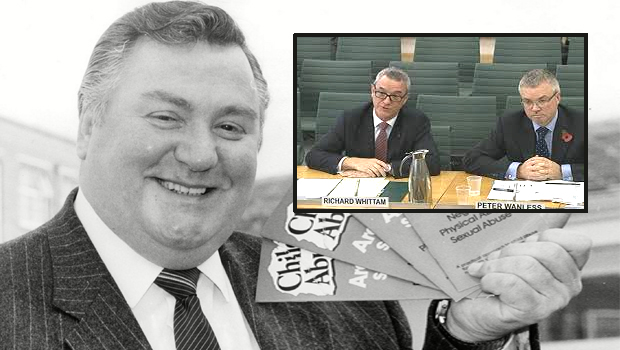 Child Abuse: The Wanless/Whittam Report Published

– Crime & Parliamentary Affairs correspondent TIM HICKS reports on the publication of the Wanless/Whittam and other significant developments in the child abuse scandal threatening the credibiltiy of  the establishment
~~~~~
The investigation Mr Peter Wanless (Head of the NSPCC) and Mr Richard Whittam QC, to examine how the Home Office dealt with files alleging abuse from 1979-99 and the handling of allegations of child abuse by prominent figures, has now reported.
The review was prompted by the revelation that a dossier passed to the Home Office by Yorkshire MP the late Geoffrey Dickens in 1983, containing the names of high-level paedophiles, had been lost by the Home Office, thereby preventing any investigation or prosecution.
Full report here.
Prime Minister David Cameron said the report meant people "looking for conspiracy theories" would "have to look elsewhere".
However, speaking on BBC Radio 4's PM programme, Mr Wanless said Mr Cameron was "wrong" to say his report proved there was no cover-up.  "He can only say that into the registered filing system of the Home Office," he said.  "I think it's really important that no-one regards our piece of work as the beginning and end of all this".  Sentiments the North Yorks Enquirer endorses.
BBC comment here.
We know that files on paedophiles were destroyed at Rotherham.  We also know that MI5 and its subordinates in Special Branch protected Cyril Smith (and other paedophiles) by destroying the file on him.  Full story here.
It has also been alleged that Special Branch funded the Paedophile Information Exchange to obtain information on prominent people.  Full story here
The report concluded:
It found nothing to support the claim that files were removed to cover up abuse.
It was impossible to determine whether files were removed to cover up abuse.
There was no evidence that the Home Office ever provided funding to the Information Exchange (a pro lobbying group advocating the removal of the age of consent).  However the possibility could not be dismissed.
The North Yorkshire aspect and Operation Spade
The North Yorkshire Enquirer believes that one of the paedophiles named in the dossier handed to Whitby MP Leon Brittan, when he was Home Secretary,  by Mr Dickens in 1983, was Britain's most successful and longest offending paedophile and rapist Peter Jaconelli, who was exposed by the NYE team.
Jaconelli was Mayor of Scarborough, a leading Yorkshire Conservative and North Yorkshire County Councillor.  Mr Dickens was closely associated with North Yorkshire and would have known of Peter Jaconelli through his knowledge of the Conservative Party regional grouping, the Yorkshire and Humberside Conservative Association.  So common was knowledge of Jaconelli's  offending that it is inconceivable that he would not have known of the allegations about Jaconelli and his associates.  Mr Brittan would also have known him and may have been aware of his offending.
It is entirely credible that Jaconelli was one of the prominent persons mentioned in the dossier that Mr Dickens passed to the Home Office.  It is also possible that the dossier had information on Jimmy Savile, who was equally well-known for offending openly in Whitby, in joint enterprise with Jaconelli.
MI5 was not subjected to an independent search of its records, it replied that it had conducted a search and had found nothing that was relevant to the review.  In short it investigated itself.  This is obviously completely unsatisfactory – particularly as the files relating to Cyril Smith have never been found and they were certainly seized on the orders of MI5, which would have retained them.  Other enquiries have been held where organisations exonerated themselves which were blatantly unsatisfactory and lacking credibility.  In the case of North Yorkshire Police they were found to be wrong and to have blatantly lied.
The West Yorkshire Police investigation into why it failed to arrest Savile was widely castigated as a whitewash.  Article here.  So was the North Yorkshire Police investigation.  NYE investigation here.  As with the Home Office and MI5, intelligence files appeared to have conveniently disappeared
Despite NYP exonerating itself several times, a North Yorkshire Police Detective Sergeant has been served with a misconduct notice by the IPCC.
In the latest humiliation for North Yorkshire Police, following its own investigation into the unit responsible for protecting children and vulnerable adults, which predictably gave the Protecting Vulnerable Persons Unit a clean bill of health last month (North Yorks Enquirer investigation here), it has been announced that the IPCC has ordered an investigation into North Yorkshire Police over its failure to act on intelligence about paedophiles received from the Police in Toronto, Canada.  BBC Report on Operation Spade fiasco.
Briefly, Police in Toronto identified thousands of men in the UK who had allegedly been purchasing videos and DVDs featuring pornographic images of youngsters as part of Operation Spade.  The information was first passed to the Child Exploitation and Online Protection Centre (CEOP), which is now part of the National Crime Agency (NCA), which in turn passed the information to individual Police Forces.
In North Yorkshire, it will have gone to the Force Intelligence Bureau (the organization that apparently mislaid intelligence on Savile and Jaconelli), for investigation by the Force Protecting Vulnerable Persons Unit.
This failure to act on intelligence on paedophiles is typical of the response that allowed Savile and Jaconelli to evade arrest and shows that nothing has changed.
The Force Protecting Vulnerable Persons Unit is led by Detective Superintendent Heather Pearson, who has a history of abusing her warrant card to try and suppress information that was embarrassing and inconvenient to North Yorkshire Police.  She is the Police Officer that threatened to arrest me, at the request of Councillor Jane Kenyon-Miller (the Chair of the former North Yorkshire Police Authority) for breaking the story that Councillor Kenyon-Miller and her husband are both international tax fraudsters.
We will only get to the bottom of this matter if there is an independent judicial inquiry.  Not the Police and MI5 investigating themselves.  As Mr Wanless stated:
"I think it's really important that no-one regards our piece of work as the beginning and end of all this".