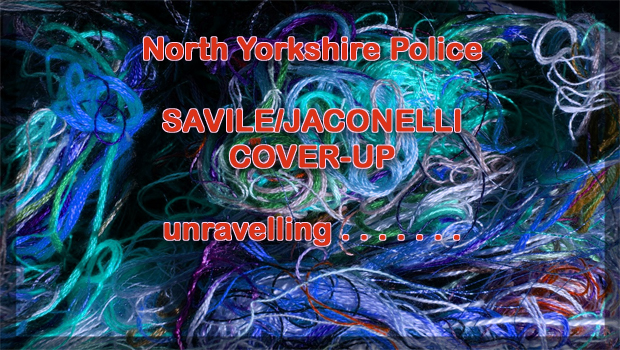 NYP Detective Sergeant Served With Misconduct Notice:  Follow-Up Report
Crime & Parliamentary Affairs correspondent TIM HICKS up-dates on the fall-out from Friday's IPCC statement on the Police cover-ups in the JIMMY SAVILE and PETER JACONELLI, focusing on the NorthYorkshire Police and with particular reference to the cover-up in the Borough of Scarborough.
~~~~~
The initial article
On Friday 19th September 2014, it was announced by the IPCC that:
"The IPCC has an independent investigation under way into potential misconduct issues arising from the manner in which North Yorkshire police officers handled information about Jimmy Savile, and an associate, the late Peter Jaconelli. Matters under investigation by the IPCC relate to how the force handled information from a 15 year old girl in 2002 regarding Savile, and how the force treated two disclosures made by a serving prisoner about Jaconelli in December 2008 and January 2009. One serving detective sergeant has so far been served with a misconduct notice to advise him his conduct is subject to IPCC investigation."
Daily Mail coverage of this development – covering all Forces – available here.
The reference to a serving prisoner triggered alarm bells in the NYE Newsroom (located in cyberspace) but we decided to get an initial article out straight away, and then to follow up with what we know about the Prison Service side of Jaconelli's activities.  Our initial coverage is here and should be read prior to proceeding to the bulk of this article:  North Yorks Enquirer Original Article:  North Yorkshire Police Savile Jaconelli Cover-Up Starts to Unravel
Since Friday's article, we have checked our archives and can now shed more light on the pattern of offending by Jaconelli and the other members of his ring. For the first time we will releasing what we know about the trafficking of young people from Scarborough and Whitby.
Allegations of trafficking of young people by the Scarborough paedophile-ring

The NYE team has for some time been aware of allegations that the Scarborough ring, led by Peter Jaconelli, was involved in trafficking of vulnerable people to be abused.
Savile brought vulnerable medicated patients from Rampton Secure Psychiatric Hospital to visit Jaconelli in Scarborough. We are still waiting for the report on Savile and Rampton to be published and will comment on it as soon as it is available.
We are aware of an allegation that Peter Jaconelli was a visitor to Flockton Youth Offender Institution in Wakefield. About two hours drive from Scarborough, it is now HM Prison New Hall, a Closed Category prison for female adults, juveniles and young offenders. Because this is in West Yorkshire and out of area for NYE, we have not followed this up.
We are aware that Savile and Jimmy Corrigan both had mobile-homes and used a rented caravan at the former Wallis's Caravan Park in Cayton Bay.  They used Corrigan's mobile-home to visit a Scout Camp in Doncaster in the 1970's for a sleep-over.
An NYE investigative-journalist reports that:
"I have received information via recorded witness statements from three former serving Police personnel stationed at Scarborough Police Station in the 1970s, '80s and 90s which confirms that both Savile and Jaconelli were frequent visitors to the Police Station, were they were treated like visiting royalty, despite it being well-known by the Police that they were paedophiles (by the common-usage phrase "kiddy fiddlers") acting in joint enterprise and with others. One witness has stated that Police cars were provided to convey Jaconelli to County Hall in Northallerton, then on to Leeds for casual liaisons, before returning to Scarborough in the early hours.


One of these witnesses recalls two occasions when he personally took details from parents of under-age girls assaulted by Savile in his car, after having having been picked up by Savile on the Foreshore Road in the late 1970s. These reports were passed up the food chain and suppressed.

Another witness has stated that Jaconelli routinely paid £1.00 to be masturbated, and £5.00 for the provision of oral sex. 

All of these witnesses emphasized that the prevailing Police culture in Scarborough in the 196s and '70s was one of laissez faire towards allegations of exploitative under-age sex, especially where the rich and powerful were concerned. Other witnesses have spoken of an extended ring capitalising on their connections to Savile and Jaconelli, plying young girls with money, alcohol and drugs before renting them out to pre-booked clients in motor-homes that travelled to Middlesbrough, York and further afield – including to a hidden location convenient to Queen Elizabeth II Barracks, Strensall, where they were reportedly clandestinely filmed in a caravan, with the resultant hard-core pornography exported to Holland and beyond."

We have independently verified that North Yorkshire Police also provided Savile with a Police Car to transport him to an official event.
In many ways, this collectively amounts to a far worse scandal than the one that erupted recently in Rotherham.
The initial NYP response:  Denial
Initially, North Yorkshire Police (NYP) denied that Savile had any connection to North Yorkshire.
Then NYP confirmed that two persons had come forward to them making further allegations and (laughably), this was the first they had known of Savile's offending:  http://www.northyorkshire.police.uk/9645
The original response by North Yorkshire Police to the IPCC
Following media pressure from the NYE team, North Yorkshire Police were directed by the IPCC to consider if there were any misconduct issues which should be reported to the IPCC.
The investigation conducted by Assistant Chief Constable Sue Cross was a disgrace and a whitewash and can be read here:  http://www.northyorkshire.police.uk/CHttpHandler.ashx?id=11532&p=0.
It is well worth reading in the light of recent revelations.
As you can see, it denies that North Yorkshire Police knew anything about Savile, Corrigan or Jaconelli and asserts there are no misconduct issues.  Although in fact it is now clear that NYP had received information in 2002, 2008 and 2009 and our information is that North Yorkshire Police had concrete evidence on Savile in the 1970's and Jaconelli from the 1950's. The decision by the IPCC to serve misconduct papers on a Detective Sergeant has perfectly quashed her report as unreliable.
The fresh referral to the IPCC
When Chief Constable Jones and Police & Crime Commissioner Mulligan were forced to refer North Yorkshire Police to the IPCC in April 2014, -resulting in a serving officer being served with misconduct papers- They made this statement:
"The referral relates to  how North Yorkshire Police responded to an allegation it received over a decade ago about Jimmy Savile (who died in October 2011) and about several allegations made recently about Savile's friend, Scarborough resident Peter Jaconelli, who died in 1999."
The reference to several allegations made recently about Jaconelli is thought to be a reference to information received in October 2012 as a result of media coverage, and allegations made by the NYE team in the media.
They chose conveniently not to mention:
The decision to refer itself to the IPCC was forced on it by the relentless investigation of Jaconelli and the Police corruption that allowed him to abuse children without hindrance by the NYE team being covered on the BBC, following a sustained cover up approved and orchestrated at the highest levels of North Yorkshire Police.  BBC coverage here:  BBC Jaconelli investigation
This is in addition to the complaint received in 2002. In 2003, North Yorkshire Police conducted a major investigation into paedophilism in Scarborough. It generated so much intelligence it had to be managed by HOLMES (Home Office Large Major Enquiries System).  wo men were convicted (one had his conviction quashed on appeal) and North Yorkshire CID are alleged to have questioned witnesses about Jaconelli and Savile, although no action was taken. It is not possible for this major effort to have generated no information on Savile and Jaconelli.
Evidence received from a serving prisoner in 2008 and 2009; although this information must have been available to them. Was this referral from the Prison Service related to Jaconelli's alleged visits to Flockton?
Evidence of people trafficking that North Yorkshire Police must have been aware of.
The attempt to pervert the course of the Savile investigation by Assistant Chief Constable Sue Cross.
In 2007 North Yorkshire Police was notified that Savile was a suspect in an investigation being conducted by Surrey and Sussex Police. Yet none of the information developed on him was forwarded, either then or subsequently. Nor was it forwarded to Operation Yewtree – thereby dooming the Surrey investigation and damaging the Metropolitan Police investigation.
That NYE had been the subject of a targeted campaign of intimidation by North Yorkshire Police to prevent the truth coming out, during which, one of its journalists (yours truly) was threatened with arrest by Deputy Chief Constable Madgwick, if he continued to cover the Savile/Jaconelli story.
That Chief Inspector Tom Fox (retired), who served most of his Police career in Scarborough and Whitby, has refused to comment either directly, through Scarborough Borough Council (where he is now Leader), or through North Yorkshire Police, on how Scarborough Police failed to detect and arrest Jaconelli while he committed rape and enticed children into prostitution – even though every schoolboy and parent in Scarborough and Whitby knew about him.
A Hillsborough level cover up
The latest statement is here:
A North Yorkshire Police spokesman said:
"To ensure maximum transparency in the way North Yorkshire Police dealt with information and disclosures regarding alleged historic sexual abuse in Scarborough, North Yorkshire Police referred itself to the IPCC and is fully co-operating with their ongoing independent investigation.  In respect of the matters which were referred back to North Yorkshire Police by the IPCC, these are currently being investigated and a decision will be made in due course on how to deal with those matter.  While these enquiries are active it would not be appropriate to comment further at this stage."
Again, no reference to the above issues, or any element of apology; only a link to the IPCC statement which does mention the information from the serving prisoner. The Prison Service liaises very closely with the Police and many Forces have dedicated detectives whose duty is to develop intelligence from prisoners. It seems likely, therefore, that this information came from an official source outside North Yorkshire Police, which could not be ignored or denied – hence, the reason it has now had to be acknowledged to the IPCC,  while the numerous other sources of information it had access to on Savile and Jaconelli are ignored.
It is absolutely clear that North Yorkshire Police has sustained a major cover-up into what it knew about Savile and Jaconelli and that the truth has not come out. Nor will it – so long as it is managed by the current hierarchy of North Yorkshire Police. There is already sufficient evidence of misconduct by the Chief Constable Jones, Deputy Chief Constable Madgwick and Assistant Chief Constable Cross to warrant misconduct charges in connection with this (and the Kenyon-Miller international tax-fraud) over what is obviously a Hillsborough-style orchestrated cover up.
How can Chief Constable Jones claim that Operation Hibiscus is a valid credible investigation, when no less a person than his Deputy Chief Constable two doors down the corridor in Newby Wiske Hall is busy intimidating witnesses that have supplied it and Operation Yewtree with information?
In this context, some examination of Assistant Chief Constable Cross's background is illuminating and must cause immediate and considerable concern. Cross started her career in Leeds with West Yorkshire Police, then served in Cleveland Police, becoming an ACC in North Yorkshire Police. She therefore served in the two forces that Savile was most closely associated with – and which have suffered severe criticism over their collective failure to arrest him – West Yorkshire Police and North Yorkshire Police. Neither force has confirmed whether Cross knew Savile when she served in Leeds, or if she was a member of the Friday Morning Club whilst serving in Leeds.
Cross is a most capable and formidable detective, with extensive CID training, recently retired after a distinguished career. She is widely admired in the British Police Service for her textbook investigation of the murder of Jenny Nicholl and her impressive contribution to the development of forensic linguistics.
Nevertheless she has white-washed serious acts of misconduct related to serious organized crime and prevented the proper investigation of misconduct by police officers – thereby protecting a Detective Sergeant from proceedings. The IPCC statement above states explicitly:
"One serving detective sergeant has so far been served with a misconduct notice to advise him his conduct is subject to IPCC investigation" indicating more could follow. 
The most seriously concerning thing is that at Cleveland and North Yorkshire, she had responsibility for the Professional Standards Departments. The question has to be asked: how many other investigations has she perverted, to protect colleagues from disciplinary action?
To ensure that we finally get to the truth, these Officers must be removed from responsibility for this investigation. North Yorkshire Police simply will not conduct an investigation into itself impartially.
Accordingly, acting in the public interest in this unprecedented situation, I have now written to the Police & Crime Commissioner for North Yorkshire requesting that charges are preferred against Deputy Chief Constable Madgwick, Chief Constable Jones and Assistant Chief Constable Cross:

"Dear Commissioner Mulligan,


I write concerning the recent revelations concerning the Jimmy Savile and Peter Jaconeli Paedophile ring.


Following on from the blatantly flawed investigation into North Yorkshire Police's failure to arrest Jimmy Savile and Peter Jaconelli conducted by Assistant Chief Constable Sue Cross.  My investigation into her investigation is here: http://nyenquirer.uk/operation-yewtree-and-the-cross-report/


North Yorkshire police have now conceded that in fact it had intelligence on Savile and Jaconelli at least in 2002, 2008 and 2009.   In the wake of the revelations in the BBC Inside Out Documentary, that Cross did not even bother interviewing the witnesses before she whitewashed the allegations and exonerated North Yorkshire Police from any responsibility for allowing Jaconelli and Savile to offend openly with the full knowledge of North Yorkshire Police.  It is now explicitly clear that North Yorkshire police force Intelligence Bureau had explicit intelligence that it should have passed on to Surrey and Sussex Police, but did not.  The Cross report now stands completely quashed.


It is also clear that North Yorkshire Police has issued deliberately misleading press statements to conceal misconduct in respect of its part in the Savile and Jaconelli scandal.


Further, as you know, I am currently being threatened with arrest by Deputy Chief Constable Tim Madgwick over my coverage of the failure of North Yorkshire Police to arrest Jimmy Savile and Peter Jaconelli.  Although my coverage has now been shown to be entirely accurate and in the public interest.


Chief Constable Jones has been asked to withdraw this threat, but has done nothing, thereby tacitly approving of Madgwick's actions.


I assert that all three Chief Officers are acting corruptly in joint enterprise to conceal misconduct in North Yorkshire Police over its acquiescence to a major paedophile vice ring that operated openly in Scarborough and Whitby with the full knowledge of North Yorkshire Police from the 1950's onwards.  I would therefore ask that you record a complaint against all three officers for misconduct in public office and attempting to pervert the course of justice, and in the case of Deputy Chief Constable Madgwick additionally for harassment.


I am also concerned that although North Yorkshire Police had explicit Intelligence about Savile and Jaconelli, it was not passed on.  This is a catastrophic failure of intelligence analysis and dissemination.  It appears that either the Force Intelligence Bureau is a shambles, incapable of conducting basic intelligence processes, or it is corrupt and withheld information to protect criminals from arrest.  I would therefore also ask that you record a complaint against every Director of Force Intelligence from 2002 to 2014 for misconduct in public office.


I thank you in anticipation of your good offices in this request and look forward to hearing from you in due course.


Yours Truly,


Timothy Hicks"
We will update our readers with her response.