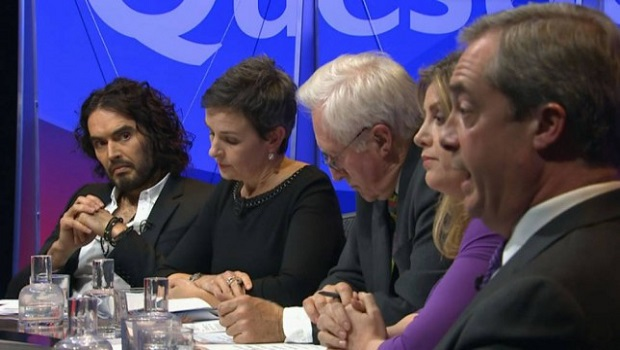 We recently published an article which highlighted the balance of panelists on the BBC's flagship political debate programme, Question Time. The previous article showed the BBC's choice of panelists favoured the Remain Campaign. We thought we'd update those figures to see if the BBC have closed the gap and evened out the panelists.
On the 25th February the host of Question Time, David Dimbleby, stated the following:
And just before I take the first question, we are now into the referendum campaign I suppose as you've got just 17 weeks to go before the vote. So here on Question Time we're going to balance our panels and our audiences to meet both sides of the argument.
After yesterdays programme, 9th June 2016, this is the current balance:
Remain: 36 Panelists 51%
Leave: 32 Panelists 45%
Undecided: 3 Panelists 4%
Compare those with the results after the programme on 14th April 2016:
Remain: 16 Panelists 52%
Leave: 14 Panelists 45%
Undecided: 1 Panelist 3%
The BBC Charter states:
Over an appropriate timeframe we must aim to give due weight and prominence to all the main strands of argument and to all the main parties. 
With one regular show to go, unless the BBC intends to have 6 panelists in the remaining programme, stacked 5-1 in favour of Leave, then the BBC have failed in their promise to balance the guests on Question Time and they are in breach of their own charter. The BBC have had one programme with 6 panelists stacked 5-1 on 10th March 2016, but predictably it was stacked in favour of the Remain Campaign.
In conclusion, the BBC aimed, the BBC fired, the BBC missed. Perhaps the BBC never intended to hit the target.