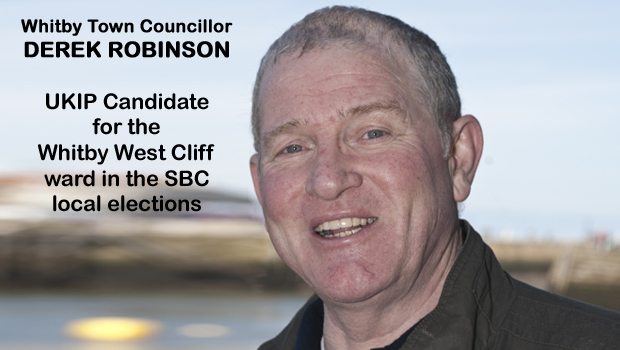 An Open Letter to the Whitby electorate from Derek ROBINSON, a candidate for the United Kingdom Independence Party in the Whitby West Cliff ward of the Scarborough Borough Council local elections.
Derek has in the past served two terms on Scarborough Borough Council and has also served, both in the past and recently, as a Whitby Town (Parish) Councillor, where he has now been re-elected (unopposed).
~~~~~
To the electorate of Whitby

I am a passionate supporter of Democracy and allowing the electorate to pick and choose who does and does not represent them, and to this end I have come to a very big decision on my part.

Let me explain.

I am currently a member of Whitby Town Council and I really enjoy being a member and serving the people of Whitby – a town I wasn't born in, but consider to be my home.

45 years ago, I arrived on H.M.S. Whitby and have never left. So you would think I would be delighted to be elected unopposed in the upcoming Parish council elections. Nothing could be further from the truth; instead of celebrating I am, in fact, mourning.

"Mourning what?", you may say.

Well, I am mourning Democracy. The reason is that due to a lack of people standing and a lack of people prepared to propose potential candidates, there will be NO election for the Parish Council.

What does this mean for the people of Whitby?

It means that they will not get a chance to vote FOR the people they want to represent them – or to vote AGAINST those people whom they do NOT want representing them).

I will not go into the reasons for this situation as they are, I'm sure, many and varied. But I will say that as a person who is passionate about Democracy, I am prepared to give the people of the ward I represent on Whitby Town Council (West Cliff) the chance to either give me a mandate of to kick me out.

The way I intend to do this is by way of the election for a seat on the Borough Council; I am standing as a candidate on the West Cliff ward for the Scarborough Borough Council.

If, on May 7th, I am successful, then I will take that result as an endorsement to accept my seat on Whitby Town Council.

However, should I not be successful in getting elected to the Scarborough Borough Council, I will take this as a clear sign that the people of the West Cliff ward do not want me to represent them and will NOT take up my seat on Whitby Town Council.

Why am I doing this?

I am opposed to co-option in any shape or form and could not, in all honesty, take up a seat were I was clearly not wanted.

Thanks for taking the time to read this letter and no matter the nature of your politics, do not waste your vote on the 7th May. Remember that people have given their lives so that you have the right to vote the way you wish.

Kind regards,

Derek Robinson
Derek ROBINSON, Whitby. 28th April, 2015.