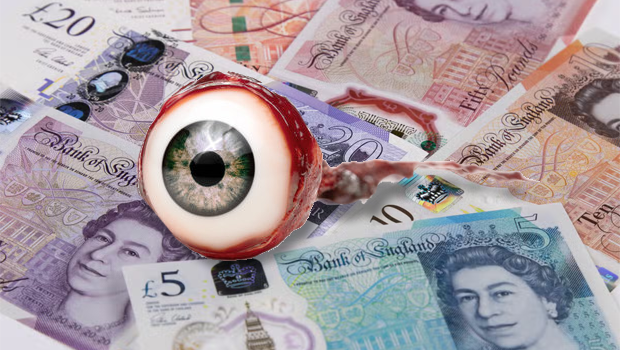 A (Wild) Eye on the Money?
Enquirer Harbours correspondent ALLAN ROBERTS follows up on three previous articles questioning the prudence of the directing minds behind the Scarborough & Whitby Town Deals Boards. A salutary exercise in the time-honoured exhortation to "Follow the Money!".
~~~~~
May I bring to readers' attention details of the staggering sum, now aproaching £3.5m, that has been handed over by our Town Deal Boards to Wild Eye.
Wild Eye is the brain-child of Invisible Dust – an organisation whose mission, according to its website, is:
'To encourage awareness of, and meaning-full responses to, climate change'.
Wild Eye is, of course, the group responsible for the Scarborough Castle Acropod, after the residents of Whitby scuppered the plan to locate it on the Abbey Plain, in the shadow of Whitby Abbey.
How many visitors would have their "awareness of climate change" enhanced by this 'art' work?
Ryan Gander, creator of this masterpiece, is quoted (in The Guardian) as stating:
"If people want to complain about art then they should complain about the conceptual nature of it, not what it looks like. It's like if you go past someone's house and you don't like the curtains, you don't knock on the door and tell them to change them." 

Mr Gander is entitled to his opinion. Whether his lumps of concrete represent value for money at £140k a piece is also a matter of opinion.

Wild Eye is also the group responsible for the three tiled seats located in Whitby, which have been likened, by some, to gentlemen's urinals.
Wild Eye is the group who are responsible for the plans to provide a seaweed sculpture at Scarborough to recognise an industry that has, in its four year existence, failed to land a single piece of produce from its much publicised offshore seaweed farm. Or so we are led to believe by this Freedom of Information response:
https://www.whatdotheyknow.com/request/940223/response/2225346/attach/2/2023%2002%2001%20FOIA202204463%20Aquaculture.pdf?cookie_passthrough=1
Nil. Zilch. A clebration of total failure.
Below is a quote from the Government's Town Deal Guidance document:
"The overarching aim of the Towns Fund is to drive the sustainable economic regeneration of towns to deliver long term economic and productivity growth."
Quite how the ideology of Invisible Dust, or the sculptures of Wild Eye, meet the requirements of the Town Deal Fund I am not sure.
There is growing support in Scarborough for a memorial to recognise the hundreds of lost fishermen who sailed from Scarborough Harbour over the years, many whilst working voluntarily for the war effort.
I suggest there is still time for a re-think by our Town Deal Boards to divert from Wild Eye the funding necessary to fullfil those aspirations, as part of the West Pier Regeneration Plan.