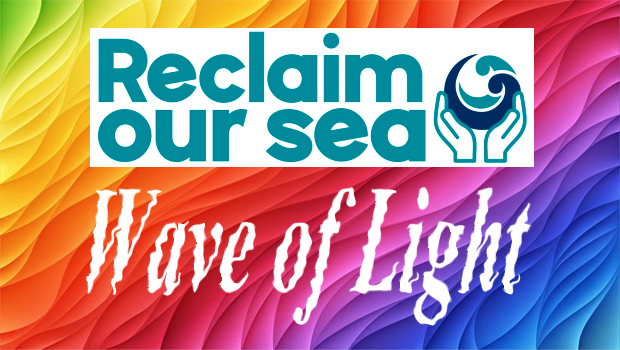 RECLAIM OUR SEA
 ~ PRESS RELEASE ~
On Saturday 19th November at 6pm, people will gather at the iconic Saltburn Pier to once more be the voice of our sea.
This WAVE OF LIGHT will symbolise hope and achievement but also let those in power know there is still much to be done.
An independent enquiry has been called for but IMMEDIATE action is needed if we are to halt the continued decimation if our North East waters.
#PAUSETHEDREDGE
We will send our Wave of Light the length of the pier to meet the waves before bringing to life marine-themed beach art on the sand below using mobile phone lights and lanterns provided by GUARDIANS OF THE  SEA.
This will be captured from above by drones hovering in the night sky.
THIS MAGICAL EXTRAVAGANZA OF LIGHT WILL BRING OUR DEAD CRUSTACEANS BACK TO LIFE
The report from NEWCASTLE UNIVERSITY produced clear evidence that dredged sediment contaminated with historical toxic chemicals is causing our marine environment to die.
Sir Robert Goodwill acknowledged this in his summing up of evidence provided at the Environmental select committee hearing on the 25th October.
YET STILL SOUTH TEES DEVELOPMENT CORPORATION
CONTINUES WITH THEIR DEEP DREDGING OF
125,000 TONNES OF HIGHLY TOXIC SEDIMENT
WITH A FURTHER 1.7 MILLION TONNES  SOON TO BE DISPOSED OF AT SEA.
SALLY BUNCE of Reclaim Our Sea said:
"Whilst this dredge at the South bank quay has been deemed too toxic for marine disposal, evidence produced by university academics clearly showed the dredge site to be more damaging to the marine environment than the spoil disposal site.
For 10 weeks, a dangerous plume of toxic sediment has been allowed to moved freely around the River Tees and out to sea.
The impact of the 1.7 million tonnes which has been licensed for  marine disposal this winter will be devastating to a far wider coastal community, with tourism also a potential victim "
ROWAN MCLAUGHLIN co-ordinator of SOUTH TEES GREEN PARTY said:
"Although we have secured a new investigation into last year's mass crab and lobster deaths we won't stop fighting until we know our seas are safe from the poisons of the past.
We must #PAUSETHEDREDGE until we are sure it won't do more irreparable damage to the North East coast and livelihoods."
ADRIAN NOBLE, a Whitby fisherman, said:
"The lobster are dying again. I'm bringing in empty pots. It's heart–breaking. 
We are also seeing pots with dead lobsters. 
Those which are alive are dying before I can get them to shore …something is killing the sea again."
STAN RENNIE, a Hartlepool fisherman, said:
"I don't understand how the evidence provided by academics has not made them pause the dredging and test for Pyridine.
It is still a dead zone…no crabs, lobster or prawns…no sign of an algal bloom either.
They are killing our marine ecosystem.
Generations of fishing has come to an end for me and my family…let's hope it isn't to late for the sea."
RECLAIM OUR SEA are calling for an IMMEDIATE  pause on all capital dredging within the River Tees until independent analysis of the Tees sediment has been completed and safer methods of completing this work are found.
#PAUSETHEDREDGE
Scan this code for event promotional video:
Or to view this video on YouTube visit:
Contact: Sally Bunce
Mobile: 07724 744564
Email: sallybunce@ymail.com
~ END ~