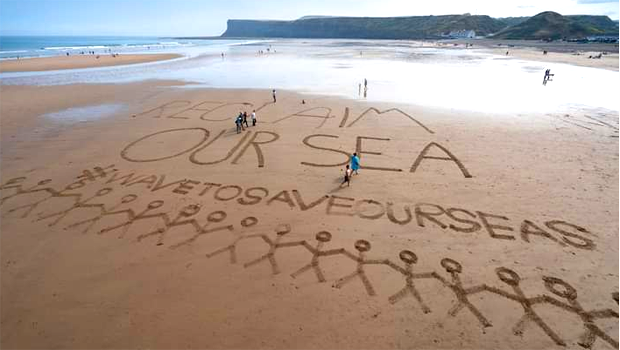 "Reclaim Our Sea" – a Tsunami is Coming!

– a brief report on a unique event spannging from the Tyne to the Esk – a mass peaceful protest against the inevitable environmental consequences of 1.9 million tons of dredging and disposal of toxic waste in our immediate coastal waters.
~~~~~
On Sunday 28th August 2022, at 11:30am, well over a thousand peaceful protesters created a human wave along the beaches and shorelines of the north east, from the Tyne to the Esk – a wave motion passed along the line from north to south, creating a powerful visual symbol of support.
News of the event has travelled far and wide, with re-Tweets of support from Prince Charles, Jeremy Corbyn and a number of pop celebrities.
Tees Valley Mayor Ben HOUCHEN may even be smelling the coffee!
What's next?
In late September, organisers of "Reclaim Our Sea" are taking the theme of #wavetosaveoursea to another level and intend to span the entire UK coastline and inland rivers, creating a veritable TSUNAMI of support. If you care about sea life and safe bathing, please get involved.
For full details of the intent behind Sunday's action, please review our earlier appeal "Reclaim Our Sea".
Facebook https://www.facebook.com/groups/reclaimoursea
Twitter @saveourseas11 #wavetosaveoursea
Expert Spokesperson:
SALLY BUNCE sallybunce@ymail.com
Spokes Contacts:
ALISON PAKE Alison.pake@gmail.com
JANE HARDY janehardyswims@gmail.com
Many thanks to supporters for sharing video/photos.