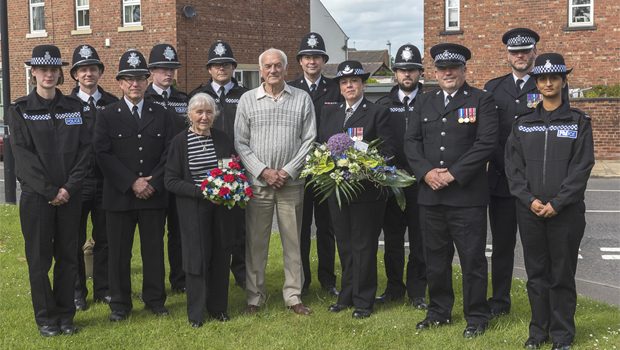 A Letter to the Editor from TIM HICKS.
~~~~~
Dear Sir,
In March of this, year I wrote a tribute to PC Palmer of the Metropolitan Police who died protecting the public during the terrible Westminster attack by Islamic Terrorists. Mr James Cleverley MP had made a very moving tribute to PC Palmer in the House of Commons, which you kindly published. He also very kindly wrote to the North Yorks Enquirer thanking us for our comments. Mr Cleverly's letter was published by the NYE in April.  The NYE article with Mr Cleverly's letter is here.
When writing the article I felt that we should not forget that this is not the first time as a nation we have had to confront terrorism. So I took the opportunity to pay tribute to an equally brave public servant, Special Constable Glenn Goodman, who was murdered by Irish republican terrorists in 1992.
Brave Constable Glenn Goodman, died protecting the people of Yorkshire from terrorist attack.
I was very pleased to see that North Yorkshire Police held a service of remembrance for this brave man on the 25th anniversary of his murder. BBC Report here, North Yorkshire Police tribute to Constable Goodman here
He and his colleague PC Sandy Kelly stopped a car outside Tadcaster in a routine traffic stop. They did not know it contained two heavily armed IRA terrorists, Paul Magee and Michael O'Brien. When the two policemen became suspicious and called for assistance, the terrorists shot both Constables. Constable Kelly survived his injuries, but sadly, Constable Goodman died shortly afterwards. Another police car followed the terrorists but came under fire from an AK47 assault rifle near Burton Salmon. Magee and O'Brien fled but were subsequently arrested in Pontefract. Magee was convicted of Constable Goodman's murder and the attempted murder of three others. O'Brien was also convicted of attempted murder. Detailed reports from the Independent, here and here.
Police examine the bullet riddled police car.
Both men were heavily armed and were thought to be in the process of attempting an assassination in Yorkshire. Constable Goodman and Constable Kelly foiled their planned terrorist attack, probably saving the life of the intended victim.
Special Constable Goodman was 37 years old and married with one son when he died. He is commemorated each year by the award of the Glenn Goodman Trophy for the outstanding Special Constable in North Yorkshire Police. There is also a memorial to him from the Police Memorial Trust on Wetherby Road, Tadcaster near the place where he was murdered.
Because of the nature of the threat that we face from terrorism, both from domestic extremists and from foreign terrorists, we are now again at risk of terrorist outrages. Recently we have seen the wonderful example of people rallying around to help victims of the Manchester suicide bombing and how ordinary people fought with the terrorists in London, before the police arrived. I believe we will be ultimately successful in combatting Islamic terrorists as we were with the IRA.
However, I suspect that there will still nevertheless be casualties from these one-off unsophisticated attacks. It is important that those like Constable Palmer and Constable Goodman that make the ultimate sacrifice to protect innocent people are commemorated.
Yours faithfully,
Tim Hicks
12th June 2017