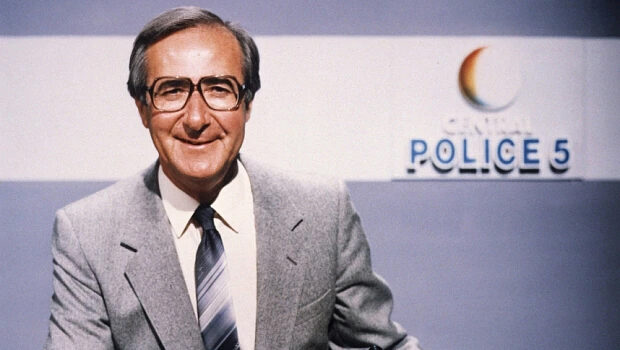 Police 7: Community Policing News April 2023
The NYE's Police 7 articles are intended to be a one stop shop for our readers covering crime prevention advice, court reports, police appeals for assistance, local community policing news, information on victim support, updates from the North Yorkshire Police (NYP) and the Polic, Fire & Crime Commissioner (PFCC) for North Yorkshire and the Coroner.
Police 7 has been one of our most popular regular features with readers, who appreciate getting regular updates from the Police via the NYE.
We lead these articles with a photograph of the late Shaw Taylor, as a tribute to him. Shaw was a groundbreaking forensic journalist, who pioneered police media appeals for information in the programme Police 5. His work led to the successful conclusion of many casses in the UK, Europe and the United States through local programmes that followed the pioneering format of his original programme called Police 5 in 1962.
The NYE will continue to immediately publish urgent appeals for information from North Yorkshire Police (NYP), in missing person's cases etc.
---
Police 7: Community Policing News April 2023
NEIGHBOURHOOD POLICING
The following witness appeals and court reports may be of particular relevance to our readers and can be accessed from the NYP website. Address below.
---
Witness Appeals
Scarborough Assault
At about 4.30pm on Saturday 15th April, a Scarborough man in his forties was in the area of Friar's Way car park when he was attacked from behind and knocked to the ground. He sustained five broken ribs and a fractured eye socket.
Officers are appealing for information from anyone in the area who may have witnessed the incident itself, or seen any suspicious activity in the area.
If you can help the investigation please email david.fulford@northyorkshire.police.uk quoting reference 12230067561.
---
Scarborough Disorder
At about 6.30pm on Friday 21st April, a large group of youths congregated in the park at the side of Sainsbury's on Wykeham Street. An altercation occurred between a number of these individuals, and at least one male teenage victim suffered injuries which required hospital treatment.
Three teenagers have been arrested in connect with the incident. Enquiries are ongoing.
Anyone who witnessed the incident, or can provide any information to assist the investigation should e mail PC 307 Matthew Philpott Matthew.Philpott@northyorkshire.police.uk.
Please quote reference number 12230071254 when passing information.
---
Scarborough dangerous driving
An incident of dangerous driving in Scarborough occurred between 4.20pm and 5.15pm on Wednesday19th April 2023. It took place on several roads in the Scarborough area, including, Seamer Road, the A64 towards Musham Bank roundabout, Seamer Village, East Ayton and Racecourse Road.
The incident involved a black Vauxhall Corsa and a white Hyundia I30N.
Officers are asking for anyone witnessed the incident or has any dash-cam or CCTV footage to come forward to help with enquiries. Anyone with information that could assist the investigation should email curtis.ireland@northyorkshire.police.uk.
Please quote the reference number 12230069816.
---
Gallows Close Community Centre burglary
Police investigating a burglary at the Gallows Close Community Centre in Scarborough are appealing for witnesses and information.
An outbuilding in the car park of the Gallows Close Community Centre in Scarborough was broken into and several bikes were taken between 3pm and 7.30pm on Monday 3rd April 2023. Damage was also been caused to two other outbuildings belonging to the centre.
Anyone with witnessed the incident itself or any suspicious activity in the area on that evening or has any information that could assist the investigation should email holly.marshall@northyorkshire.police.uk or call 101, select option 2, and ask for Holly Marshall.
Please quote the North Yorkshire Police reference number 12230059497.
---
Contact
Anyone with information is asked to make a report via the North Yorkshire Police website or by calling 101.
If you would prefer to remain anonymous, please call Crimestoppers on 0800 555 111.
---
Court Reports and Victim Support:
Abuser with "deeply dysfunctional attitude towards women" is jailed
A 35-year-old Middlesbrough man has been sent to prison for a string of violent offences against a woman.
Michael John Aaron Hall of Faygate Court, Hemlington was sentenced to 48 months imprisonment for coercive and controlling behaviour, intentional strangulation, three charges of common assault and one charge of actual bodily harm. He was also made the subject of an indefinite restraining order.
Hall subjected his victim to a barrage of physical, verbal and emotional abuse over an extended period. He regularly monitored her phone, limiting contact with friends and family and acted in an aggressive and controlling manner. His behaviour escalated to the point where he strangled her, held her in a headlock, dragged her by her hair, punched her and also threatened to harm her horses.
Sentencing him to 48-months imprisonment the Judge commented that Hall had a 'deeply dysfunctional attitude towards women' and behaved as if they were his property.
Following the sentencing, investigating officer, Detective Sergeant Holly Grosvenor said,
"Firstly I'd like to pay tribute to the bravery of the victim. After being subjected to Hall's violence and abuse, I do not underestimate the huge courage it took for her to come forward and talk to police.
I hope the sentence handed to Hall provides her with some sense of justice and provides her with a safe space to move forward with her life.
Nobody should have to live with the fear of violence hanging over them. North Yorkshire Police will not tolerate abusive and violent behaviour and we will do everything in our power to put those who behave in this way in front of the court.
To anyone who is experiencing abuse and violence, please speak to somebody. If you do not feel ready to speak to the police there are a number of agencies, such as IDAS (Independent Domestic Abuse Services) who are ready and waiting to help you.
If you do want to make a report to police please call 101 or in an emergency dial 999." 

---
Rapist Jailed
Officers are hoping a jail sentence handed to a man for rape and sexual assault against two teenage girls will encourage other victims of sexual offences to come forward.
They also hope it will send a clear message to anyone thinking of committing such heinous offences that NYP will do everything it can to bring them to justice.
In December 2020 Cameron Kyle Edwards, 19, raped a 14-year-old girl at a property in a North Yorkshire village. The victim was able to identify Edwards as the offender and he was arrested the same day.
Following his arrest his phone was seized and 6,200 indecent images were found during the investigation process, many of which were the most serious Category A. The phone also contained a video of Edwards sexually assaulting a 16-year-old girl during a separate incident.
Edwards pleaded guilty to one charge of rape, three charges of assault by penetration, three charges of sexual assault, three charges of making indecent photographs of children and one charge of possessing extreme phonography.
On 28th April 2023, he was sentenced to 65 months' detention in a Young Offenders Institute, issued with a Sexual Harm Prevention Order until further order and ordered to sign the sex offenders register indefinitely.
Investigating officer Detective Constable Martin Willoughby, said:
"First of all I would like to comment on the bravery of the two victims which helped secure the conviction of Edwards today.
The pattern of behaviour shown by Edwards is extremely worrying and demonstrated how it quickly escalated into the serious offences which he will now spend time in prison for.
I know the sentence will never undo the anguish Edwards put his victims through but I hope it will go some way to reassure them, knowing he now off the streets of North Yorkshire for some time."
---
Crime Prevention
Whitby Under-Age Drinking
A new partnership highlighting the risks of underage drinking has been launched in Whitby.
The Whitby Community Alcohol Partnerships (CAP) will work with youth services and local organisations to provide alcohol-free activities for young people. It will also work with local schools to educate young people about underage drinking and ensure that they are equipped to make the right decisions about issues such as alcohol and drugs and anti-social and criminal behaviour.
CAPs are made up of partnerships between local authorities, police, schools, retailers, neighbourhood groups and health providers, working together to highlight the risks of underage drinking and improve the health and wellbeing of local children and young people.
Working with local retailers, CAP aims to help them avoid making underage sales and reduce 'proxy' sales where adults buy alcohol for under-18s.
A rigorous evaluation framework shows how this innovative partnership approach has brought significant reductions in alcohol supply to children, alcohol-related anti-social behaviour and underage street drinking, with CAP areas demonstrating:
61% average reductions in weekly drinking among 13–16-year-olds
99% of retailers passed Challenge 25 compliance test for alcohol sales
86% of retailers did not sell alcohol when they suspected it was a 'proxy' sale
50% reduction in young people hanging around shops and asking adults to buy alcohol for them
42% reduction in youth alcohol-related anti-social behaviour For more information see: www.communityalcoholpartnerships.co.uk
Inspector Martin Dennison said:
"Whitby remains a safe and friendly place for our children, and we want to ensure that it stays that way 
I am pleased to see the community coming together in this new CAP to highlight the risks of underage drinking and reduce alcohol harm among our young people."
---