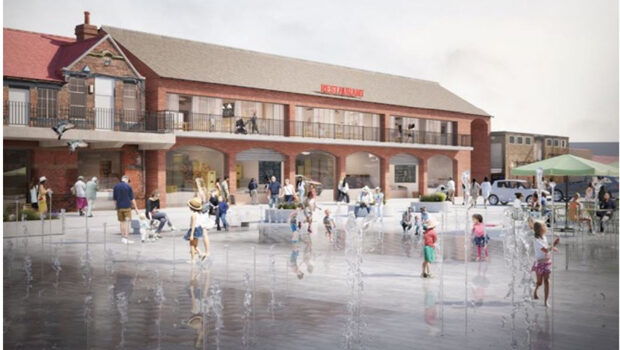 Slaves to the 'Masterplan'
NYE harbours correspondent ALLAN ROBERTS provides some 'meat on the bone' to the secret Scarborough harbour 'Masterplan', devised by Hemingway Design with scant regard to the needs or opinions of harbour users. Lookout, fishermen!
~~~~~
SBC has received a Planning Application to further extend the balcony of the Lookout Café on Scarborough harbour's West Pier. (See embargoed artist's impression, above).
It is evident that the extension will reach the edge of the West Pier harbour wall.
Unlike the present cantilevered balcony, the proposed extension will be supported by two vertical pillars situated right on the harbour edge, close to the landing cranes.
Hemingway Design plans
If these plans are accepted, those pillars/columns may well, in my view, severely  restrict and hamper the working conditions of what is presently the main catch-landing facility at Scarborough Harbour.
Above are the plans of the proposed extension, along with this image taken today of the site of the proposed balcony extension.
Existing balcony and crane
The application has just one letter of support – from the SBC Harbour Department – which states:
"The Harbour Authority would have no objections to the balcony overlooking the harbour, currently leased to the Lookout on the Pier."
Should anyone want to read the Planning Notice, then the Harbour Department Notice board, shown below, is situated about 100 metres from the proposed site.
Harbour Department notice board
But don't bother to look there!
Instead, there are some refuse bins 8 metres to the left of the notice board. Look behind those bins, and fastened to the railings, about 40 cms from the ground, you may find the statutory Planning Application Notice:
At the head of this article is an image from the secret 'Masterplan' which indicates that fishermen are likely to be evicted from the remaining warehouses immediately adjacent to the Lookout Café, to make room for even more cafés, designed to overlook the 'Watersplash Park'.
At a time when the main users of West Pier – i.e. the fishing fraternity – are being kept in the dark regarding their future working areas/premises etc, it appears that their essential quayside landing spaces are now also under threat of further intrusion/disruption.
In short, the fishing industry is under attack not only from the back, but now from the front and from above too.
Am I the only one who believes that the Council, by failing to act in an open and transparent manner, has a hidden and predetermined agenda for West Pier?