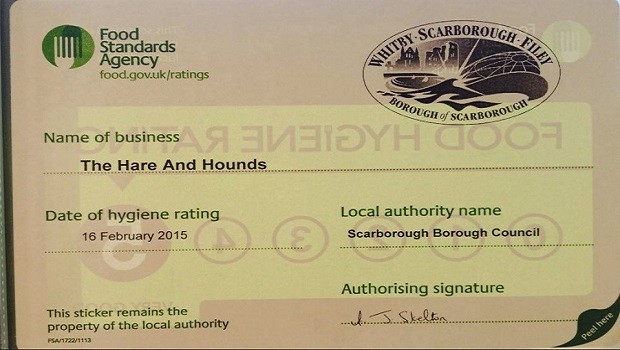 A number of Borough traders are reporting that their food hygiene rating has been incorrectly reported by the Scarborough News. Further examination of the data set leads to the Foods Standards Agency (FSA), the government agency tasked with food safety and hygiene, which is displaying inaccurate or old data.
The data is collected by officers of Scarborough Borough Council (SBC) during a food hygiene inspection of the proprietor's premises. It is then passed across to the FSA for display on their website.
The three Borough traders have reported being listed in either the one star category (Major Improvement Necessary) or two star category (Improvement Necessary) despite actually possessing a four star (Good) or five star (Very Good) certificate signed by Andy Skelton, Director of Service Delivery at Scarborough Borough Council.
A closer examination of the FSA website reveals that establishments visited after the date of the five star certificate issued to the Hare & Hounds in Hawsker are displayed, but curiously the Hare & Hounds in Hawsker is not.
It appears that Scarborough Borough Council are not endeavouring to update information on the FSA website for some establishments, but are clearly updating other establishments much more quickly than others.
Concerns have also been aired over the way SBC officers are utilising the FSA scoring system. It seems that stars are given to premises that complete extensive documentation, which doesn't protect the public from bad food hygiene, but does keep public servants engaged in performing pointless local government bureaucracy.
At the time of publishing this article neither the Foods Standards Agency nor The Scarborough News have updated their website to display accurate information.