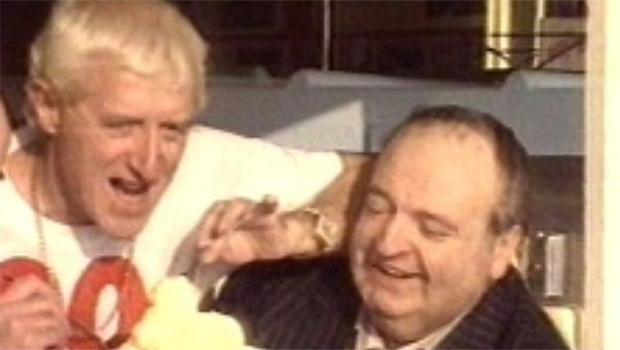 Savile & Jaconelli:  They Knew In '72
Crimes & Parliamentary Affairs correspondent TIM HICKS reports on confirmation by the Crown Prosecution Services that Peter JACONELLI was charged with a sex offence in 1972 – the year he was Mayor of Scarborough.
~~~~~
On Sunday the 20th of September 2015, the NYE ran an article by me on the outcome of the investigation into the North Yorkshire Police Force Intelligence Bureau, following its despicable failure to follow up on intelligence provided to it by the Toronto Police Service:
http://nyenquirer.uk/operation-spade-ipcc-investigation-re-nyp-force-intelligence-bureau/
The article contains the NYP statement on the investigation.  Typically, the NYP announcement contains the bare minimum of facts and does not make any reference to the victims or make any element of apology for the inexcusable sloth and incompetence of the Force and its Officers.
I remember thinking, when I saw the article on the website, that this completely vindicated the stance the NYE has taken over the North Yorkshire Police Force Intelligence Bureau as a shambles and that it probably could not get worse for them.
Then there was another development.
Crown Prosecution Service confirm the Police knew in 1972 
For some time comments have been passed to the North Yorks Enquirer that Peter Jaconelli was convicted of a serious sexual offence in 1972 and that in order to protect him from being exposed as a paedophile, the case was held in York, not in Scarborough.
Being fairly methodical and relentless in our investigations, the NYE team followed up the lead that Jaconelli had been convicted in 1972.  Although North Yorkshire Police denied any knowledge of Peter Jaconelli's offending in the investigation of his accomplice Jimmy Savile, we nevertheless carried on searching.  The day after my article on Operation Spade was published, the Crown Prosecution Service responded to a Freedom of Information request, confirming that they had received a charge file on Jaconelli in 1972.  This may have been during his tenure as Mayor in 1971 – 1972.  The full text is worth recording in full:
"Our records show that a case file relating to Alderman Peter Jaconelli – charged with indecent assault – was sent to the DPP's office in 1972.  The records do not show whether a prosecution was authorised or whether the charges were subsequently dropped"   
We have gone back to the CPS and asked for further details, which we will reveal when we receive them, but on the face of it, this would appear to be a reference to the conviction Jaconelli has been  alleged to have received in 1972 in York.  This has some major implications for Scarborough Borough Council and North Yorkshire Police.
Scarborough Borough Council 
It is now conceded that Jaconelli was a child-abuser and a serial rapist and that he offended openly in Scarborough in joint enterprise with Jimmy Savile.
This particular offence was dealt with by the DPP in 1972, the same year that Savile trafficked patients from Rampton Secure Psychiatric Hospital to Scarborough to meet Mayor Peter Jaconelli and Jimmy Corrigan – another Scarborough character who is known to have enjoyed group sessions with Savile – where they were given money and moved into one of Jaconelli's ice-cream parlours from which all members of the public had been excluded.
Evidence has been received by the North Yorks Enquirer that Savile and Jaconelli were well known in Whitby for cruising over from Scarborough in Savile's Rolls Royce and openly picking up youths from the burger bar in full view of Whitby Police Station.  They would then be driven away to be abused and paid off.  Clearly the Police must have known that Jaconelli was a dangerous paedophile and a threat to young people.  Yet nothing was done.
Jaconelli was still allowed to continue as a school governor, where he enticed children into prostitution.  His association with the Scarborough and Whitby Conservative Association continued and he was made an Alderman of the Borough in 1996, despite the fact that most Councillors must have known of his offending and also did nothing to prevent it, although their duty was to intervene and protect children by having him excluded from the schools.
No wonder that Scarborough Borough Council is refusing to name the Councillors that voted for Jaconelli to be an Alderman in 1996 – despite the fact that they must have known he was a paedophile and a corrupting influence on children in the Borough.
NYP article here:  http://nyenquirer.uk/sbc-voted-jaconelli/
It also makes it very difficult for Councillor Tom Fox, formerly Chief Superintendent Tom Fox, Officer Commanding Policing in Scarborough to deny that he knew Jaconelli was a paedophile, given that Jaconelli had been charged and every adult and child over ten in the Borough knew of his activities.
It is no wonder Scarborough Borough Council tried to close down the Real Whitby website and Fox publicly advocated "threat and retaliation" against the NYE  journalists, in full Council.
Time for a full statement from Councillor Fox, I think.
North Yorkshire Police: more questions to answer.
It has been alleged that when faced with the prospect of prosecution, Jaconelli would bribe the victims to withdraw their evidence and that Police Officers would act as intermediaries between Jaconelli and the victim.  In this context, the Scarborough News recently ran an article alleging that Jaconelli was routinely bribing the Police in Scarborough.
If true, this would explain a lot; how he was able to escape prosecution; how news of this event was supressed by holding the trial outside Scarborough; how the witnesses were persuaded to withdraw their evidence; why the Police would not prosecute him – although many complaints were made to them.
It may also explain why there was no record of him in the Police intelligence files, even though he exists in the files of the CPS and probably in those of the Criminal Record Office.
Perhaps Chief Constable Jones would like to explain why a man who was known to the Police to be a dangerous paedophile was allowed to carry on as a School Governor, employing vulnerable children in his ice cream parlour, whilst also openly offending.
Maybe he would also like to explain how the force intelligence records have been completely and conveniently sanitised of any record of Peter Jaconelli or Jimmy Savile, though many reports were made to the Police and their offending was common knowledge.
Another senior Police Officer with some explaining to do is Assistant Chief Constable Sue Cross (Ret'd), author of the Report which exonerated NYP from any responsibility for its failure to arrest Jimmy Savile.
Heavily redacted report here:  http://www.northyorkshire.police.uk/CHttpHandler.ashx?id=11532&p=0
Incredibly, she stated in the report that Jaconelli did not feature in force intelligence records.
How can this be, given that Jaconelli featured in the DPP/CPS records?  Answer:
Either:
Jaconelli's file was pulled from the Police archive and destroyed by a Police Officer in the pay of Jaconelli in 1972.
The FIB was incompetent in its search during the Cross investigation and Assistant Chief Constable Cross did not bother checking with the CPS and CRO.
Jaconelli's file was overlooked when the FIB transferred its records from the 1972 paper system, when the force was computerised.
The records were deleted from force intelligence systems after computerisation.
ACC Cross ignored evidence that existed in the intelligence systems, as she did when she ignored the witnesses to Jaconelli's offending, to exonerate North Yorkshire Police of any responsibility for its failure to detect Savile and Jaconelli.
Some other questions.
Why did ACC Cross not check with the CPS and CRO?  Why did her report make no reference to Jaconelli's activities at Throxenby Hall and Rampton, both also revealed by the NYE and Real Whitby. And how is it that two amateur detectives working part time with basic interview techniques and access to open sources can piece together a full picture when ACC Cross, a formidable and highly-experienced detective with access to all the resources and technology of a major Police Force did not?
The existence of this incident in 1972, the common knowledge of Jaconelli's open offending and known close association with Jimmy Savile, is no doubt why North Yorkshire Police questioned witnesses about Jaconelli and Savile during the major paedophile investigation in Scarborough in 2003.  This led to the conviction of two men for sexual offences, one of whom was acquitted on appeal.  But of course Savile was left alone.
Info on 2003 investigation here and here
Summary
The major failures to arrest Savile and wind up the Scarborough paedophile-rings all occurred in North Yorkshire:
The failure to prevent Jaconelli from continuing as a School Governor and prominent local celebrity after his arrest for indecency.
The failure by Police Officers that served in Scarborough and Whitby to investigate Jaconelli's associates and arrest Savile although his offending was common knowledge in Scarborough.
The failure to arrest Savile as a result of allegations, made by witnesses to the NYE, that Scarborough Police had received about Savile going back to the 1970's.
The failure to properly investigate information it now admits it received from a 15-year-old girl in 2002 regarding Savile.
The failure of North Yorkshire Police to investigate allegations about Jaconelli it received in December 2008 and January 2009.
The failure by the Force Intelligence Bureau to pass on the intelligence held on Savile to Surrey Police in 2007, instead giving him a clean bill of health, which ensured the failure of the Surrey investigation.
The failure by the Force Intelligence Bureau to pass on intelligence on Savile and Jaconelli to the Metropolitan Police Operation Yewtree in 2012.
This latest revelation again shows the need for independent scrutiny of public bodies by a free press in the public interest.  No matter how uncomfortable this is for the Police and some Councillors, and despite whatever level of intimidation is deployed against local journalists.