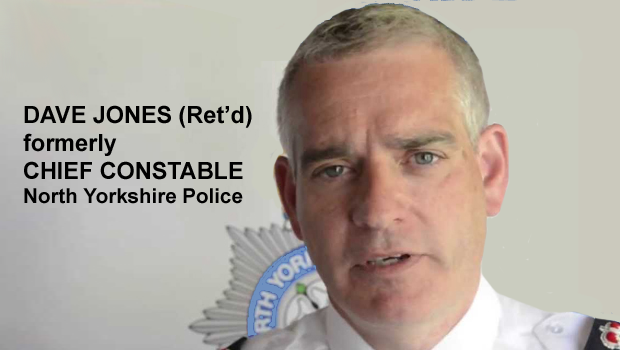 NYP Custody Scandal: The "Booty Patrol"
by TIM HICKS
~~~~~
Introduction
HM Inspectorate of Constabulary and Fire & Rescue Services (HMICFRS) has recently published a joint report on the inspection of North Yorkshire Police's (NYP) custody services undertaken jointly with HM Inspectorate of Prisons (HMIP) and the Care Quality Commission (CQC). The inspection identified fifteen areas for improvement with sixty individual points of improvement across the full range of custody activities.
In response, NYP issued a statement on its website from Assistant Chief Constable (ACC) Elliot Foskett which only acknowledged "that some processes, such as the recording of information, are not of the highest possible standard." It maintained that "We are pleased the HMICFRS has recognised we have good measures in place to oversee the safe and respectful provision of custody." In short ACC Foskett misrepresented the findings of the report. This is analysed in this NYE article Custody 1
ACC Foskett is thought to be the NYP Chief Officer responsible for Custody arrangements.
Sexual abuse of detainees in NYP Custody Suites 
The 2015 HMICFRS Custody Inspection identified that (extract):
"2.15 We had some concerns about the treatment of women, specifically when they were forced to wear anti-rip suits (to prevent the use of clothing as ligatures).…….male officers were in a woman's cell while she was being put into anti-rip clothing when their presence was not appropriate.

In a separate case, we observed CCTV footage where a woman had her clothing forcibly removed and was partially naked in the presence of male officers with little, if any, consideration of maintaining her dignity. On discussing this matter with police managers, there was no rational explanation for the presence of these male officers in the cell.
4.24 …………. a woman detainee was forcibly required to wear anti-rip clothing with insufficient attention to maintaining her dignity and with male staff present when she was partially naked, which was inappropriate and unnecessary. We referred both incidents to the criminal justice chief inspector."
The 2022 inspection found:
"some practices are disrespectful, particularly when detainee clothing is removed".
[My emphasis in bold]
This is a vague comment, but indicates that male Officers are still allowed to watch when detainees are undressed or naked, when there is "no rational explanation for the presence of male officers". This would indicate that the disgusting and perverted practice of allowing male Officers to watch while female detainees are undressed has continued without restraint from 2015 until the present day.
The only rational explanation I can assign to these men choosing to be present in a cell when a woman was being strip searched, is either to deliberately humiliate the detainee, or to obtain perverted sexual arousal from seeing a semi-nude woman being restrained.
If this is so, it is indicative of sexual abuse by a ring of predatory Police Officers operating within the Custody Team. Further, if the detainees are under sixteen, these Officers are sexually abusing a child and are paedophiles.
Enter Chief Constable Dave Jones
The practice of allowing male Police Officers to watch while female detainees are undressed was first detected by an inspection in 2015, when the Chief Constable was Dave Jones (pictured above), now retired. It appears that Chief Constable Jones did nothing to adddress this issue, even though it must have been clear to him that offences of misconduct and voyeurism were routinely being committed by Officers under his command.
Jones is not a stranger to controversy, much of it exposed by the NYE:
He authorised hundreds of thousands of pounds of Police funds to be spent on legal action against myself and fellow NYE journalist Nigel Ward (Operation HYSON) for criticising North Yorkshire Police over amongst other things its failure to arrest Jimmy Savile and Peter Jaconelli. Jones stood to personally benefit from damages from this action. A conflict of interest he did not declare. This attempt to use North Yorkshire Police funds to enrich himself, Deputy Chief Constable Tim Madgwick, the current Chief Constable Lisa Winward and retired Detective Superintendent Heather Pearson failed miserably, leaving the long-suffering taxpayers of North Yorkshire with a huge legal bill for no tangible benefit. Needless to say, none of these Officers repaid the cost of the legal fees.
He visited Northern Ireland in September 2014 and charged the costs to NYP through his expenses, although there is no evidence that this was for work purposes. Both NYP and Police, Fire & Crime Commissioner Metcalfe are refusing to say what the justification for this expenditure is.
He also visited Northern Ireland on the 9th and 10th of May 2017 and again charged the travel to NYP through his expenses. Again, no one will say what the justification for charging this expenditure to the taxpayer is.
However, his greatest claim to fame is that he was Head of Greater Manchester Police (GMP) CID when a decision was taken to close down the investigation into grooming gangs before it was completed, efectively abandoning vulnerable girls to the gangs. This decision was severely criticised by a review commissioned by Greater Manchester Mayor Andy Burnham. Victoria Agloglia aged fifteen died as a result of being forcibly injected with heroin. Chief Constable Jones was the only senior police officer to refuse to provide evidence to the enquiry. Manchester Evening News investigations here and here.
It now transpires that Chief Constable Jones did not intervene to prevent the abuse of detaineees in custody suites – exactly the same approach that GMP CID, under his leadership, adopted toward the Manchester grooming gangs.
Jones's strategy of maintaining his right to silence and refusing to give evidence to the Mayor's enquiry was successful. It restricted the media criticism of him and may have helped prevent the full truth from emerging.
NYP maintaining its silence
ACC Foskett was sent a draft of this article and asked to forward it to Chef Constable Jones so they both had the opportunity to comment. No comment had been received at the date of publication.
The question arises why are they both maintaining their right to silence – which proved to be so successful for Jones during the Manchester investigation – when a simple media statement denying these allegations would resolve the issue?
In my view the answer to this question is three fold:
NYP has not denied the allegations the NYE has been making because they are accurate.
NYP intends to ignore the findings of the HMICFRS report – as it did with the 2010 and 2015 Reports.
Most importantly of all, NYP wants to ensure that the officers who have been abusing detainees go unpunished and this scandal is swept beneath force headquarters. Exactly the same approach Chief Police Officers adopted to the NYE's exposure of NYP corruption in the Jimmy Savile and Peter Jaconelli paedophile ring. BBC Look North report here, which was based on an NYE investigation by Nigel Ward and myself.
By refusing to comment, NYP Chief Officers know that this will deny the mainstream media grounds for criticism and the further new comment necessary to keeping the story going, thus ensuring it will have to move on to other coverage to maintain its readership.
NYP has been backed up in this strategy by the Home Office, Justice Ministry, CQC; HMICFRS, and HMIP, who have also refused to comment.
Because the NYE is non-profit making and staffed by community journalists, it is not restricted by these considerations and cannot be manipulated in this way. Which is why Chief Constable Winward and Police, Fire & Crime Commissioner Metcalfe have proscribed the Enquirer.
To be fair to ACC Foskett, it should be said that the decision to try and cover-up this scandal with a policy of no comment, will have been taken at a much higher level within NYP and the Office of the Police, Fire & Crime Commissioner.
Misogyny in NYP
In this Times Radio interview, HM Inspector of Constabulary Matt Parr comments on the HMICFRS Inspection of vetting misconduct and misogyny in the police service, which revealed that the Police recruited criminals and sexual predators, have a misogynistic culture and are not effective at excluding Police Officers that are not fit to serve in the Police.
Women in custody are particularly at risk of sexual abuse by Police Officers. It follows from this that Custody Officers should be aware of this and be protective towards detainees. It appears from the HMICFRS Custody Inspection that, far from protecting detainees, Custody Officers have been facilitating the abuse of female detainees by allowing male Police Officers to watch while female detainees are undressed. Worse, successive Chief Officers have known what is going on and ignored it.
The wider concern here is that with investigations into sexual abuse, especially of children, initial evidence of sexual offences may conceal a much more serious crimes.
In particular, voyeurism can be the start of an ever increasing level of offending. The fear must be that some of these Officers have been involved in more serious sexual offences, either in the Custody Suites, on other duties, or off duty.
To illustrate the point, here are a few examples of recent cases of Police misconduct:
A Custody Sergeant from Dyfed Powis Police was recently sacked and put on the College of Policing Barred List, for grooming a vulnerable woman he had met when she was in custody to have sex with him.
A recent HMICFRS report criticised West Mercia Police over an investigation into an officer accused of multiple allegations of rape while off duty, which did not examine his conduct towards vulnerable women when he was on duty.
A Civil Nuclear Constabulary officer was recently jailed for having 18,000 indecent images of children.
The death of Sergeant Ricky Jones of Gwent Police has revealed that he was an abusive husband and father. Jones belonged to a WhatsApp Group where he shared misogynistic, homophobic and racist messages with forty-one other Police Officers, including conversations about Officers having sex kits in the backs of their cars and sharing articles about women being harassed and assaulted.
PC Wayne Couzens who was convicted of kidnapping, raping and murdering Sarah Everard was part of WhatsApp Group with other Officers, where they discussed raping a female colleague, tasering children and the disabled and expressed racist views. Two Police Officers were jailed for twelve weeks over the messages they sent.
The NYP Custody scandal: A classic example of what is wrong with the Police
This Channel 4 Documentary on the HMICFRS Police Misogyny Report is incisive in describing what is wrong with the police:
It describes the Police Service as "a boys' club" that protects its own and allows predatory Officers to thrive, as has apparently happened with the NYP Officers that have been sexually abusing detainees in NYP Custody Suites.
It asserts that all reviews were ignored and brushed under the carpet, as ACC Foskett tried to do with his statement on the HMICFRS Custody Inspection.
Recommendations were not implemented, as has occurred with repeated HMICFRS Custody Inspections of NYP Custody Suites since 2010.
Female Officers being subjected to sexual offences while on duty, as apparently happened to some detainees in NYP Custody Suites.
Police Officers stopping cars driven by attractive women on their own, a practice they called "Booty Patrol". This is similar to the practice of male Officers watching while attractive detainees were undressed, as has ocurred in NYP Custody Suites.
A culture of cover-ups and protecting those within the Force is still prevalent. The failure of ACC Foskett to respond to my concerns promulgated in the NYE and by HMICFRS, or to initiate a criminal investigation into the Officers that were abusing detainees is a classic example of this.
The leader of the Police Federation in England and Wales Steve Hartshorn was explicit that misogynism and other types of abuse, and corruption exist in the Police Service because Chief Officers have tolerated it for years. Abuse has been tolerated in NYP Custody Suites at least since 2015 by successive Chief Constables.
Summary: The NYP Custody "Booty Patrol" ring
The fear must be that there is a ring of abusive Officers operating within NYP connected by a WhatsApp Group or other social media that is also passing these abhorrent messages and abusing women at home, on duty, off duty and in Custody Suites.
However, the public will never know if this is the case or not because NYP Chief Officers have thrown a veil of secrecy over these offences.
The National Police Chiefs' Council has said that they will act on the HMICFRS report into misogyny in the Police Service.
The response of ACC Foskett is a classic example of the misogynistic, "boys' club" mentality in which corrupt Police Officers are protected that HMICFRS criticised. It demonstrates that in fact, NYP Chief Police Officers are mouthing platitudes to deceive the public on the one hand, while ignoring the HMICFRS report on the other. And that nothing will change in NYP under its current leadership.
This serves to put women at risk and to further undermine public confidence in the Police, which is already, and understandably, at an all-time low.
There is no place for this conduct in the Police Service any more, or for this type of corrupt and mysogynistic Officer – at any rank.
Officers who have been routienly abusing vulnerable women and Officers like ACC Foskett who protect them need to be removed. Instead they are still being protected.
The NYE will continue to pursue this issue in the public interest.
Other articles on this topic
The other articles on the NYP custody scandal can be assed here: Complete failure of oversight, HMICFRS Inspections ineffective, NYPFCP to re-examine NYP Custody facilities and here Business as usual.
Appeal for information
If you have had a bad experience in NYP custody, please let the NYE know in complete confidence, using the letters@nyenquirer.uk email address.
Right of Reply
If you are mentioned in this article and do not agree with the views expressed in it, or if you wish to correct any factual inaccuracy, please let me know using the letters@nyenquirer.uk email address and your views and a correction will be published if appropriate.