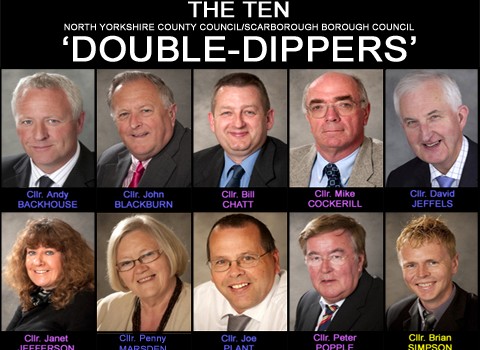 N. Yorks Corruption Round-Up
~~~~~
IN THE PUBLIC INTEREST
Recently, there has been some criticism of Real Whitby investigative journalists' focus on Councillor Jane Kenyon.
County Councillor Kenyon has featured prominently recently because of her association with Councillor Miller, her bizarre and conflicting allegations of forgery of documents, her position in several Councils and a number of Police organisations, the number and variety of her transgressions and their extraordinary time span.
Consequently she has naturally attracted more attention as more and more people have come forward and more information has emerged.
In this context I can reveal that today there has been another tranche of revelations: 

County Councillor Kenyon has again featured in Private Eye  – in connection with an entirely different misconduct story. I would comment, in passing, that appearing twice within Private Eye within three months, on different stories, may be unprecedented in this century.
In the list below, new and deeply concerning allegations about Councillor Kenyon are revealed.
Miss Kenyon has been criticised in a publication dealing with West Yorkshire Police and her role as Vice Chair of the Yorkshire and Humber Joint Police Authorities Committee (YH-JPAC).
NYCC Monitoring Officer Carole Dunn has also been criticised in Private Eye for ignoring the issue of whether Councillors are morally entitled to "Double Dip" when she supported this practice.
Scarborough & Whitby MP – and the only Conservative to defend Councillor Kenyon – Robert Goodwill is also criticised in Private Eye for buying cheap economy-class airline tickets and pocketing the difference between the price and the amount he received to pay for the flight,
In order to place that in the wider context of the investigations undertaken by Real Whitby investigative journalists, in the Public Interest, I have prepared a list of the investigations that Real Whitby investigative journalists are currently pursuing and are sufficiently far advanced to present to the public.
Some of our investigative journalists have been concentrating on issues local to Whitby, whilst others have been pursuing infractions whose ramifications extend to Yorkshire as a whole. The list can be accessed at the following URL:
As you can see, the scale of our investigations is widespread and does not focus on Councillor Kenyon or any political party.
The Real Whitby exposés of the conduct of certain Councillors, Officers and Chief Police Officers has now appeared in the national press and on blogs read throughout the country and beyond.
Their conduct has brought Scarborough Borough Council, North Yorkshire County Council and North Yorkshire Police into public disrepute.
We are unable to quantify the amount of money that has been passed on to Chief Police Officers improperly, because the Police Authority and the Officers concerned are exercising their right to silence and refusing to answer questions on this.
Our best estimate of how much public money has been passed on to Councillors for non-existent Broadband connections is £14,853.26, at a time when the Police and the Council are laying-off workers due to lack of funds and this is a very, conservative estimate indeed.
The real losers here are, of course, the good and long suffering taxpayers of North Yorkshire, and their loss is the services that they could have had provided for the money that has been misappropriated.
I am of the opinion that the 'Double-Dippers' and Chief Police Officers would never have been allowed to behave in this way if they had been employed in the private sector and, had they done so, they would all have lost their jobs.
A retired senior police officer has been quoted in the press today opining that receiving the same allowance twice (i.e. Double Dipping) is a criminal offence:
"Claiming twice for something like broadband is just the same as claiming mileage from two different authorities for the same journey. If I was investigating these circumstances I would consider a case of fraud by false representation under Section 2 of the Fraud Act 2006.".
However, it appears that in Scarborough Borough Council, North Yorkshire County Council and the Police, normal standards of morality and financial control have ceased to be applicable, and that Councillors and Chief Police Officers appear to resent accountability and normal public scrutiny – in fact, pursuing every avenue to evade it – and generally enjoying a special immunity from any sanction or financial control.
The Fraud Act 2006 makes no distinction betweens acts of omission and those of commission.
However, I would emphasize that in the cases of Chief Constable Madgwick and County Councillor Kenyon, they have both apparently actively made claims for expenses to which they are not entitled – which is a deliberate act of commission.
The other Councillors have accepted allowances for expenditure that they have not incurred, and have refused to pay back the money to the Council, which is an act of omission – morally, a lesser transgression.
In my view, instead of maintaining their right to silence, they should all pay back all of the money that they have obtained from the tax-payer, publish an apology and then resign honourably. 
To encourage this (and responsible behavior by public figures generally), Real Whitby is running "The Councillor Tom Fox and Chief Constable Tim Madgwick Voluntary Donations Appeal".
We would ask that the person's concerned make a voluntary donation to a North Yorkshire Charity of their choice (not SOGB) equivalent to the amount they have received.  We will update you on progress regularly:
The Councillor Tom Fox and Chief Constable Tim Madgwick Voluntary Donations Appeal.  Donations currently stand at £NIL.
Real Whitby is a responsible, fair and honourable news magazine. If the subjects of our investigations feel aggrieved, they have the right of reply.  Should anyone mentioned in this article wish to issue a rebuttal, it will be published in full.  Real Whitby looks forward to their response.