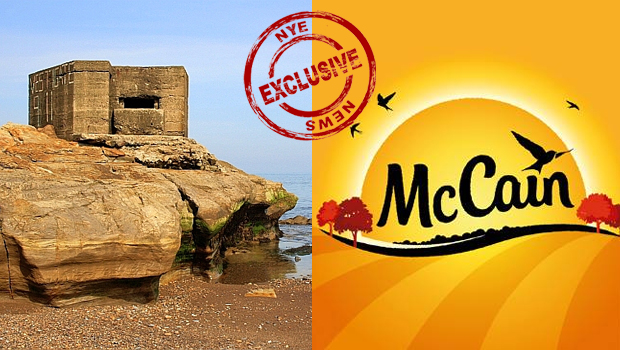 Reports are reaching the Enquirer to the effect that, pending consultations, the McCAINS plant at Havers Hill, Eastfield, Scarborough has informed members of the work force in the Cold and Dry Store facilities that these functions are to be outsourced, with redundancies anticipated in the order of 35 jobs.
A formal announcement is anticipated later this week, following meetings with union representatives.
---
UPDATE
[4:15pm Mon. 30th January 2017]

Shortly after 4:00pm today, following a request for comment, the McCAIN's Press Office has now provided the following statement:
"McCain proposes changes to operations at its Scarborough stores"
McCain Foods has today informed its employees of proposed changes to the dry and cold store operations at its Scarborough facility.
Bill Bartlett, Corporate Affairs Director for McCain Foods, said: "Built over 45 years ago, the cold store at the McCain Scarborough site is coming to the end of its serviceable life and no longer remains economically viable to maintain and operate.
"In order to ensure the long-term sustainability of the overall facilities at Scarborough, and following a review of both cold and dry store requirements on site, the Company proposes, subject to consultation, to close the Scarborough stores in their current format over the coming months and outsource its requirements to third party expertise.
"Whilst it is proposed that some roles will remain, as part of an integrated stores operation, the Company is entering into consultation with employees, as it is believed these positions will be at a much reduced level."
Mr Bartlett confirmed: "During the consultation, all employees will continue to be treated with fairness and respect, and McCain will offer professional advice and guidance to those affected, including access to an outplacement programme to assist in identifying alternative employment."
Looking to the future, Mr Bartlett commented: "McCain will continue to explore possible opportunities to update the manufacturing capacity of its Scarborough site, to meet increasing demand for our products. This proposal, subject to consultation, may also present options to alleviate some of the space constraints within the site."
-ENDS-
---
Further Update
The Scarborough News has now covered the story:
The figure of 74 jobs quoted by the Scarborough News conflicts with information passed to the Enquirer this morning, indicating that "up to 50%" of the Dry and Cold Store workforce were facing redundancy. It is noteworthy that the McCAINS statement remains silent regarding the likely total number of jobs to be lost.