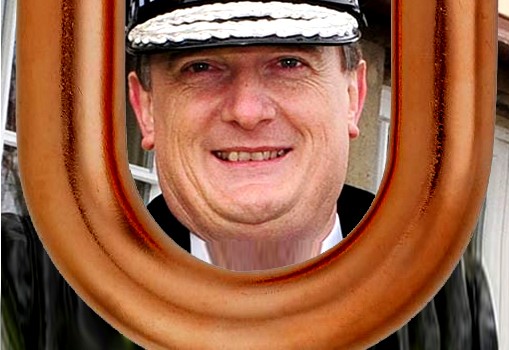 Maxwell's Silver
– an "In My View" article by NIGEL WARD
~
IN THE PUBLIC INTEREST
P.C. Thirty-One said, "We caught a dirty one".
Maxwell stands alone
Painting testimonial pictures oh-oh-oh-oh
Rose and Valerie screaming from the gallery
Say he must go free (Maxwell must go free)
The judge does not agree and he tells them so-o-o-oo
But as the words are leaving his lips
A noise comes from behind . . .

Lennon-McCartney [in fact, McCartney] Oct. 1968

[first released on the 'Abbey Road' album, 1969]
In February 2011, it was widely reported that Deputy Chief Constable Adam BRIGGS, of the North Yorkshire Police, had been granted his wish to retire from the Force, thus foregoing his £106,000 p.a. salary – but securing his pension. DCC BRIGGS, readers may remember, had been embroiled in a series of inquiries of wrong-doing – notably:
his use of a £10K personal development fund
charges of nepotism levelled against him and his boss, Chief Constable Grahame Maxwell
possession of 'inappropriate computer material'
In his final year, BRIGGS received a total salary package of £163,000, including benefits, bonuses, allowances and pension contributions. Not bad, eh? But apparently not enough.
Briggs was duly investigated by the Independent Police Complaints Commission (IPCC), over allegations that he had claimed £11,700 for 'personal development training', despite already receiving a £31,600 allowance to cover private medical insurance and 'personal development training' since taking up his post in 2007.
Chair of the North Yorkshire Police Authority (NYPA) Councillor Jane KENYON (NYCC & SBC) described Briggs as "a fine police officer", going on to say:
 "His contribution has been respected and valued by the communities he has served in Cleveland, West and North Yorkshire. We wish Adam well in his retirement."
Of course we do.
But listen:
It came to pass that BRIGGS and his boss, the aforementioned Chief Constable Grahame MAXWELL – the first Chief Constable to face gross misconduct charges in thirty years – were duly found guilty of gross misconduct and nepotism, for which the maximum penalty is – wait for it – dismissal.
But the two were not dismissed; BRIGGS sprinted to early retirement and MAXWELL astonishingly survived a vote of 'no confidence' and merely had his application for renewal of contract turned down. The NYPA sure knows how to administer justice, eh? £318K spent on a successful investigation – and the villains of the piece go free. Now that's what I call 'accountability' (not).
The story thus far is already in the public domain and can be confirmed by running a few 'Grahame MAXWELL' searches on the web-sites of the region's newspapers, including the extraordinary news that when Maxwell steps down next month, he will collect a £250K 'golden handshake'. Who says crime does not pay?
Now, very once in a while a little bird sings to me – a bird whose nest is in Newby Whiske, headquarters of the North Yorkshire Police. Readers will be unsurprised to learn that the lyrics to today's song concern fresh allegations about man-of-the-moment Grahame MAXWELL.
The refrain goes something like this:
In February 2012 it emerged that Deputy Chief Constable Adam BRIGGS had been given a tax free 'personal development allowance' of £31,647.06, for which he has refused to account, and consequently no-one knows where the money went. Two tickets for Evita? A 'fact-finding' mission to Bangkok?
http://www.yorkpress.co.uk/news/9524369.Police_authority_criticised_for_failing_to_monitor_allowance_properly/
And remember, this is the same sort of misconduct – though on a far greater scale – as certain 'two-hatted' Councillors appear to have committed. So-called "double-dipping". Claiming expenses a second time for something that has already been paid once.
Following these findings, Independent Police Complaints Commissioner Nicholas Long said:
"It is utterly unacceptable that more than £30,000 of public funds can be handed to an officer without any means to audit how that money is used. Although the Police Authority stipulated what the money was to be used for, they did not check".
They did not check? Well, why would they? The members of the NY Police Authority have between them drawn very nearly FOUR HUNDRED THOUSAND POUNDS in expenses in the last couple of years alone – almost £50K of which went to Councillor Jane KENYON. We don't need to get too fussy about expenses, do we?
And now it emerges that Chief Constable Grahame MAXWELL is facing fresh accusations – for the very same offence that was committed by Briggs. It appears, from open sources, that £50,000 was paid to the Chief Constable and he has not, as yet, accounted for £37,908.81 of these 'expenses' payments, which have apparently 'disappeared' – in exactly the same way as £43,397,06 of DCC Briggs' expenses disappeared.
As my little bird puts it, "At it again!"
But the day of reckoning may be at hand. These fully documented allegations have now been presented to NYP Chief Financial Officer Mrs Joanne CARTER – and to every member of the North Yorkshire Police Authority (including, of course, the Chair, Councillor Jane KENYON) – by Chartered Accountant Timothy HICKS FCA, who has been leading the investigation into corruption in the North Yorkshire Police that Lord Maginnis of Drumglass has been pursuing in a series of Parliamentary Question in the House of Lords. (see Hansard).
I will be reporting on this saga of corruption in some detail in the coming weeks. Meanwhile, my little bird has promised me some documents . . . so however much Rose and Valerie may scream from the gallery, their screams may be in vain.
People ask me, by the way, why it is that I pursue these investigations. I will tell you.
I do it because the people who drew those £400K NYPA expenses that I mentioned do not pursue it, and we have IPCC Commissioner Nicholas LONG's word for that – "They did not check".
But whether this stems from incompetence or complicity remains to be seen. Now what was I saying about 'Eternal Vigilance'?