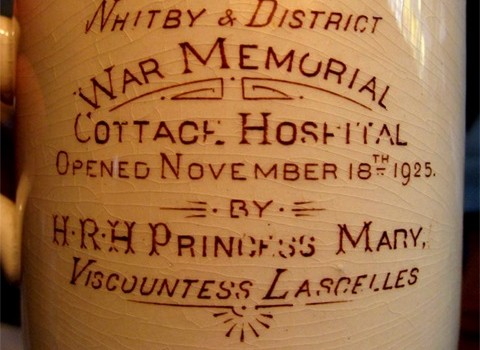 Jimmy Savile: NHS Reports issued
– Crime and Parliamentary Affairs Correspondent Tim Hicks reports on today's release of the long-awaited NHS Reports on the predatory paedophile (and, according to some reports, serial necrophile) JIMMY SAVILE.
~~~~~
An event that the North Yorkshire Enquirer Team has been awaiting for some time ocurred today.
The NHS released its Reports on Jimmy Savile's offending at St Catherine's Hospital (Birkenhead); Saxondale Mental Health Hospital; Portsmouth Royal Hospital; Dewsbury and District Hospital (including Pinderfields Hospital); High Royds Psychiatric Hospital; Cardiff Royal Infirmary; Great Ormond Street Hospital; Exeter Hospital; Ashworth Hospital; Barnet General Hospital; Booth Hall; De La Pole Hospital; Dryburn Hospital; Hammersmith Hospital; Leavesden Secure Mental Health Hospital; Marsden Hospital; Maudsley Hospital; Odstock Hospital; Prestwich Psychiatric Hospital; Queen Victoria Hospital, East Grinstead; Royal Victoria Infirmary; Queen Mary's Hospital, Carshalton; Wheatshift Hospice, Whitby Memorial Hospital; Wythenshawe Hospital and Woodhouse Eaves Children's Convalescent Homes in Leicester.
Springfield Hospital and Crawley Hospital have additionally been directed to conduct investigations.
The Royal Free Hospital in London and Pennine Acute NHS Hospitals Trust found no evidence of any offending.
Full BBC report here:
Two reports concern the North Yorks Enquirer.  They are the Whitby Memorial Hospital and Rampton Secure Psychiatric Hospital Reports.
The Whitby Memorial Hospital Report
The Report concerns one incident concerning an allegation of inappropriate touching of a member of staff by Savile in the 1960s.  Full report here.
As a result of reports in the North Yorks Enquirer, we know that Savile offended in Whitby in joint enterprise with Peter Jaconelli.  They were often to be seen together picking up youngsters of both genders from the burger-bar in Whitby in Savile's pink Rolls Royce, in full view of the Police Station.  The youngsters would be taken away in Savile's 'Roller', to perform sex acts and then be paid off.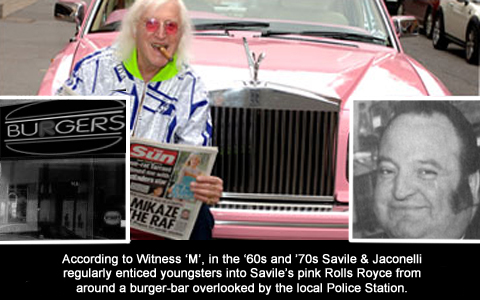 While the Whitby Memorial Hospital Report has gone to great and commendable lengths to ascertain if there was any connection of Jimmy Savile to the hospital, there is no mention at all of his co-offender Peter Jaconelli, or of any other members of the Scarborough ring they are alleged to have operated with.
Rampton Secure Psychiatric Hospital
As a result of presure from the North Yorkshire Enquirer, the terms of reference of the NHS Rampton investigation were extended to include Savile's associates, i.e. Jaconelli.
"We are going to forward your email to the Rampton investigation team and ask them to ensure that they consider the matters raised. While they will not be able to deal with allegations about third parties, we will expect them to demonstrate that they have considered and investigated as far as possible any allegations relating to Savile, including where he may have acted in concert with others. We will also expect the investigation team to liaise with police forces as appropriate and to report any matters that might require further investigation by the police."
Jaconelli was a prominent local figure known to have offended with Savile and recently stripped of all of his civic honours for sexually abusing children.  There have been other allegations that he was involved in abusing children, rape and enticing children into prosititution.
His omission from the investigation is therefore a stunning omission, given that Savile offended with him in Whitby in joint enterprise and that there have been concerns raised that Savile and Jaconelli both had access to patients from Rampton Hospital whom they may have abused.
The official position of the authorities at Rampton before we investigated was that Savile had visited patients there in the 1970s, but authorities had not received any complaints about him.
However, our investigation revealed that Savile had close ties to Rampton and took patients from Rampton to Scarborough to visit fellow rapist and paedophile Peter Jaconelli in 1971 and 1972.
The initial Rampton report is here, along with my comments on it.
Subsequently, following comment from the North Yorkshire Enquirer, the Rampton Hospital was included in the full NHS investigation and it is the full report as part of this second investigation that we were expecting today.
Interestingly, however, the Rampton Report has been delayed – one of only two hospitals that did not report by the NHS deadline.
We will continue to monitor this and will comment on the Report once it is published.