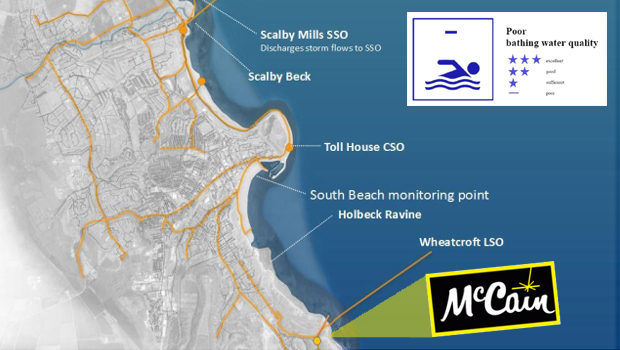 BWQ: BacTrack Yorkshire Water Report Fingers McCAIN
an "In My View" article by NIGEL WARD, introducing readers to the conclusions of the BacTrac bathing water report to Yorkshire Water.
~~~~~
Readers who have followed with interest the Enquirer's coverage of the long-running controversy over the loss of the Scarborough South (and now) North Bay Blue Flag Awards may be unsurprised by the Conclusions presented in the recently released (in response to an EIR 2004 request) May 2017 Final Report to Yorkshire Water Services Ltd – the BacTrack analysis of Scarborough North and South bathing waters.
Interestingly, the data analysed was collected between early June and the beginning of October, suggesting (as has been suggested elsewhere) that dog faeces is unlikely to have made a significant contribution to the second of BacTrack's bullet-pointed categories (The "unknown" sources – possibly faeces deposited on the beach), given that dogs are banned from the South Bay monitoring point between 1st May and 30th September.
Seagulls, of course, defecate onto beaches all around the country, all year round, without preventing then from being awarded a Blue Flag.
The BacTrack Report is a clear vindication of the suspicions raised by Enquirer contributors over the past fifteen months.
Earlier in the Report, it is explicitly confirmed that "It is clear that McCains is consistently a primary source of Enterococci in the bathing water".
The accompanying graphic (showing the McCAIN contribution in maroon) tells its own story:
For a fuller understanding of Bathing Water Quality (BWQ) regulation, please see the Department for Environment, Food & Rural Affairs documentation, here.
In my view, there can be little doubt, now that the primary source of the unacceptable levels of Enterococci has been identified, that the Environment Agency has a duty to intervene – and those lobbying to the contrary will need to abandon their mountains of imaginary dog poo and revise their positions.