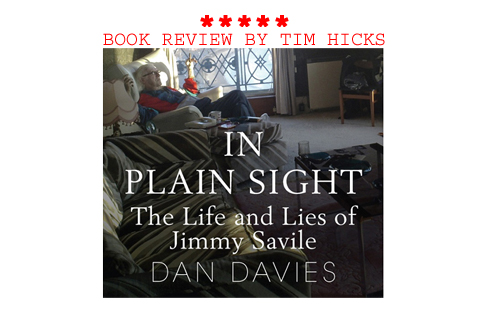 BOOK REVIEW
"IN PLAIN SIGHT – The Life and Lies of Jimmy Savile" – by Dan Davies
– Crime and Parliamentary Affairs correspondent TIM HICKS reviews DAN DAVIES' seminal work, published earlier this week by Quercus Books.
~~~~~
For some time parliamentarians, lawyers, victims and journalists have been calling for an overall co-ordinated investigation into Jimmy Savile's offending, preferably a judicial enquiry.  In the course of my investigation into Savile, I have read all of the reports published about him by all the various organisations that have been charged with investigating him.  This book is so far unquestionably the best and most incisive investigation to emerge by a long, long way, including the justifiably acclaimed "When Louis Theroux met Jimmy Savile".
When I started reading the book I had intended to review for an hour-and-a-half per day, whilst having coffee in the sun on the terrace at my favourite Italian restaurant.  The first coffee arrived, then another.  Then it was lunchtime.  Head waiter Antonio brought me a chicken salad for lunch, then when he closed the restaurant I was left with a glass of wine on the terrace.  When the restaurant re-opened for dinner, I was still there.  A mushroom risotto and more wine appeared until I finished the book and my note-taking at about 23.00.  It is a long, long time since I have sat down and read a book of this size in one sitting.  At the end, I felt drained by the effort of taking in the detailed information and the meticulous dissection of Savile's life, but also by the descriptions of the victims ordeals, which are recorded calmly and sympathetically.
It is an impressive work, well-written and easy to read.  It represents a life-long interest in Savile, which started when Davies watched Savile on "Jim'll Fix It" on the BBC as a boy of nine in 1980.  Even at that age, Davies was intuitive and observant and had feelings of unease over Savile's manner and the air of menace about him.  This unease did not leave him and he started to collect information on Savile and continued his interest as he pursued his career in journalism, for over twenty years as a senior staffer and freelance contributor on a wide variety of national magazines, newspapers and websites.  However, this collection of information over many years, or the writing skills he acquired as a journalist, are not enough to explain how Davies has been able to acquire evidence not obtained or released by the Police or anyone else.
When I met Davies to go over the information that Real Whitby had amassed on Savile and his associates in Scarborough, we talked for over two hours.  He was quietly spoken, easy to talk to, articulate, thoughtful, a good listener and quickly obtained my trust.  I was impressed by the encyclopaedic knowledge of Savile and his family and associates that he had amassed, which he could recall instantly.  It was clear from the questions he asked that he had an investigative background and his affable interview technique was tactful and persuasive.  This personal skill at interviewing effectively comes out clearly in the book, along with an obsession for detail and trying to get to every available location and witness, have ensured the quality of the underlying source data.
In 2004 Davies obtained authorisation to work on a magazine profile piece of Savile from the magazine he was working for.  His first meeting with Savile was memorable:
"I got out and pressed the intercom button marked "Penthouse" and after a short pause, a voice: "Morning." The sound of the Yorkshire Dalek was unmistakable. The door buzzed, I pushed against it and took a seat in a small lobby that smelled of potpourri.  Two or three minutes later, I heard voices coming from the lift shaft. The wooden doors slid open, releasing a cloud of smoke and two large, unsmiling men in their 50s. "Frisk him," barked Jimmy Savile, who had stepped out of the lift behind them and was wearing a blue shell suit with chevrons of red and white on the shoulders.  I was pinned to the wall and searched before Savile finally called the men off. He chuckled and extended his hand, introducing them as Mick Starkey, a West Yorkshire police inspector, and Jim "The Pill" Cardus, a retired pharmacist. "Meet the Friday Morning Club," Savile trumpeted."
It was that first meeting that gave him the idea to write a biography about him. He then interviewed Savile extensively over a period of six years before his death, staying with him at his flats in Scarborough and Leeds, and travelled with him on the Queen Elizabeth.  There are several interlocking themes through the book:
Davies' meticulous reconstruction of Jimmy Savile's life from birth and his relations with his family.  This is in itself a major achievement for a man as secretive and skilful as Savile, who had a lot to hide over his eighty four years.  Where it has not been possible to definitively tie down events in Savile's life, e.g. Savile's claims that he was working as a miner and recovering from a mining accident and yet was actually a competitive cyclist taking part in the Tour of Britain Cycle Race, Davies states this openly, letting the reader draw his own conclusions.
The analysis of Savile's life covers the changes in British society from before the war to the present.  The description of Savile's experiences as a Bevin Boy going into the mines, the bombing of Leeds and particularly the development of dance halls and the music industry are all exceptionally well done.
Davies' description of his personal interviews and meetings with Savile.  These  are remarkable because of the unprecedented length of time Savile -a loner and deeply private person- gave him allowing him to stay over with him at his flat and going on a cruise with him.  Davies managed to remain calm, observant and detached during his meetings, never betraying his inner forebodings.
Interviews with scores of people, many of them unobtainable while Savile was alive and some of them reluctant to talk after his death, giving their own view on Savile and their association with him.
This is the first coordinated analysis of the various official inquiries that have taken place so far by an experienced investigative journalist.  Although the language he uses is professional and dignified, Davies is not a man to pull his punches.  His comments on the West Yorkshire, Metropolitan and North Yorkshire investigations are particularly incisive.  They are also scathing.
The book is 584 pages with five Black and White photographs.  Extensive index, bibliography and sources referenced in end notes.  It should be compulsory reading for anyone involved in the various Savile investigations.
Published 17th July • Hardback • £18.99 • Also available as an eBook