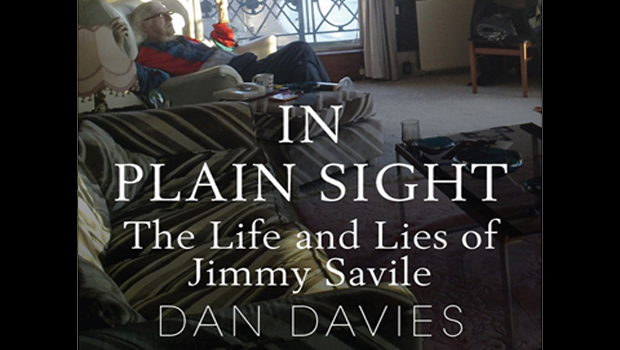 Savile/Jaconelli:  Investigative Journalist Wins Award
Crime & Parliamentary Affairs correspondent TIM HICKS applauds the continued success of  DAN DAVIES' book "In Plain Sight: The Life And Lies Of Jimmy Savile".
~~~~~
The North Yorks Enquirer team are delighted to read that fellow investigative journalist Dan Davies has been awarded the prestigious Gordon Burns Prize at the Durham Book Festival for his book "In Plain Sight: The Life And Lies Of Jmmy Savile".
The prize was founded in 2012 in memory of Gordon Burns, who wrote on the Yorkshire Ripper, the Moors Murderers and Fred and Rosemary West.  The prize – £5,000 and a writing retreat – "seeks to illuminate the work of those writers whose work follows in his bold footsteps".
Judge Doug Johnstone, author of "Gone Again" and "The Jump", has been quoted as saying:
"In Plain Sight is a phenomenal and important piece of work, a clear-eyed examination of a terrifying personality and the complicit culture that allowed him to get away with extraordinary evil. "


"Dan Davies has dug deep to produce one of the finest examples of investigative journalism I've ever read."
BBC Report here.
West Yorkshire investigative journalist Neil Wilby, contributed to Chapter 66 "In the palm of his hand" covering the West Yorkshire Police investigation into Savile's activities in Leeds.
North Yorks Enquirer journalists Tim Hicks and Nigel Ward, are quoted extensively in Chapter 67 of the book "No local connection", which covers Savile's association with fellow rapist Peter Jaconelli and the failed investigations by North Yorkshire Police into his activities in Scarborough.  All three received an acknowledgement in the book for their assistance.
The NYE team have written to Dan congratulating him on his award.  They are  delighted to be associated with such a fine piece of cutting-edge, award-winning investigative journalism.
The NYE review of "In Plain Sight:  The Life and Lies of Jimmy Savile" can be found here:  http://nyenquirer.uk/book-review-plain-sight-life-lies-jimmy-savile/
The book is 584 pages, with five black-and-white photographs, extensive index, bibliography and sources referenced in end notes.  It should be compulsory reading for anyone involved in the various Savile investigations.
Published 1st July 2014 • Hardback • £18.99 • Also available as an e-Book