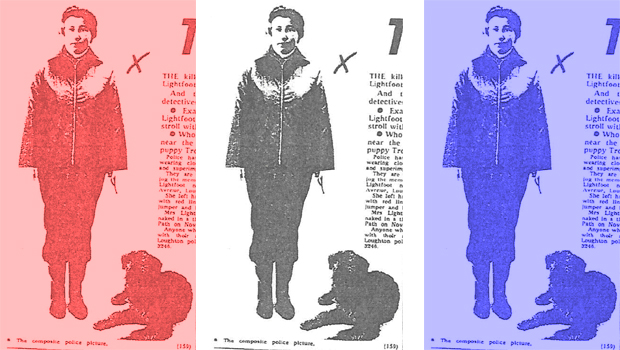 The Ripper's Lorry Murders 3: More Ligature Killings
by TIM HICKS & CHRIS CLARK
~~~~~
Until now, the conventional wisdom was that all of Sutcliffe's attacks were launched from his car. Chris however was convinced that this was not so and conducted his research on the basis that Sutcliffe used his lorry on some of the murders.
In this article the authors have collated all the cases Chris has identified as committed from Sutcliffe's lorry, not his car. They are shown as V5 in Column F "Vehicle Used" in Table 13 of our spreadsheet (Victim list and vehicles used), here.
The cases are not in chronological order for editorial reasons of space management and to group some cases by force area in each article. They are in nine parts as follows:
Here Chris gives the background and more information on the individual murders the authors believe were committed from Sutcliffe's lorry.
Background: Sutcliffe's access to lorries
"Sutcliffe then started employment as a lorry driver on the 29th of September of 1975 working for a Common Road Tyre Company, Okenshaw situated at the junction of the M62 Motorway and a spur off the M606 into Bradford; the work involved short and medium distance hauls all over the North and the Midlands. He used the experience to familiarise himself with the network of motorways and trunk roads linking its destinations to each other including the best access routes to many towns and city centres an art that he perfected from his already overall extensive knowledge that he had gained from socially driving around the North of England, the Midlands and London and Home Counties.  
However after just over a fortnight's employment on 15 October 1975 he was caught stealing second hand tyres and the police were informed. Sutcliffe was arrested and during the following year after entering a guilty plea at a later court hearing on 5 March 1976 he was fined and he was later sacked in that April for bad time keeping.
In October 1976 Sutcliffe finally found work as a lorry driver for T&WH Clark (Holdings Ltd) situated on the Canal Road Industrial Estate between Shipley and Bradford. They were a small engineering transport firm and working for them took him all over the country and involved a lot of overnight stops where he would use the bunk bed in the rear of the cabin and he was once on his own again with no one to account to and left to his own devices. He started proving himself over several months in one of the firm's four and six ton big rigid Lorries and then onto a Ford Transcontinental which at £250,000 was the most expensive and advanced HGV vehicle in England at the time.  
Sutcliffe clearly suffered from 'little man syndrome' as well as 'obsessive compulsive disorder' and enjoyed the height, mass and speed of the lorry; as well as spending hours cleaning and polishing both the inside and outside of the cabin whilst awaiting loading and unloading. This would have removed any forensic evidence from the cab. 
At work Sutcliffe was one of Clark's most conscientious drivers who kept immaculate logs and repair records. His workmates saw him as a loner who never showed any sign of violence did not swear or speak crudely about women although he christened his lorry 'Wee Willie' which was a source of amusement for them. Sutcliffe was well liked by his bosses and colleagues alike and was recognised to be brilliant at roping-and-sheeting large and often difficult loads. He was the person that everyone turned to when they got a delivery ticket for an unfamiliar town he had 'A-Z' street maps for every possible destination. 
At Clark's at the beginning of 1980, Sutcliffe must have felt he had got a really secure job even a job for life. The firm had been forced to sack all their drivers for alleged thefts from the loads but not him. He had been the one exception the one driver Chairman Tom Clark felt he could trust. Yet there were those at Clarks who had noticed Sutcliffe's habit of occasionally turning up at work with false number plates on his car. A fact considered insignificant by his workmates, at least until the first weekend of 1981. 
The management had been so impressed with Sutcliffe regarding him as possessing all the virtues required by the best lorry drivers that he was chosen to appear in a promotional brochure for the firm. In the following photograph he is shown hair in place, beard neatly trimmed as usual behind the wheel of 'Wee Willie' and a giant enlargement of the photograph was given pride of place in the entrance to the firm's offices." 
Background: Sutcliffe's interrogation reveals that (1) he carried a ligature in the cab of his lorry and that (2) he used a ligature to murder his victims 
Chris has now researched one of Sutcliffe's interrogations, which took place following the search of his lorry, home and his mother's home in 1981. The content is highly relevant to the lorry murders:
Transcript of the 10th of February 1981 interview with Peter Sutcliffe.
After Peter Sutcliffe's arrest and police interviews during January and February 1981, he was further interviewed on 10 February 1981in order to clarify certain items found by police searches of his home, his mother in law's home where he used to live and his lorry including various lengths of rope. Here is the transcript: 
1) I have a number of lengths of rope which have been recovered variously from your house and garage; I want you to assist me in identifying them.

He was shown a piece of rope recovered from the garage at his mother in law's house.
2) Do you recognise that?

3) Never seen it before.
He was shown a piece of rope in a noose, recovered from his lorry. 
4) I don't think I recognise that one but I use ropes all the time to pull engines out.
 He was then shown a piece of rope with a length of twine attached. He said:
5) That's a piece of lifting rope, I had two or three in the garage and the twine would stop it slipping.
He was shown a length of rope knotted at each end and recovered from his garage. 
6) Yes, I've seen that one before, that's one of mine, I've held the car boot down with it and used it to carry an engine.
He was shown a piece of rope recovered from his bedroom.
7) I can't recognise that one. 
He was shown rope recovered from garage. 
8) That's a lifting piece for lifting engines out. 
He was then shown more rope recovered from garage. 
9) That's another piece I've used for lifting engines. 
He was then shown a piece of pink and blue cord found in his possession when arrested in Sheffield.
10) That's a piece of rope I used for the Bandara and Walls incident. I think I used the same rope on both but I'm not hundred per cent sure.

11) Have you used any piece of rope or wire as ligatures and thrown them away? 
12) I'm certainly not aware of having thrown any away.
 Here Chris continues with his analysis of the information disclosed above by Sutcliffe in the interview:
The key points to emerge from the Interview are:
Peter Sutcliffe had a number of lengths of rope in his everyday use that could be used as a ligature.
He admitted using a ligature in the murders of Marguerite Walls (20th of August 1980 at Leeds) and attempted murder of Uphadya Bandara (24th of September 1980 at Leeds).
He had a rope which had been uniquely modified by the addition of a noose, which would make it perfect for swift use as a ligature in a confined space such as the cab of a lorry.
Peter Sutcliffe denied recognising the ligature with a noose from the lorry, although it was distinctive, so it is unlikely he would not remember it. The implication being he did not want to admit knowledge of the noosed ligature because it connected his lorry to other crimes.
Sutcliffe was in possession of a pink and blue ligature when he was arrested in his car in Sheffield with his next intended victim Olivier Reivers on the 2nd of January 1981. In addition to the ligature found in his possession in Sheffield, he kept a second ligature in the lorry. The presence of a ligature in the lorry indicates that a ligature was kept in the lorry permanently, ready for an opportunistic attack on a hitch hiker or prostitute that he saw, or was able to lure into the cab. Thereby confirming that he used the lorry to commit murders as well as the car.
The article The Ripper's lorry murders Part 8. Hammersmith and Leicester established that on a number of occasions Sutcliffe abducted children. A ligature would be a useful weapon to use on a schoolgirl that had been enticed or bundled into the cab.

Ligature strangulation does not leave any blood and Sutcliffe was known by his workmates for meticulously cleaning the interior of his lorry. Was he disposing of forensic evidence?
It is now clear that Sutcliffe used his lorry – not just his car – to commit murders. This verifies the author's belief that Sutcliffe's offending was not just confined to West Yorkshire and Greater Manchester, but potentially covered every force area in the UK that Sutcliffe's work as a lorry driver took him to. That is, all over England and parts of Southern Scotland.  
A ligature could have been used in several crimes that I have researched, including the Nude in the Nettles murder. What is not known as I do not have the pathologist reports on them is whether a ligature was found to have been used in any other of his admitted catalogued crimes prior to the summer and autumn of 1980 when he used a ligature in his last three attacks.
Sutcliffe was forensically aware and never fouled his car with forensic evidence from his victims' death. The authors believe it possible that when using his lorry, Sutcliffe:
Enticed victims into the cab then drove them to the place where they were subsequently killed on the basis that they were going there to have sex.
Enticed victims into the cab to have sex (the lorry had a sleeping space in the cab) on the basis that a prostitute would not agree to being driven away from her patch, when she could have sex in the cab. Then murdered them in the cab using a ligature, which left limited forensic traces.
Enticed hitch hikers into the cab on the pretext of giving them a lift. Then either murdered them in the cab using a ligature, or enticed them out of the cab at a remote place possibly to go to the toilet and murdered them by the side of the road.
Enticed or forced schoolgirls into the cab, then murdered them with a ligature.
Chris has identified another two murders he believes were committed by Sutcliffe using the ligature he kept in the cab of his lorry. 
The murder of Dawn Webster (Case 56) (Police Scotland) 
Sutcliffe had admitted to his workmates that he was having an affair with a 35 year old Scots divorcee woman who lived in a village near Glasgow. He had met her at the Crown Bar in Holytown, Motherwell some 12 miles from Glasgow when he had made a delivery to the nearby Motherwell General Motors Plant during April 1979. He returned regularly and had won her family over and doted on the woman's five young children playing with them for hours. He gave the woman the story that he was Peter Logan a widower and lived in a big house in Yorkshire he also wrote romantic letters using his father's address for return. 
Could he be responsible for the following crime which occurred somewhere between Grangemouth and Stenhousemuir? On Friday 14 September 1979. 
18-year-old Dawn Webster from Stenhousemuir went to a 21st Birthday party at the ICI Club in Grangemouth. She was given a lift back to an address in Beech Place, Grangemouth and then returned to the ICI Club which was the last place that she was seen alive. 
Some fifteen days later on Saturday 29 September 1979 Dawn's partially stripped and naked decomposed body was found by police using tracker dogs down an embankment beside the M9 motorway about a mile from the ICI Club. At this point there is a roundabout intersection which connects two roads to Stenhousemuir some six miles to the north-east of Grangemouth they are the A904/A9 route and the A905/A88 route. It is probable that Dawn was hitch hiking back to her home when she was abducted murdered and dumped at the location found. 
The pathologist concluded that she had died from a heart attack following a blow or pressure to certain parts of her body but there was no bruising that they could find. Did Sutcliffe use his knotted rope? This would only leave very small bruises under the neck tissue and not be visible on the skin surface. 
Daily Express article here 
A Police Scotland spokesperson commented:
"Police Scotland reviews all undetected and unresolved homicides and meets regularly with the Crown Office and Procurator Fiscal Service to pursue a resolution. 
We would welcome any new information that could assist with our enquiries into the murder of Dawn Webster.
Anyone with information can get in touch with Police Scotland on the non-emergency number 101 or alternatively, you can call Crimestoppers on 0800 555 111 where anonymity can be maintained."
The Murder of Margaret Lightfoot (Case 24) Metropolitan Police 
At lunchtime on Monday 24 November 1975 Mrs Margaret Lightfoot a dedicated WRVS charity worker for pensioners as was usual took her pet Airedale Terrier Tessa for a walk from the family home in Connaught Avenue, Loughton near Epping in Essex along Earl's Path to the nearby Epping Forest. She was last seen going into the forest with her puppy on a lead at 1:00pm by a 20 year old garage receptionist as he cycled to work. She was not seen alive again. Her pet dog was found wandering without her lead and taken home during the afternoon. Margaret's husband Roy reported her missing to the nearby police station upon arriving home from work.
Immediately, dozens of police officers – some with dogs – combed the forest area on the Nursery Road and Earl's Path areas accompanied by about 80 members of the public with torches. Searches continued until the early hours of Tuesday morning and this was resumed at daylight. At 8:20am the dead body of Margaret Lightfoot was found in a thicket by police dog handler Charles Fox and his Alsatian Rudy Three. Margaret had been hit on the head and strangled with a ligature, which detectives believed was the missing lead. Her body had been stripped of her anorak, trousers and underwear, which were scattered around her body. Her wellington boots were underneath her.
The post-mortem identified the cause of death as strangulation and noted that her hand was cut from a knife. Detective Inspector Maurice Marshall said shortly afterwards that Mrs Lightfoot met her death violently and that some of her clothes had been disturbed after she was dragged into the thicket.
The long walk route which Margaret took on the day in question went past Nursery Road and a pond up to the A11 Car Park, left down a new horse ride to the bottom, onto a grass path and back home.
On Thursday 5 December, Shaw Taylor and his 'Police Five' Team retraced Margaret's route, shooting film at recognisable spots in an effort to jog people's memories including dog-walkers and horse-riders who may have seen a man acting suspiciously in the area.
On 12 December, police issued to the Press an image of how Mrs Lightfoot looked on the day in question and asked if anyone saw her walking in or near Epping Forest. Shown as the lead illustration
As with many similar locations around the country, Epping Forest attracts naturists, naturalists, courting couples and weirdos. On the day in question a young male 'Streaker' who had been jumping out naked in front of horse-riders at lunchtimes was again active. Police laid a trap for him but were unsuccessful in arresting him. Local Collator records were checked, all known local sex offenders were interviewed, but all had water tight alibis. 
There were other reports of women being pestered by perverts who frequented the woods and one in particular stood out to the detectives investigating the murder.
On Sunday 21 December photo fits of five main suspects were put on display in Loughton Village Hall for the some 80 witnesses who had made statements to look at in the hope that the main suspect could be pin-pointed.
The man was never traced. It is difficult to see why he was designated as the prime suspect. His behaviour was strange, but not violent or sexual. It may not even have been criminal. Although he is obviously a person of interest, it is difficult to see the justification for designating him as the prime suspect. Particularly as they had not eliminated the streaker from their enquiries. The authors believe that Yorkshire Ripper Peter Sutcliffe should have been considered as a suspect after his arrest in 1981. The attack and murder fits into some of Sutcliffe's various methods including:
Stalking victim prior to the attack
Use of a ligature
Use of a knife
Blows to the head/face
Frenzied stripping of clothing to reveal genitalia
Dragging of the body off footpath into a secluded area
Hurriedly leaving the scene undetected
Sutcliffe visited his sister-in-law Marianne at Alperton near Wembley off the A406 North Circular Road. His sister Maureen, who was married to a serving soldier, was living at married quarters situated on the A11 at Duxford in Cambridgeshire. Further down past Loughton and Epping Green the A11 to Duxford connects to the North Circular Road at Walthamstow. This route between his sisters would take him right past Epping Forest where Margaret Lightfoot was murdered.
Clark's Transport was known to have made deliveries in the Essex Did Sutcliffe make deliveries there for the Common Road Tyre Company?

In the meantime the case stalled and went cold until 2016 when the Metropolitan Police were quoted in this 2016 BBC article: 
"Despite an extensive investigation, during which more than 100 potential suspects were interviewed, police were unable to identify Mrs Lightfoot's killer. However, a detailed type-written report of the case from the officer in charge at the time has been recovered from police archives, together with items of evidence known as "exhibits". And they've given police renewed hope of a breakthrough. 
"We have been lucky, because we still have some property from the crime scene," says acting Detective Inspector Susan Stansfield, an officer from the Metropolitan Police's cold case unit. "We've asked our forensic scientists to re-examine those items to see if we can use any modern-day techniques – back then we would only have been able to fingerprint items," says DI Stansfield. She is part of small unit of detectives based at a south London police station who regularly review unsolved cases to see if there is any work to be done. The "new techniques" are DNA-based and some of them can be used to retrieve samples in a way that was not possible before. Contact or touch DNA can now be extracted from skin cells left behind when someone comes into contact with an object.
In the Margaret Lightfoot case, officers began looking at the case again after her widower – now aged 90 – saw something on TV and rang the police. Scientists are focusing on the two Wellington boots Mrs Lightfoot had been wearing, found underneath her body. Detectives believe the boots had been pulled off by her killer and may therefore contain traces of his DNA. But DI Stansfield says there's a hurdle to overcome first. The way the boots were fingerprinted in 1975 may have compromised later tests. "The methods that were used can sometimes be very destructive of DNA processes now, so we have really got our fingers crossed," she says. In some cold cases, DNA profiles can't be obtained because the science isn't advanced enough.  
In the case of Margaret Lightfoot, police are still actively investigating, hoping that scientific tests will lead them to the killer.
The Metropolitan Police Press Office were very helpful and released this media statement to the NYE:
"Having assessed all of the evidence and information available in relation to the Margaret Lightfoot case, there is nothing to link this murder to the crimes committed by Peter Sutcliffe. However, any further evidence that comes to light will be assessed and investigated accordingly."
The authors respectfully disagree and this is to be covered in the next article in the series:
The Ripper's Lorry Murders Part 9. London
The Murder of "Hope" known as the "Nude in the Nettles" Case (Case 52) North Yorkshire Police
Briefly, "Hope's" body was found in on Friday the 28th of August 1981 at Sutton Bank just off the A170 on the North York Moors. It is believed that her body had lain there undiscovered for about two years.
She was never identified and the NYE has named her "Hope" to help generate media interest. Her case is unquestionably the greatest murder mystery in the history of North Yorkshire. NYE coverage is below:
"Hope's" body had been disturbed by animals and the autopsy was unable to identify the cause of death. It did identify that the skull was intact, ruling out Sutcliffe's normal method of attack, which was to smash the victim's skull in with a hammer. There were no nick, marks on the skeleton from a knife attack, indicating that ligature strangulation could have been the cause of death.
Witnesses have confirmed that the Yorkshire Ripper Peter Sutcliffe regularly visited Scarborough in his lorry. As a result of fresh evidence from former Councillor Norman Murphy, we believe that "Hope" was a prostitute who operated from a bus shelter in Victoria Road, Scarborough. Witnesses that put Sutcliffe in Victoria Road.
The authors believe that Sutcliffe enticed her into his lorry on the pretext of contracting for sex or giving her a lift to a truck park so she could solicit business and then strangled her in the cab with a ligature.
NYE Appeal for information
Three-dimensional wax reconstruction of the victims head and face
Do you remember someone like this from the shelter in Victoria Street Scarborough?
Were you one of "Hope's" clients?
Were you a police officer in Scarborough in the period 1977 – 1979? Did "Hope" come into custody for being drunk and disorderly, soliciting or vagrancy, or did you see her at the shelter?
Were you a social worker, health care professional, or member of the Salvation Army that came into contact with "Hope" and other down and outs from Victoria Road, Scarborough?
She was 5' 2" in height, aged between thirty five and forty.
She had a slender build and wore her natural dark brown hair in a page-boy style.
She had given birth to two or three children and had a displaced septum between her nostrils.
Her toenails were painted pink – the varnish coming from the Max Factor Maxi range.
She would have worn a size four shoe.
Staining on her teeth revealed that she was a heavy smoker that did not look after herself.
She had a Yorkshire or Lancashire accent, but may not be originally from Scarborough.
All her upper teeth were missing, she had an upper dental plate fitted, and she had only six lower teeth.
She had an old fracture to her right ankle and an abnormality to her neck vertebrae which would have caused backache.
Did you find a dark blue quilted body warmer, blouse, jumper, dark mini-skirt discarded along on the A170?