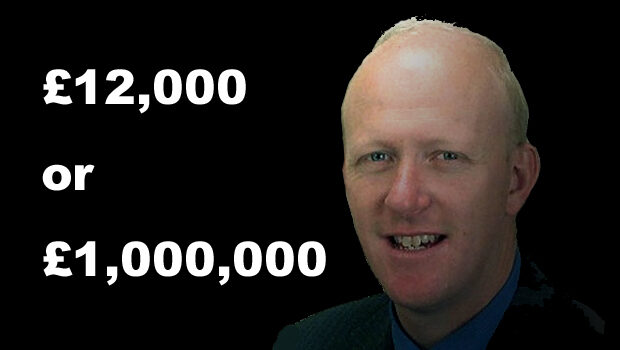 Questions are being asked of Scarborough Borough Council's S151 Officer and Director of Finance, Nick Edwards. The questions concern the amount of money in the Benchmark Balance Sum Account.
The Balance Sum Account was created as part of the Development Agreement between Benchmark and SBC in 2011. The purpose of the account was to hold funds to enable the development to proceed. The Agreement contains the provision to enable independent adjudication of the account if there is any disagreement.
Director of  Finance, Nick Edwards, claims there is no disagreement:
However, both parties understand the reason for the difference.
Benchmark Director Roland Duce disagrees with Edwards. The report mentioned by Duce is the top secret KPMG report, which Scarborough's Socialist SBC Supremo Steve Siddons used to terminate the Benchmark Development Agreement, passing up the chance of immediately receiving £8.25million from Benchmark to pay off the £9million Unsecured Water Park Loan.
They tell me the report questions the need and expense of determining the level of the balance sum.

This is an amount ( which according to the agreement ) should be kept in a designated account and which you reported to cabinet stands at £12,000.

You have since admitted to me – in your recent e mail that (whilst I believe it is much more) it is in fact somewhere between £12,000 and £1m.

I remind you that under the terms of the agreement either party can insist on it being decided by independent accountants as I have been trying to do for the last 10 weeks and repeat now.
Janet Jefferson, Cabinet Portfolio Holder for Corporate Resources (which includes Finance) has also been pursuing Nick Edwards for information regarding the Benchmark Balance Sum Account for a couple of months. Cllr Jefferson has yet to elicit a meaningful reply from Edwards.
It is thanks to our source at the Town Hall, Deepthroat, that this important information has come to light.
With a Full Council meeting scheduled for 2.00pm today, perhaps one of the more contentious SBC councillors could ask the S151 Officer how is it possible to mislay nearly £1million of taxpayer's money? Perhaps they can also ask why the Director of Finance doesn't seem keen to allow independent adjudication of the account?