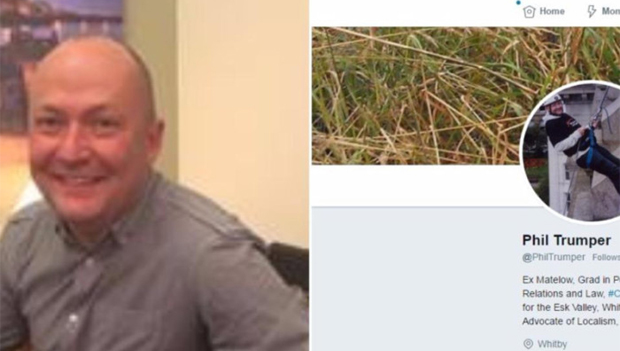 SBC: Tory Cllr Reported For 'Inappropriate' Re-Tweets
Sources within Scarborough Borough Council have confirmed that Formal Complaints have been lodged against Councillor Phil TRUMPER [Con.] in respect of a series of 'inappropriate' Tweets and re-Tweets.
The Enquirer has copies of the re-Tweets in question; however, it would serve no purpose (and potentially compromise any investigation) to reproduce them here. Those who wish to examine some samples may do so on the Scarborough News web-site, here.
However, it is fair to report that more than one of the Tweets sought to make political capital out of the recent tragic events in the Royal Borough of Kensington & Chelsea.
Perhaps even more distasteful was a Tweet likening Labour Leader Jeremy CORBYN to convicted paedophile Rolf HARRIS. It is unclear whether the intention was to denigrate the former or praise the latter.
It would appear that Councillor Phil TRUMPER [Con.], after announcing his intention to form a new party, has since terminated his Twitter account, or blocked it from public view.
It is noteworthy that the account in question, in the name 'Phil TRUMPER', is likely to be deemed a 'personal account', opening the door for TRUMPER to mount the defence that he was not acting in his capacity as a Borough or Town Councillor. (He also sits on, and chairs several Committees of, Whitby Town Council – WTC). He has reportedly admitted to having been "naïve". Fair comment.
It is not known at this time whether or not Formal Complaints have also been lodged at WTC.
Closing the week in which the Council's public standing has sunk to an all-time low, Councillor TRUMPER's foolhardiness will not enhance his limited popularity amongst his Tory colleagues.
However, it is unlikely that Councillor TRUMPER will succumb to demands for his resignation.
He is, after all, a Tory.
In any case, a couple of Tories have reported that the party is struggling to scrape up a plausible candidate for the forthcoming by-election in Mulgrave ward, where former Councillor Marie HARLAND resigned earlier in the week.