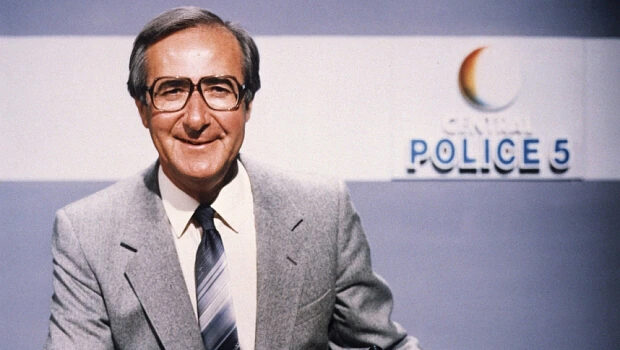 Police 7: Community Policing News April '22
The NYE's Police 7 articles are intended to be a one stop shop for our readers covering crime prevention advice, court reports, police appeals for assistance, local community policing news, information on victim support, updates from the North Yorkshire Police (NYP) and the Police, Fire & Crime Commissioner (PFCC) for North Yorkshire and the Coroner.
Police 7 has been one of our most popular features with our readers, who appreciate getting regular updates from the police via the NYE.
We lead these articles with a photograph of the late Shaw Taylor, as a tribute to him. Shaw was a groundbreaking forensic journalist, who pioneered police media appeals for information in the programme Police 5. His work led to the successful conclusion of many casses in the UK, Europe and the United States through local programmes that followed the pioneering format of his original programme called Police 5 in 1962.
The NYE will continue to immediately publish urgent appeals for information from North Yorkshire Police (NYP), in missing person's cases etc.
~~~~~
Police 7: Community Policing News April '22
NEIGHBOURHOOD POLICING
The following witness appeals and court reports may be of particular relevance to our readers and can be accessed from the NYP website. Link below.
https://www.northyorkshire.police.uk/news/news-search
---
Witness Appeals
Attack on man in Whitby
North Yorkshire Police is appealing for witnesses and information about an assault on man that occurred outside The Dolphin Hotel in Whitby on Saturday the 26th of February 2022 at 11.10pm.
The incident is believed to have been an unprovoked attack which has left the victim with significant bruising and swelling to the eye. A man who was with two other men and a women seen near to the pub may hold important information.
He's described as aged early to late 20's with a slim build, short dark hair, dark stubble facial hair and had tattoos on one of his arms. He was wearing trainers, dark coloured jeans and a black short sleeve t-shirt and was seen to be with two other men and a woman.
North Yorkshire Police is appealing for information about this man, anyone who may have witnessed the incident or if anyone knows anything about it.
Burglary in Scarborough
Police are investigating an attempted burglary on Trafalgar Street West, Scarborough just after 2pm on Saturday the 16th of April.
After being disturbed, the offenders left the address and ran in the direction of Dean Road, then onto Tennyson Avenue. North Yorkshire Police would like to hear from anyone who may have CCTV or dash cam footage covering the area, or anyone who may have witnessed the incident or noticed anyone acting suspiciously around the time of the incident.
Scarborough Assault
It happened on St Thomas Street outside Chubbies around 4.30am on Sunday the 23rd of April 2022, and involved a male being punched in the face by another male after he had tried to break up a fight. The victim was left with a broken nose.
North Yorkshire Police is appealing for information about anyone who may have witnessed the incident or if anyone knows anything about it.
Scarborough Sneak-in Burglary.
The homeowner was working in the garden of his property in the Cornelian Avenue area of Scarborough at around 2.30pm on Saturday 23 April 2022, when a man gained entry into the kitchen. The homeowner found the man, who ran from the property and made off in the direction of Filey Road on a dark coloured mountain bike. Thankfully the homeowner was unharmed, but his wallet containing cash has been taken.
The suspect is described as white, in his early to mid-twenties with a heavy build, black hair, a round chubby face and around 5 feet 9 inches to 6 feet tall.
North Yorkshire Police are requesting local residents who have CCTV or doorbell cameras in the Cornelian Drive, Cornelian Avenue and old Filey Road area to check for any footage of a man who fits this description, who seen to be riding a dark coloured mountain bike in the local area between 1-3pm.
---
Contact
Anyone with information is urged to contact North Yorkshire Police on 101, select Option 1, and speak to the Force Control Room.
If you would prefer to remain anonymous, please call Crimestoppers on 0800 555 111.
---
Court Reports
Scarborough Class A Drug Dealer jailed for eight years and four months
Prison Sentence for Scarborough man who breached a sexual harm prevention order
Scarborough stalker jailed
---
Crime Prevention
Project Servator anti-terrorism deployments across North Yorkshire and the City of York.
Launched in the county in 2017, Project Servator is a policing tactic that aims to disrupt a range of criminal activity, including terrorism, while providing a reassuring presence for the public.
The approach relies on unpredictable and highly visible Police deployments, whilst at the same time, building a network of vigilance made up of business and community partners, and the general public.
Project Servator differs from normal policing in that, Officers involved are specially-trained to spot tell-tale signs that someone may be carrying out hostile reconnaissance – information gathering that may help them plan or prepare to commit a crime.
The Force works with partners, including other Police Forces, businesses, and the public, to protect the county's streets and everyone who lives, works, or visits North Yorkshire, making it difficult for criminals and terrorists to operate.
This includes British Transport Police at transport hubs, the Ministry of Defence Police, the Royal Military Police at military bases and the Minster Police at York Minster.
During a Project Servator deployment, officers arrive unannounced at various locations across the county. These patrols last for different lengths of time and involve varying numbers of officers.
The public of North Yorkshire will see, as a minimum, uniform and plain-clothes Officers, but deployments sometimes also include Officers from other teams such as dog or horse units or armed officers, depending on specific requirements.
Vehicle checkpoints across the county, air support from helicopters and drones are also used.
During deployments, Officers talk to the public, local businesses, and private security staff to let them know what they're doing and to remind them to be vigilant, trust their instincts and report any suspicious or unusual activity.
They also display posters and digital advertising across businesses in the county and hand out handbills explaining more about Project Servator.
Since 2018 there have been over 3,143 arrests as a result of Project Servator deployments across England and Scotland. Some recent examples in North Yorkshire include:
Members of staff working in an open public space in York, having previously received training from Project ServatorOfficers, identified a male acting suspiciously and immediately called the police. The male was located by Project Servator officers who were deployed nearby, and he was spoken to, searched and arrested for being in possession of an offensive weapon in a public place.
Whilst on another Project Servatordeployment in the County, Officers identified a member of the public whom they had concerns about, and enquiries are ongoing to establish if the person is a victim of human trafficking.
This snapshot of arrests does not include arrests linked to terrorism which cannot be disclosed for operational reasons.
---
FORCE HEADQUARTERS
North Yorkshire Police fails child protection inspection.
There is nothing about this issue on the force website, which does not report this type of information.
A full report can be accessed from the NYE here which includes:
The report from Her Majesty's Inspectorate of Constabulary and Fire & Rescue Services (HMICFRS).
A statement from the Police,Fire & Crime Commissioner for North Yorkshire Zoe Metcalfe.
The full response from the Chief Constable at a public accountability meeting.