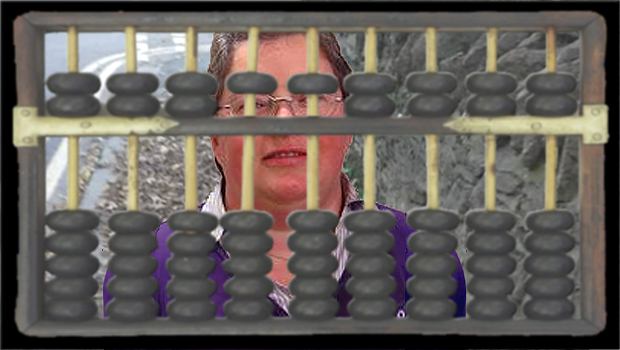 Guest Author ALI WILKINS examines Scarborough Borough Council's accounting of Scarborough town centre footfall, as reported by Yorkshire Coast Radio under the title "Scarborough Footfall Drops By Nearly A Quarter According To Figures".
~~~~~
I saw the article on the YCR web page (link above) about the Scarborough Town footfall figures.
The figures were there in black and white from the council, yet Cllr Heather Phillips disputes these figures saying the drop in footfall is much less than calculated. So are we to believe that the figures released by the Council are wrong?
This leads me to wonder if there is either an effort to play down the figures or the abacus used for these calculations within the Council is missing a couple of balls because the Phillips figure of  7.5%,  which she assures us is right, looks to be out by a whopping 16%.
The period in question is from Sat 2nd December 2017 to 8th August 2017 = 151,065, as against Saturday 1st December 2018 to 7th August 2018 – which, by Councillor Janet Jefferson's, Yorkshire Coast Radio's and most other people's calculation is a drop of 23%.
These are the tables showing the 2017 and 2018 figures.
No, I am not going to work out each, week on week, to show individual calculated drops in footfall. We only need to show the overall drop in footfall, going on the totals for each year, which is 13.6%.
An interesting point given by Cllr Heather Phillips is that the reason for the higher figure in 2017 was the Black Friday and Cyber Monday sales, which would have affected the footfall.
But wait a minute. Didn't we have these sales this year, too?
I will be interested to see what will be put in place to attract people to our town centre because the Christmas market stalls have been moved to the Market Hall, the lights switch on has been stopped for Health & Safety reasons, as Janet says. There must be something SBC can do to attract people to our town centre? Something that will replace what we have lost.
Overall our town needs help and this would normally come from the Council but, sadly, past attempts have landed us with building sites, more building sites and a waterpark.
There needs to be change and a drop in Government funding has not helped.  Whilst I agree that here in North Yorkshire we are seriously under-funded by Government, the customary drop in budget always shows those most vulnerable being hardest hit – it is a show by the Council to prove a 'look what you made us do' strategy in their efforts to plead poverty whilst maintaining mayoral costs and subsidies to SJT the OAT and the Museums etc.…and managing to fund £4m + to demolish the Futurist.
You might say that old chestnut – but a lot of us were very fond of the old theatre. We can afford hours spent on endless plans submitted by developers in their endeavours to get more flats for themselves and less attraction for the town.  We only have to look at the waterpark to see that it is far from World Class, in the wrong place and overpriced for what it is.  Please can we have a Flamingo Land Funfair on the North side tumbling down from Mr Marvel's onto the proposed Flats/Multiplex site, even going over the road onto the area where the lift was?  Now that would be really something! We need an injection of fun into the North side.
A Multiplex cinema in town would increase footfall and give a chance for local eateries to be a part of it. The regeneration of the town centre is welcome but it must be well thought out.
I am all for increasing footfall but making the figures look less will not motivate people into action. And let's face it, we need to get rid of the apathy that abounds and replace it with monumental motivation!
Perhaps the Council could run to a pair of balls – for the abacus of course!