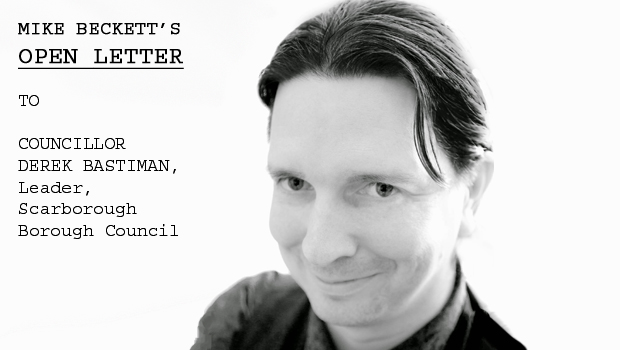 A Letter to the Editor from Mike BECKETT, LibDem PPC for Scarborough & Whitby, who has requested the publication of his Open Letter to Scarborough Borough Council Leader, Councillor Derek BASTIMAN, re-iterating his earlier requests to former leader, Councillor Tom FOX, presently Mayor of Scarborough, calling for a public apology including the word "sorry" to victims/ survivors (and family members) of the crimes of former Mayor, Councillor and Alderman Peter JACONELLI, the predatory paedophile and serial child-rapist.
~~~~~
Dear Councillor Derek Bastiman,

I write to you as Leader of Scarborough Borough Council.

Earlier this year, I wrote twice to your predecessor, including the Local Authority Monitoring Officer and the Chief Executive of the Council, calling for a public apology for the conduct of a former Mayor, to the victims of child sexual abuse, the adult survivors, their families and the wider community.

Under your predecessor the matter was considered closed, when the titles of Alderman and Mayor were removed from the individual, according to your press office at the time of first writing.

Your predecessor in reply did mention concerns and regrets and did praise people for speaking out but did not offer an apology or say sorry despite being asked specifically twice.

I write again now, having been asked by survivors to do so as they would like a public apology, to ask you if you'll apologise and say 'sorry' to the victims of child sexual abuse by a former Mayor to the victims, the adult survivors, their families and the wider community?

Rotherham Metropolitan Borough Council continued to refuse to publicly apologise until they were forced to offer such an apology by central government.

North Yorkshire Police said sorry and now the leader of North Yorkshire County Council, Cllr Carl Les has said sorry.

Are Scarborough Borough Council waiting for full Council to vote on this? or Central Government to force your hand? or Justice Goddard to recommend that you apologise?

If it is right to remove this individuals name from the lists of those who held honours of public service for Scarborough how can it not be right to say sorry, too?

I call on you as the new Council Leader to do the right thing and offer a 'Sorry' because of the child sexual abuse by an individual who formerly represented your Council as Mayor, leader of the Council and Alderman.

Yours sincerely

Mike Beckett
Michael Beckett BA DipIoD. 13th August, 2015.