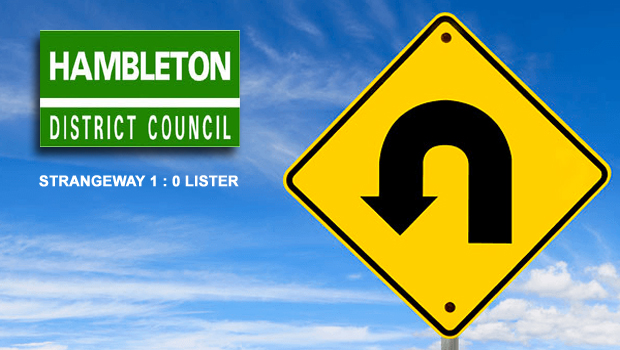 Hambleton Council U-Turn on PSPO
Guest Author ANDY STRANGEWAY, following his action last week, has today received confirmation from Hambleton District Council that it has finally conceded that the legal impediments raised by ANDY have forced them to remove the PSPO ratification from next week's Cabinet Meeting.
STRANGEWAY    1 : 0    LISTER
Read on . . .
~~~~~
Hambleton Council U-Turn On PSPO
Hambleton District Council has today confirmed a major U-Turn in relation to the Leeming Bar Parking Ban.
Please read Leeming Bar Parking Ban – Report To Cabinet (click on the link to read).
Response from HDC
Subject: RE: Urgent Complaint – North Yorkshire County Council Highways Authority
From: Lisa Wilson
Sent: Monday, November 25, 2019 4:37 PM
To: 'Andy Strangeway'
Dear Mr Strangeway,
Thank you for your email of 24 November 2019. As you rightly refer to within this email the matter regarding traffic signs relating to the Public Space Protection Order (PSPO) at Leeming Bar is of significant importance. The Council has had communications with North Yorkshire County Council Highways Authority to ensure that proper consideration has been given to displaying signs informing members of the public of the Order, as well as seeking legal advice on the matter, however, in light of the serious nature of your contention the Council has decided to remove the PSPO report from the agenda for the Cabinet meeting of 3 December 2019 and place it on the agenda for the meeting of Cabinet on 14 January 2020. This then will allow sufficient time to ensure that full consideration is given to the matter and to your enquiry.
Therefore the meeting on 3 December 2019 will not consider the matter but it will be considered at Cabinet in January 2020. This meeting will take place at 9.00am on Tuesday 14 January 2020. The report will be despatched on 6 January 2020 and will be available for members of the public to access from the Council's website at www.hambleton.gov.uk
With regards to your request for information under the Freedom of Information Act, I will look into this in due course and ensure that I have responded to you as soon as possible within the response timescale set out in the Act.
Regards
Lisa Wilson
Assistance Received And Invited
I am very grateful for the kind support I have received for my campaigning.
Please do give consideration to making a donation to assist with the costs involved with my campaigning.