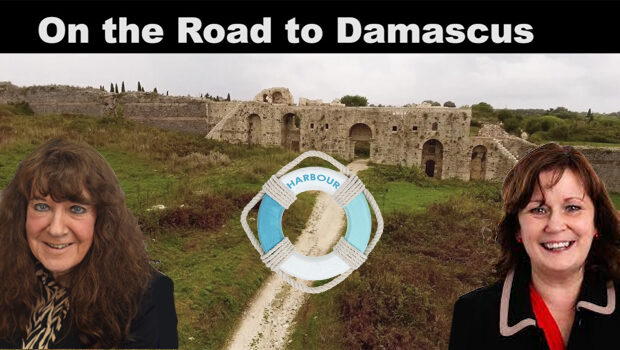 On the Road to Damascus Harbour
Guest Author Alderman Norman Murphy seems to have caught the scent of a spot of advanced electioneering…
~~~~~
As has been seen repeatedly, in the short time that the current Labour administration, under the tight control of its Italian-loving leader Stevonio Siddonso, has had control of Scarborough Clown Hall, "Openness Transparency" has not been a hallmark of its ramshackle term in office. Indeed, trying to find out what our champagne socialist leader intends to spend our money on has become, as far as the ratepayers are concerned,  something of a sick joke.
However, although "Openness and Transparency" have been hard to find over the weary months that Siddonso has been in power, CONSULTATION with ratepayers has, as many of you have commented, been completely absent.
So it was with a certain amount of incredulity that I read an article published on 10th June in the Scarborough News entitled "£6.5 million regeneration plan proposed for Scarborough Harbour".
The article went on to say that;
"A £6.5 million regeneration scheme for Scarborough's West Pier has been launched which the borough council hopes will breathe new life into the heart of the town's iconic South Bay. Scarborough Council has started a "CONSULTATION" on the proposal, which is being funded in part from the £20.2 million the town received from the Government's Towns Fund."
As might be imagined, this public declaration of both "Openness and Transparency", actually publishing the proposed £6.5 million cost of the project, and the proposal to actually CONSULT with stakeholders, shocked me and I know it shocked many of those who would be effected by any changes the Council decided to inflict on the Harbour area.
Nonetheless, there it was in black and white; the Council was suddenly willing to CONSULT with members of the public – the little people, those insignificant, and usually ill-considered beings who are normally only considered when it comes to election time.
Indeed, Cllr Janet Jefferson, Scarborough Council's Cabinet Member for Corporate Resources, and current Councillor for CASTLE WARD and County Councillor for CASTLE DIVISION was so keen on CONSULTATION that she suddenly felt the need to tell all her old town residents that:
"The Harbour and pier area play a critical role in Scarborough's local economy with strong links to the fishing and hospitality industries". 
No shit, Janet. 
To which she added:
"We want to develop a scheme that supports and helps these industries to grow, while at the same time creating a destination that becomes the focal point for leisure activity and events within South Bay." 
How observant, Janet.
Janet continued:
"We are committed to engaging with businesses and impacted groups to ensure they feel part of the scheme from this early stage and can help us to deliver a fantastic destination for Scarborough that we can all be proud of while preserving and enhancing our fishing industry heritage." 
However, Janet's commitment to CONSULT with businesses and impacted groups does not seem to have convinced all Harbour-users as Allan Roberts comments:
"Has anyone yet seen the 'official' proposal?…..Is it the Hemingway Masterplan that SBC have thus far failed to acknowledge the existence of? …..A distinct lack of communication from the electorates official representative for Harbour matters, Cllr Janet Jefferson is evident here…"
Nothing new there, then, Allan.
Nevertheless, Janet's comments were backed up by Labour's Cllr Liz Colling, current Cabinet Member for Inclusive Growth, and County Councillor for the FALSGRAVE & STEPNEY division, who added:
"While respecting the traditions that make Scarborough the much loved town it is, we want to invest in new ideas and facilities so that the town becomes a more prosperous place in which to do business, live and work, as well as visit and holiday". 
As a Falsgrave business-owner recently put it to me, the only thing in Scarborough that is becoming more prosperous is Cllr Liz Colling.   
Anyway, be that as it may, Liz reassured us that:
"This proposed scheme is one of a number of ambitious regeneration projects currently being planned in the town, which will help us to achieve our ambitions not only for the economic development of Scarborough but for the wider borough too."
Well at least she has ambition; it makes a change after doing sweet FA for over two years.
So there we have it. "Openness and Transparency" and CONSULTATION are now Council policy and everything in the garden is rosy. The administration that had hidden everything they possibly could from public view – the £22 million ARGOS deal, the £14 million St Nicholas Hotel deal and the £300,000 spent on anti-terrorist planters, to mention but a few of the projects -they tried to hide from the public they purport to serve – was now willingly sharing financial information with the public.
The leader, who had consistently not given a Flying Flock about ratepayers' and voters' views, was now openly offering to not do anything until he had CONSULTED said ratepayers and voters.
Had the leopards really changed their spots, I asked myself? Had big chief Siddonso and his apostles Colling and Jefferson had a "Road to Damascus" moment? And were they all now converted to serving the public good, I pondered?
Well, it would be nice to think so. But I suspect we may look to two more base motives – money and power – for their sudden change of heart.
As those of you who regularly follow the antics of Scarborough Borough Council (SBC) will know, in a little over 10 months' time, SBC will in any meaningful way, cease to exist. In May 2022, elections will be held to bring into being a new Unitary Authority and this will ultimately replace SBC.
The existing Council may stagger on as a shadow authority for a while after that but, in most respects, after May, SBC and its current crop of elected members will be nothing more than a Zombie administration.
Therefore, the existing SBC political leadership, well most of them anyway – unless they can get elected to the new Unitary Authority – will be out of power and, more importantly, out of the money.
Consequently, it does not take a genius to work out that Messer's Siddonso, Colling and Jefferson, who will no doubt be hoping to get themselves elected to the new Unitary Authority, have enthusiastically embraced "Openness and Transparency" and, significantly, CONSULTATION – not because they have suddenly found a new affection for the ratepayers of the Borough, but because they want your votes in May 2022.
It is my personal view that Scarborough Harbour is vitally important to the prosperity and heritage of Scarborough, and of course it needs investment. But I suspect that even if the Harbour-users are CONSULTED, their views, whatever they may be, will be totally ignored should any of the present leadership be re-elected in May 2022.
Not, of course, that not getting re-elected will be such a tragedy for all members of the Council. Sticking to the Harbours theme, some of the little Italian Harbours are, so I am told, beautiful and a villa overlooking one of them would not be such a bad thing – now would it?